Following the earthquakes in Kahramanmaraş, we acted quickly and began our search and rescue and emergency aid operations. We began implementing our hot meal and shelter projects for our citizens who had been displaced from their homes. However, the region's current lack of infrastructure and hygiene materials raises the risk of epidemics and makes personal hygiene difficult.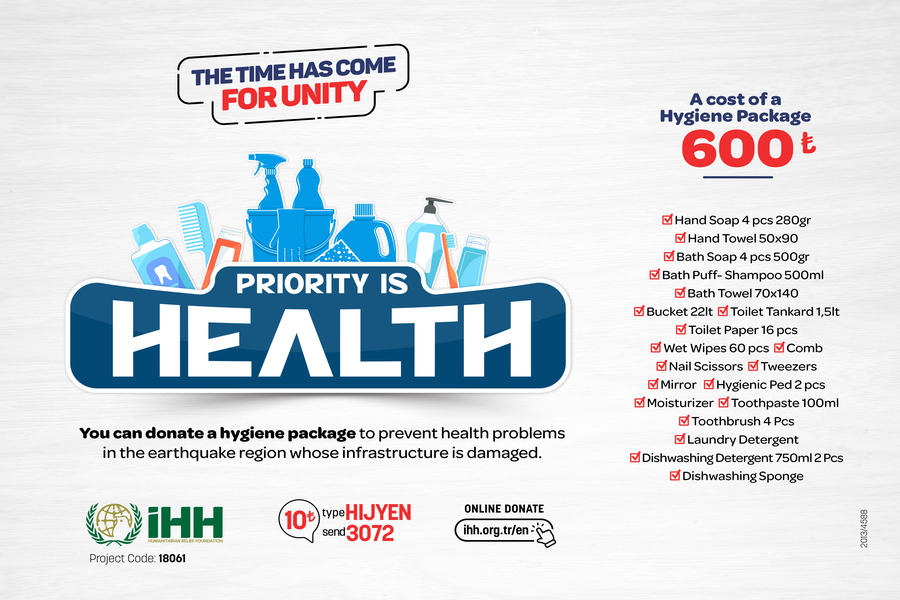 We started a new campaign to reduce the risk of epidemics and to meet the hygiene needs of the disaster victims. We are preparing hygiene packages to be delivered to our citizens affected by the earthquake.
A package will include: Hand Soap 4 pcs 280gr, Hand Towel 50×90, Bath Soap 4 pcs 500gr, Bath Puff- Shampoo 500ml, Bath Towel 70×140, Bucket 22lt , Toilet Tankard 1,5lt, Toilet Paper 16 pcs, Wet Wipes 60 pcs , Comb, Nail Scissors ,Tweezers, Mirror, Hygienic Ped 2 pcs, Moisturizer, Toothpaste 100ml, Toothbrush 4 Pcs, Laundry Detergent, Dishwashing Detergent 750ml2 Pcs, Dishwashing Sponge
With your donation, you can help meeting the hygiene needs of a family.
If you want to donate to this project from the bank, simply write 18061 in the explanation section.
Click to see our IBAN and Bank Account numbers.
You may also be interested in
---