Qurbani (Wajib)
You can share your Qurban shares with vulnerable families as it has been for 30 years.
On this Eid Al-Adha, we are setting out by saying ''A Share of Happiness'' for the needy, forgotten, and innocent.
We aim to deliver your Qurban donations to millions of vulnerable families in 60 countries. Thanks to you, they will get their share of happiness.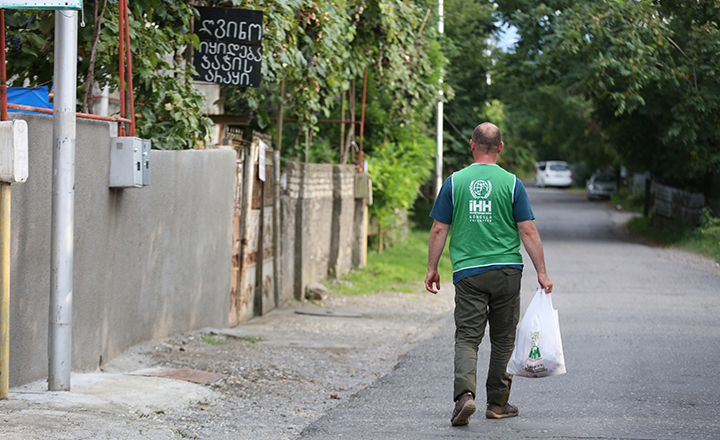 Which countries will receive their "Share of Happiness"?
MIDDLE EAST

Palestine (Gaza and West Bank), Iraq, Iran, Lebanon, Egypt, Syria, Tunisia, Jordan, Yemen

BALKANS AND EUROPE

Albania, Bosnia and Herzegovina, Kosovo, North Macedonia, Montenegro, Hungary, Romania, Serbia (Sancak and Presova), Ukraine (Crimea)

CENTRAL ASIA AND CAUCASIA

Afghanistan, Azerbaijan, Georgia (Adjara), Kyrgyzstan, Kazakhstan, Mongolia, Tajikistan

AFRICA

Benin, Burkina Faso, Burundi, Chad, Djibouti, Eswatini, Ethiopia, Guinea, South Africa Republic,

Cameroon, Kenya, Malawi, Mali, Mauritania, Mozambique, Niger, Sierra Leone, Sudan, Somalia, Tanzania, Togo, Uganda, Zimbabwe 

SOUTH AND SOUTHEAST ASIA

Bangladesh (Arakan), Philippines (Bangsamoro), India (Kashmir), Myanmar (Arakan), Nepal, Pakistan, Indonesia (Ache), Thailand (Patani), Sri Lanka, Vietnamese 

AMERICAS

Colombia

 

Within the scope of your support and donations in our 2021 Qurban journey;

In 65 countries,

From 62 thousand shares of Qurban,

2 million 482 thousand people in need benefited.

61 thousand orphans and children in need in 20 countries were delighted with their new Eid clothes.

We would like to express our sincere gratitude on behalf of people in need.
How does the process work?
Donors who give our foundation their Qurban proxies can donate by sending the specified Qurbani amount to our bank account numbers; by credit card; by postal cheque; by visiting our headquarters; online donations via the internet; or by calling our headquarters.
Qurban shares are distributed according to need in the countries where IHH operates, based on the wishes of the donors.
Qurbanis are purchased by IHH officials in the specified countries and regions in accordance with the criteria necessary for the Qurbani worship.
Qurban sacrifices are performed according to Islamic regulations after the Eid prayers on the first day of Eid. After congratulating each others Eid, the shares of the sacrifices are divided and distributed to people in need.
When the process of Qurban is completed, an e-mail is sent to the donors.
 

Please click here to view Frequently Asked Questions about our Qurbani Activities.

 

 
We Were There
Celebrating Eid-al-Adha In a Refugee Camp
We are in Mali for 2021 Qurbani projects. After performing the Eid prayer, we set out for the refugee camp in the Senou area. More than 350 families are struggling to survive in the camp's harsh conditions. We sacrifice the Qurbans here and deliver the meat to needy families. The tragedy of the environment is felt as we pass in front of each tent, but the happiness and surprise of seeing us in front of them is also reflected on their faces on such a morning. We see how sacrificial meat can strengthen unity in a refugee camp. 
We return to our country on Eid al-Adha, understanding the difficult lives in Mali and feeling a sense of unity. We witness that donated shares of Qurbanis are a source of happiness for hundreds of people far away from us.
Reşat Başer / Mali, 2021
First Qurban Excitement
When we arrived at Handeni's sacrificial square, hundreds of people dressed in bright clothes were waiting in line with buckets of meat. In the following hours, this number reached thousands of people. The people were excited and inexperienced as it was the first time that a Qurban was to be sacrificed in this region. Together, we sacrificed the Qurbans and delivered them to the needy.
Sacrifices shared from Turkey reached the table of families in need in Tanzania. Many people thanked us with their smiling faces as we left the sacrificial square. While we were on our way back to Turkey, joyful feast tables were set up in thousands of homes, and gifts from Turkey were distributed to tens of thousands of people.
 Serdar Gürçay / Tanzania, 2020
---