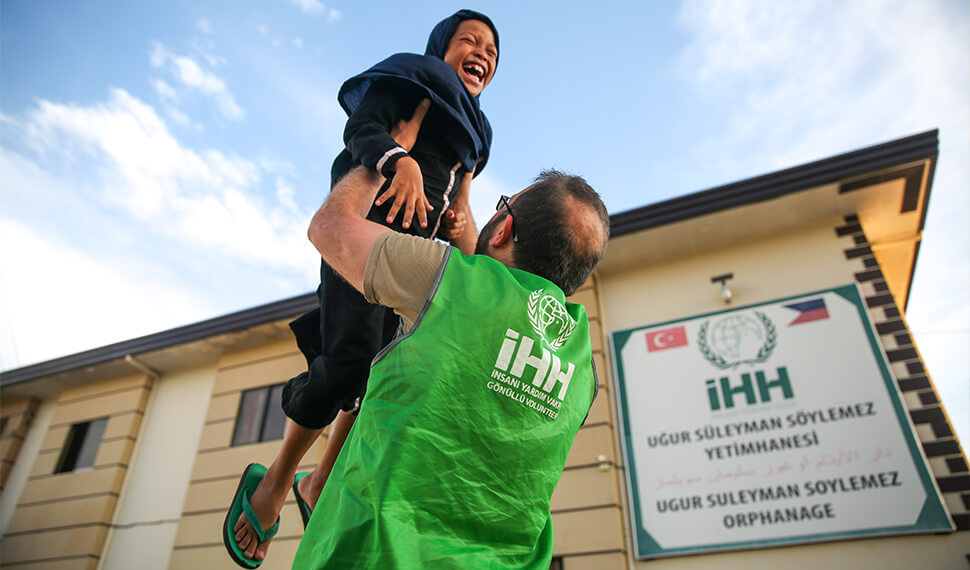 Would you like to touch the lives of orphans in different parts of the world?
With your support, the IHH Humanitarian Relief Foundation is sponsoring thousands of children with 38 orphanages, an orphan education center and orphan life center in 13 countries. Orphanages are also assisted in many areas such as food need, education costs, employee employment and social activities. IHH aims to raise orphans in a healthy way without detaching them from their own land and culture.
Why an orphanage?
Orphanages, which have strategic importance rather than shelter, provide solutions to the education, religion, health, social and political problems of Muslims in the region, especially children.
Orphanages with different functions all over the world become a school for children in Somali who cannot receive education due to the civil war, a shelter for orphans in Pakistan who want to be protected from human traffickers, and a place of freedom for children who want to live the culture prohibited by the state in Myanmar.
The main purpose of orphanages is to support orphans who cannot sustain their lives on their own until they reach the competence to stand on their own feet, provide their education and prepare them for life with family compassion.
Do you know that IHH regularly takes care of more than 107 thousand orphans in 50 countries every month and supports them on issues such as education, health, food, housing; it also provides periodic assistance to 800 thousand orphans in 120 countries every year?
MSAL Orphanage - Pakistan, 2003
Istanbul Orphanage - Indonesia / Aceh, 2006
Daru'l-Iman Orphanage - Bangladesh, 2009
Togra Orphanage - Bangladesh, 2009
Rara Orphanage - Pakistan, 2009
Hacı Şerefoğlu Orphanage - Philippines / Moro, 2010
Akıncılar Orphanage - Philippines / Moro, 2019
Hatice-i Kubra Orphanage - Philippines / Moro, 2019
Bursa Emir Sultan Orphanage - Pakistan, 2011
Konya IHH-Ayder Orphanage - Thailand / Patani, 2011
Şifa Orphanage - Thailand / Patani, 2011
Istanbul-Kabul Brotherhood Orphanage - Afghanistan, 2013
Babul Amman Orphanage - Bangladesh, 2013
Darussaadet / Fatih Sultan Mehmet Orphanage - Bangladesh, 2013
Sargoda Orphanage - Pakistan, 2013
Anatolian Orphan Complex - Somalia, 2013
Miyase Danış Orphanage - Thailand / Patani, 2013
Şifa Orphanage 2 - Burkina Faso, 2014
Sultan Abdulhamid Han Orphanage, Bangladesh, 2014
Darul Erkam Orphanage - Pakistan, 2014
Yaşar Zerdali Orphanage - Thailand / Patani, 2014
Furkan Emre Kesik Orphanage - Thailand / Patani, 2014
Ali Ramazan and Meryem Üstünsoy Orphanage - Nepal, 2014
Barbaros Orphanage Education Center - Ethiopia, 2014
Ferah Orphanage - Uganda, 2015
Istanbul İtfaiyeciler Orphanage - Thailand / Patani, 2015
Uğur Süleyman Söylemez Orphanage - Philippines / Moro, 2015
Gilgit Orphanage - Pakistan, 2015
Bahattin Yıldız Orphanage - Bangladesh, 2015
Muzaffergarh Orphanage - Pakistan, 2015/li>
Esma Biltacı Orphanage - Bangladesh, 2016
Muhammed Enes Orphanage - Bangladesh, 2016
Bursa Inegol Orphanage - Bangladesh, 2016
Martyr Furkan Doğan Orphanage - Thailand / Patani, 2016
Reyhanli Children Life Center - Turkey, 2017
Ismael's Guests Education Center - Sierra Leone / Freetown, 2018
İyilikhane Orphanage - Bangladesh, 2018
İskilipli Atıf Hoca Orphanage - Thailand / Patani, 2018
Martyr Eren Bulbul Orphanage - Somalia, 2019
Namaz Kardeşliği 2 Orphanage - Somalia, 2019
You may also be interested in
---