Massacre in Egypt condemned in Eminönü
Upon a call from various civil society organizations led by Solidarity Platform with Egyptian People, a large group of people came together in Eminönü Square, İstanbul to condemn the massacres in Egypt.
Holding Turkish, Egyptian, Palestinian and Syrian flags and the photos of the first democratically-elected Egyptian President Mohammad Morsi in their hands, the demonstrators frequently chanted takbeers.
Demonstration held against the massacre in Egypt

The demonstrators carried banners that read, "Coup perpetrators will be defeated, Islamic movement will win," "Go away Sisi, we are with you Morsi," "Pro-coup pharaohs will be drown in the blood they spilled," and chanted slogans saying, "Everywhere is Egypt, everywhere resistance, " "Greetings to Ikhwan, continue with resistance," "Martyr Asma, your way is our way."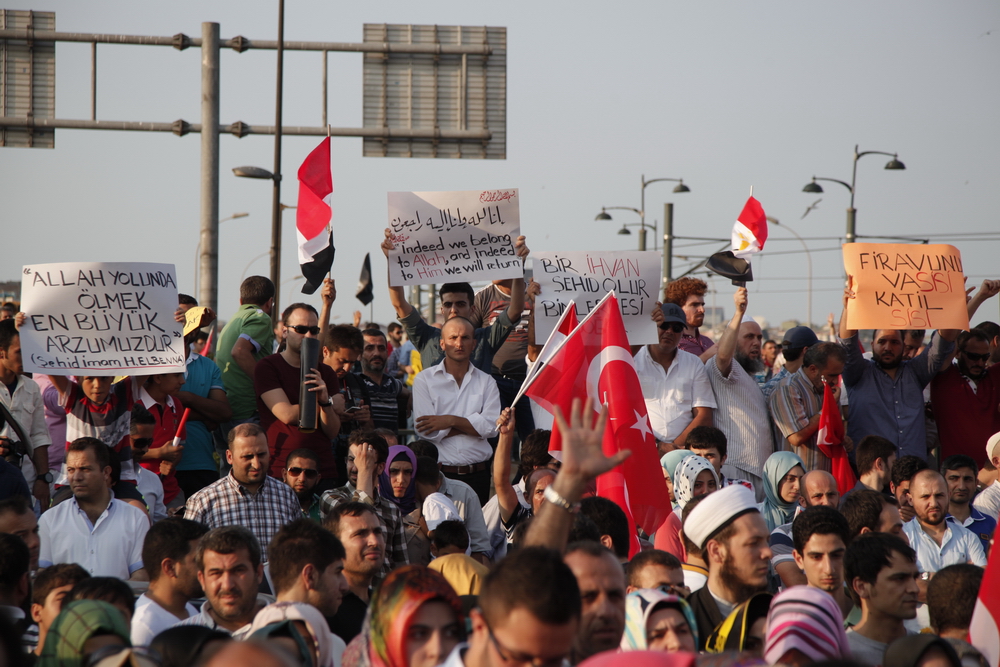 "They make the war grow bigger"
Delivering a speech at the demonstration, IHH Humanitarian Relief Foundation President Bülent Yıldırım offered his thanks to those who responded in the affirmative for the call to take part in the demonstration.
[video-379]
Yıldırım noted there are some people who advise them not to meddle in internal affairs of Egypt as he said: "The bullet fired at Cairo, Aleppo, the bomb hurled at Damascus were hurled at Ankara, Diyarbakır, Edirne. We had martyrs in Syria, Egypt and Palestine. We fell on the soil, we lost our blood and gave fertility to the soil. We became a thousand while we were only one. Now, we are becoming millions. Then, we will march toward every land of tyranny and make them free."
Yıldırım said the number of people martyred in Egypt is more than the announced.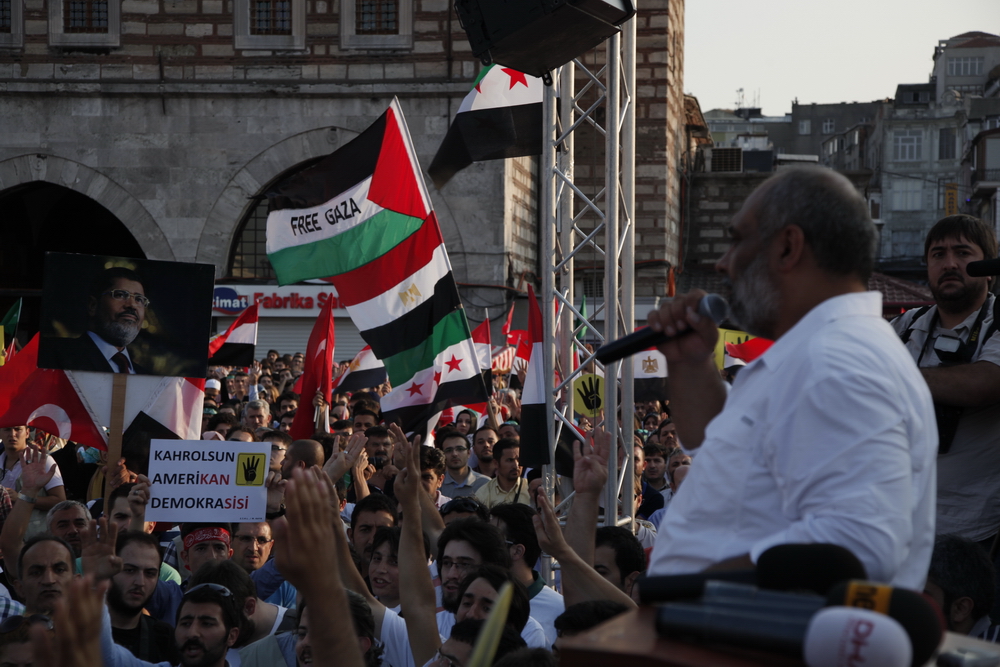 The IHH chairman also criticized the United States' approach to democracy, saying: "They make the war grow bigger. They spread it to all the land of Islam. There are tests in front of us. If necessary, we will become martyrs but we will not accept slavery. I am appealing to all the political parties, communities and foundations; we saw what happened in Bosnia-Herzegovina, Chechnya, Iraq, Afghanistan, Syria and Egypt. There was a common thing in all of them. When they hurl bombs, they don't say, 'this bomb should kill a headscarf-wearing woman.' They are hurling the bombs on women who cover their heads and who do not. They are hurling the bombs on both seculars and Islamists. So, not matter what your view is, if your father is a Muslim, you are only valuable for them as much as a drop of oil."
Yıldırım said there are efforts to place IHH into the list of terrorist organizations due to the foundation's support for Egypt and Syria.
"Who joined this bandwagon the latest? Now, TV stations and newspapers in Europe and in the Balkans claim that we are providing funding for terrorism. Do you know who is behind these inaccurate news reports? It is the Fars News Agency. All the Muslims are sisters and brothers. I am not making a differentiation among sects. We love all the people who are innocent. Yet, there is something strange, if the Fars News Agency says the same thing with the US and Israel, this means this news agency has a connection with Israel. I warn them. Just as we are not afraid of the US, we are not afraid of a group of looters in the FarsNews Agency," Yıldırım said.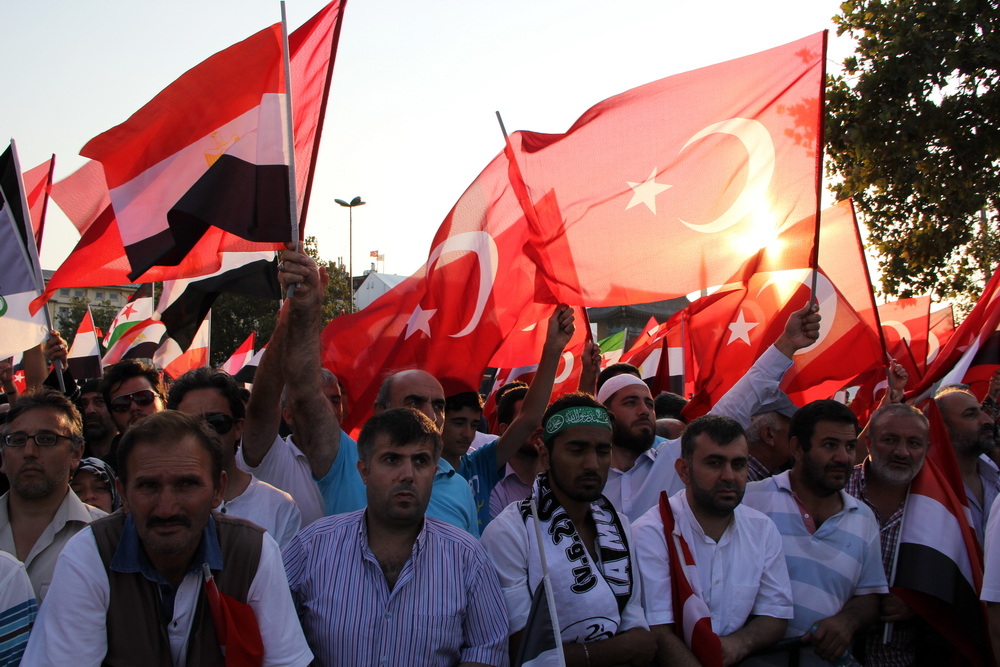 "Tears should be shed for killers"

Journalist and writer Abdurrahman Dilipak, who also spoke at the demonstration, said the developments in Egypt is a test for Muslims. "If tears will be shed for some, it must be for the killers. We are not afraid of death. Quran says: 'And reckon not those who are killed in Allah's way as dead; nay they are alive (and) are provided sustenance from their Lord;" " Rejoicing in what Allah has given them out of His grace, ...'"
Criticizing the western democracies, Dilipak added: "The lie behind the democracy promises of the West was exposed in Gezi, Gaza and Syria. It is now being exposed in Egypt. Those who were making 10-hour broadcasts every day of Gezi Park protests in Turkey, are now blind to what happens in Syria and Palestine. We don't accept such an understanding of democracy. The Ikhwan in Egypt is our brother. Morsi is our brother. We want respect for the Egyptian people and their will."
Dilipak also said Egypt, Syria, Palestine and Turkey are a "single front," adding that an overall war has been started and this war is against a certain religion and identity.
Noting that Muslims are ready for a long-term struggle, Dilipak said: "The resistance in Egypt is against imperialism. The identity of the traitors in our surroundings has been revealed."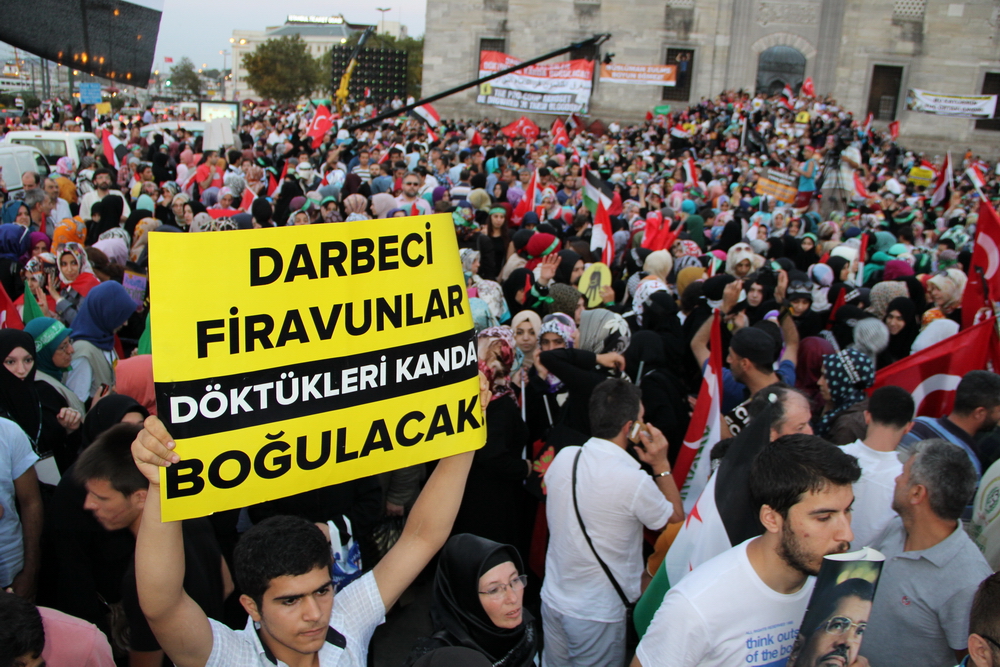 "Egyptians are in the streets for their freedom"

Erva Tavel, a spokesperson from the "Anti-Coup Youth in Egypt," said the Egyptian people have taken to the streets just for their freedom.
She said coup forces open fire at civilians in Egypt, adding that thousands of people have been killed in the turmoil so far while more than 15,000 people have been arrested.
Stressing that the support given by Turkey to anti-coup people in Egypt makes her proud, Tavel said: "Those who claim that Turkey is meddling in the internal affairs of Egypt, are actually meddling in Egypt's internal affairs themselves."
The demonstrators peacefully dispersed after chanting takbeers and slogans.
In order to read about the demonstration in detail and with larger photos, you can take a look at "Başka Hayatlar" (Other Lives) blog at http://www.baskahayatlar.com/?p=107.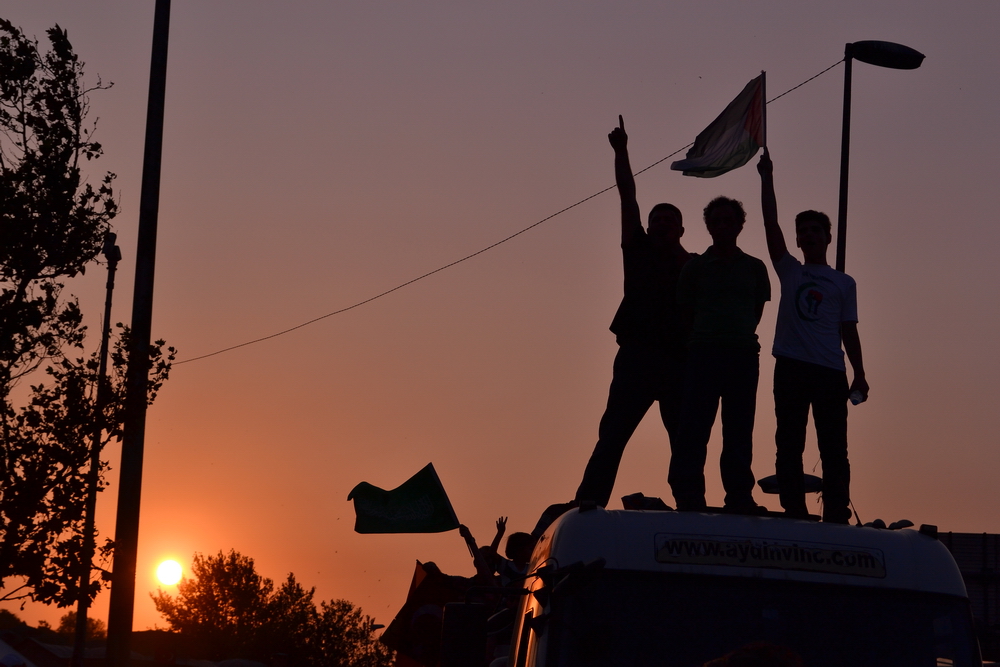 Ibrahim's first steps
The dream of 6-year old Ibrahim Tüser, who is supported under IHH's Orphan Sponsorship System, to be able to walk, came true with the support of donors.
Pedaling for orphans
IHH Malatya volunteer Ihsan Kılıç will be visiting 13 cities, cycling from Malatya and travelling a total of 500 km to raise "Orphan Awareness."
Malatya, Orphan
23.09.2020