Turkey raises voice for its 529 brothers
Turkey protested against the 529 death sentences which the military junta in Egypt has given violating legal rules and regulations before the eyes of international community. Here is a brief of protests city by city:
ŞANLIURFA
Around 300 people marched to protest the Egyptian court that sentenced 529 people to death following the Friday prayers in Balıklıgöl, Şanlıurfa.
The group that was carrying 'Rabia' signs and banners condemning the death sentences in Egypt asked for death row inmates to be pardoned.
Four protestors wore a white shroud and got a rope on their necks in order to demonstrate and protest the death sentences.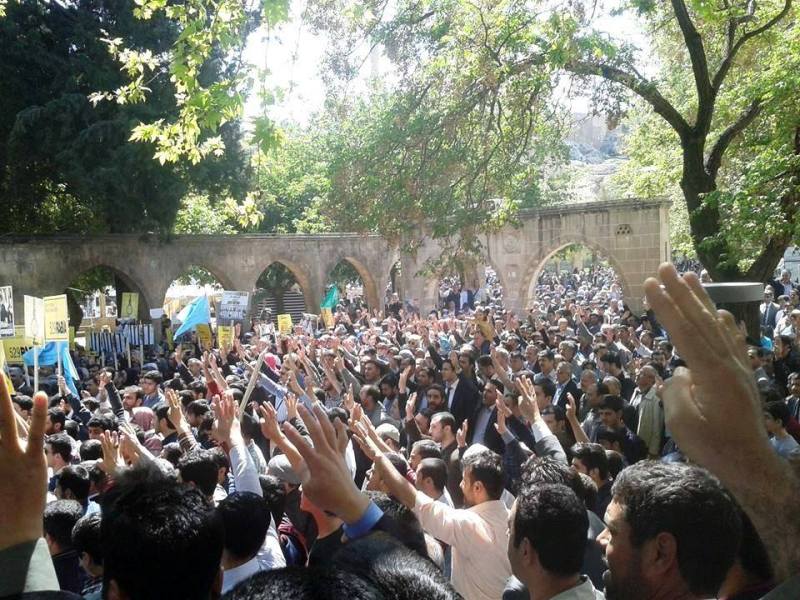 The representative of the protestors, chairman of Ruha-Der Murat Müjdeci said that the whole world shouldoppose the death penalties given by military junta in Egypt.
We regard the death sentences as an effort to suppress Ikhwan al-Muslimin, said Müjdeci and added that this is what has been happening since the times of Adam, the struggle between tawheed (monotheism) and shirk (polytheism).
He claimed that the military coup in Egypt was staged in collaboration with Israel's culprits and Israel. Therefore it serves to strengthen the safety of Israel, which has occupied Palestine for years now.
ADIYAMAN
Following the Friday prayer 150 people gathered in Democracy Park in Adıyaman and condemned the death sentences given in Egypt. Eight demonstrators wore a white shroud in order to protest the death sentences. Bedrettin Beyazkaya, the representative from Adıyaman NGO network condemned the global community remaining silent against what is going on in Egypt.
BİTLİS
Islamic NGOs came together in Tatvan of Bitlis city and issued a press release protesting the death sentences given to 529 people in Egypt. Following the press release the group held prayers for Egyptian people and those sentenced to death. They also staged a mock hanging where one of three of the protestors shrouded in white was hanged.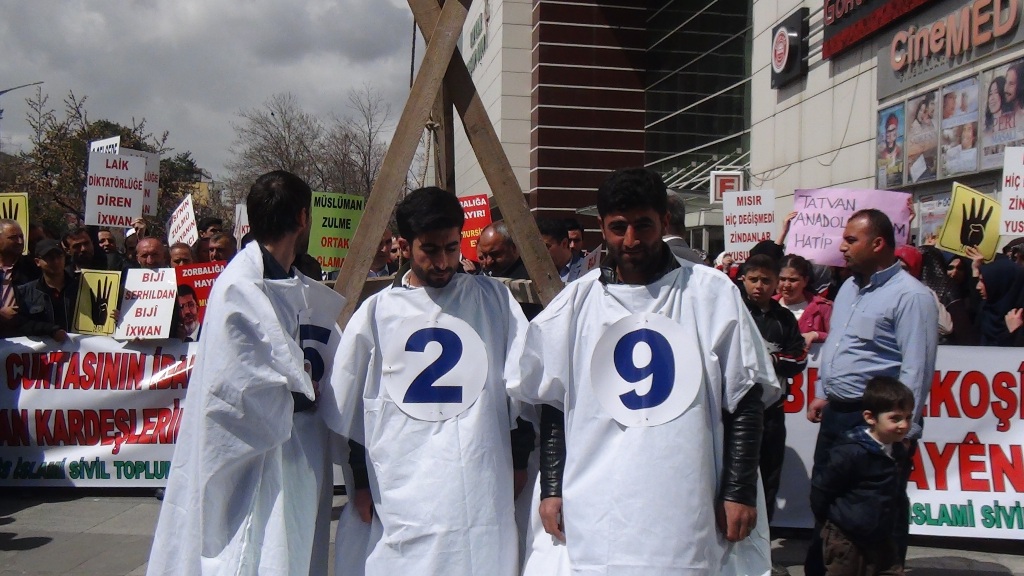 NGO members carried banners supporting the Egyptian people and Mursi and condemning Sisi. Representative of the protestors, Servet Özyurt read out the press release in front of the Yaşam shopping mall in Tatvan: "Sisi who removed the rightfully elected president of Egypt, Muhammed with a coup d'etat knows no boundaries in suppressing Muslim Brotherhood. The courts manipulated by the murderous military coup did scored another unjustifiable decision and issued death sentence for our 529 brothers. The trial was held at Minye Court and 200 anti-coup protesters including the leader of Muslim Brotherhood who were accused of forged crimes like "engaging in acts of violence and attacking people and damaging the public property" were sentenced to death."
Following the press release a mock hanging was staged. Three protestors shrouded in white were hanged after getting a rope around their necks.
BOLU
Around 100 people marched to protest the Egyptian court that sentenced 529 people to death following the Friday prayers in Bursa.
The protestors gathered in front of the Kadi Mosque following the Friday prayers and condemned the death sentences given by the Egyptian court.
Bolu Humanitarian Relief Organization, Civil Service Union and Anadolu Youth Organization participated in the demonstration and carried banners that read "Government do not sleep and don't let your brother down" , "Go to hell Sisi, we are with you Mursi" and chanted slogans like "O Muslim do not sleep, don't let your brother down." After that the protestors staged a mock hanging.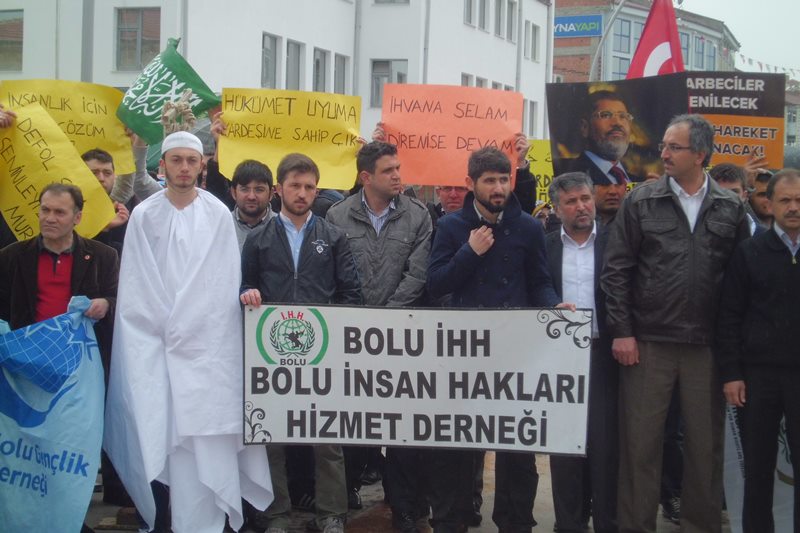 Fethi Sarmısakcı, head of IHH Bolu branch said that that the court decisions about death penalties are questionable. "During the course of trial, which lasted only a couple of hearings, the defendants were denied their "right to defend" which is one of the fundamental principles of law. The result was a reckless and sloppy decision as such.
The last hearing at the coup's court set a record in Egyptian justice by sentencing 26 people to death per minute. There came no explanation from the authorities regarding this excessive decision. We condemn the latest death sentences and those coup-lovers who remain silent thus support it.
After the press release the protestors dispersed.
KARAMAN
Karaman NGO Network gathered in Aktekke Square in order to protest death penalties given to anti-coup protestors in Egypt.
In order to raise our voices against this decision violating human rights and law locals gathered in Aktekke Square following the Friday prayers and marched chanting slogans against the government set up by the military coup in Egypt.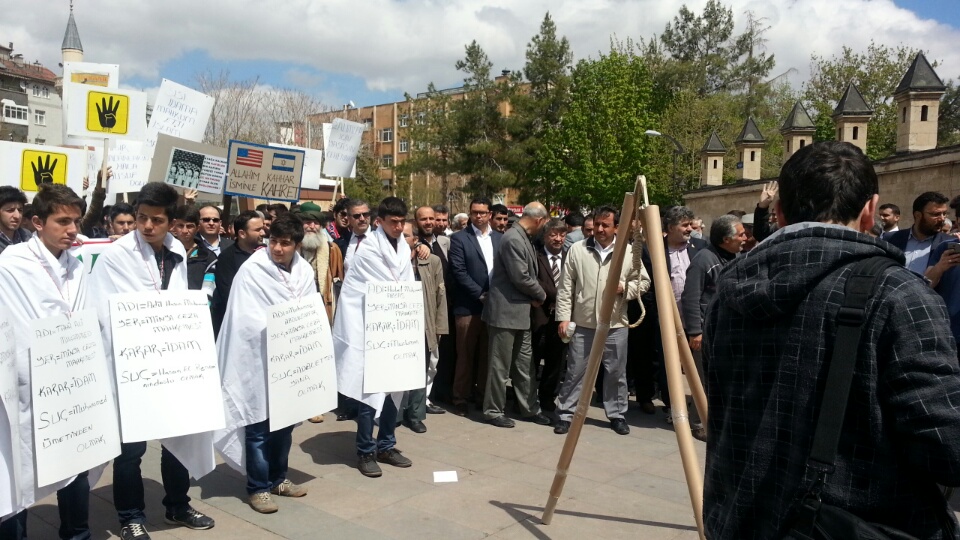 Dozens of NGOs and local people participated in the protests. On behalf of NGO Network, head of Civil Service Union Karaman Branch Yunus Özdemiş delivered a speech.
"Apparently this tricky plot, which received the tacit approval of those who are very keen to market democracy, human rights and freedoms like the USA, was a setup in order to ensure the security of Zionist occupier Israel, shut down the free underground passages from Egypt to Palestine and close Rafah border, to extinguish the freedom fire that engulfed the Arab streets, to support Syrian dictator who has no agenda but bloodshed and brutality and Baath regime."
The court decisions of death penalties were condemned through the protests.
Following the press release the scaffold was burned down and the protest ended.
ELAZIĞ
NGOs based in Elazığ marched to protest the Egyptian court that sentenced 529 people to death following the Friday prayers in Elazığ.
Around thousand people gathered in PTT Square including IHH, Anadolu Youth Organization, Civil Service Union members to protest the death sentences given in Egypt.
Head of Anadolu Youth Organization Elazığ branch, Recep Koca said that the death sentences were given to 529 people in 20 minutes. "Death sentences given to 529 people in a court hearing that was held on 24th March in our brother country Egypt and that lasted only 20 minutes is a crime against humanity. Obviously the court, which ruled those sentences, is manipulated by the military coup that happened in last July.
Civil Service Union city representative Murat Ergen pointed out that ironically the death sentences did not generate a reaction as big as the one given when Youtube and Twitter was shut down. He asserted that starting with Western countries those who support and remain silent about military coup administration in Egypt will serve as the culprits, solicitors and agents of this atrocity that will happen as executions in masse. Why do Western countries and those who revolted against the Gezi Park shutting down, Twitter shutting down in the name of protecting personal freedoms and rights remain silent against the death penalties that will end the lives of 529 innocent people. Apparently West and its yes-men regard shutting down Youtube and Twitter as a crime against humanity but not the execution of 529 people through capital punishment. Once again Western countries failed in the test of human rights as they did not react to the death sentences given in Egypt not just a bit like they reacted to Turkey.
There demonstration where some of the protestors were wearing a white shroud dispersed afterward.
KONYA
All NGOs based in Konya organized a demonstration against the death penalties in Egypt. IHH-AYDER and many other NGOs gathered in Konya Kapalı Park Square in order to protest 529 death penalties.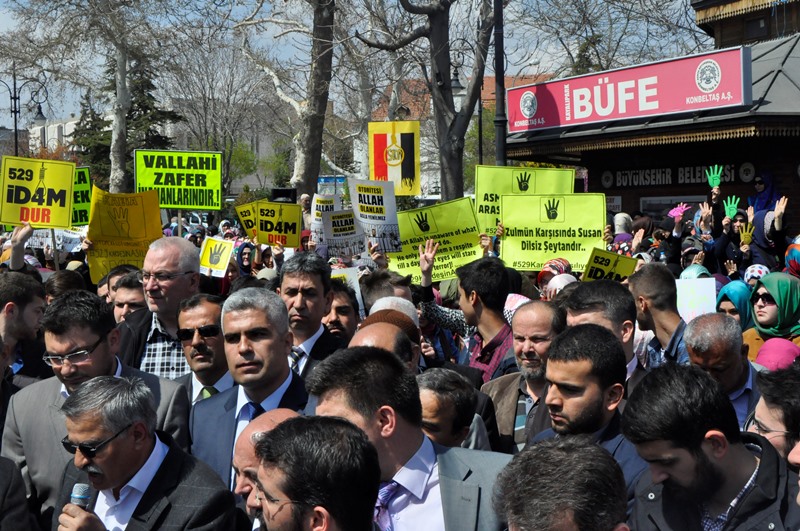 The head of executive committee of Konya NGOs, Latif Selvi delivered a speech and said that their prayers are with Egypt. "Major countries who claim to be strong could not even pronounce that that happened in Egypt was a military coup and remained silent. Today, here we shout out at the centre of Konya to the world: We will fight for Egypt till our last breath and will never give up."
The protesters called to "support the oppressed, stand against the oppressor". The demonstration ended with slogans.
Mobile soup kitchen from Turkey to Ukraine
The mobile soup kitchen dispatched by the IHH Humanitarian Relief Foundation to Ukraine, which is under Russian bombardment, departed from Istanbul. The soup kitchen was intended to provide food to 30,000 people each day. In addition, three truckloads of humanitarian supplies provided to Ukraine by the IHH in recent weeks have been delivered to war victims.
IHH helped 700,000 Syrians in 2022.
In 2022, IHH Humanitarian Relief Foundation delivered 2,043 truckloads of humanitarian relief supply to war-affected Syrian residents living in the country's IDP camps and settlements in various locations.
The last terminal of "An Armful of Goodness"
IHH Humanitarian Relief Foundation continues to commemorate the 11th annual Orphan Solidarity Days (OSD) project with the theme "An Armful of Goodness". Many studies have been carried out for orphans and their families in Kenya, one of the countries where the initiative is executed.