Tough year 2020 and IHH
We had a difficult and unusual year. It was times that disrupted our routines, changed our habits, and, according to some, alienated us from each other. We disagree with any of this because 2020 was a year of growth for IHH. This is a development that makes us very happy on behalf of those in need. Thanks to our benefactors, we expanded our fields of work and aid activities.
During the coronavirus period, we delivered aid to millions of needy people in our country and other countries. We have increased our number of orphan sponsors in Turkey to 14,871. In Syria, we cooked 153 million pieces of bread a year and delivered them to those in need.
We wanted to summarize a year of IHH for you. In this article, you can read about what happened and what IHH did.
Coronavirus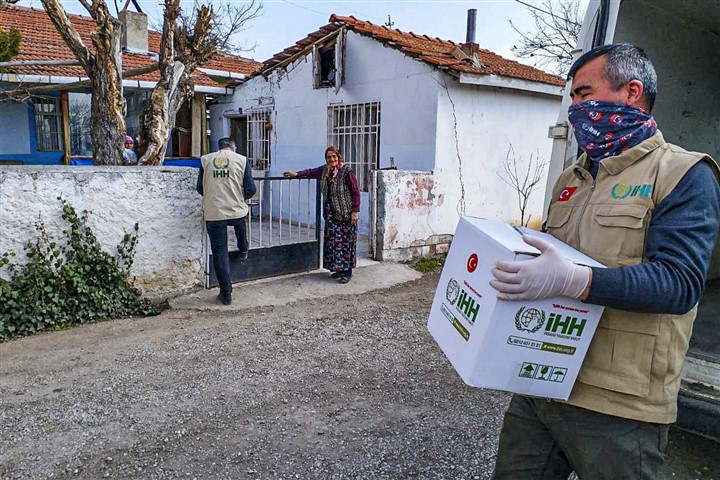 COVID 19, a new type of coronavirus, has affected the world since the beginning of 2020. We are in 2021, the vaccine was found, but the effect of the virus continues. The coronavirus caused the death of more than two million people in the world and caused pandemic alarms. Although the virus came to our country late, its effect increased day by day and approximately 25 thousand of our citizens died due to the corona.
Our foundation has started the campaign 'Now Is The Time For Solidarity' to support our  citizens and delivered aid to those in need.

During the coronavirus period, our foundation;
- did its Ramadan work only in 81 provinces in our country and in crisis regions such as Syria, Yemen, Arakan.
- delivered 10 million TL in cash aid to families in need, primarily orphans.
- delivered the 100 thousand food packages it planned to distribute in Ramadan to the needy before the planned time.
- distributed tens of thousands of food packages to our citizens in need of home care, elderly and chronic diseases in the first place.
- delivered 10 thousand hygiene packages to families in need.
Orphan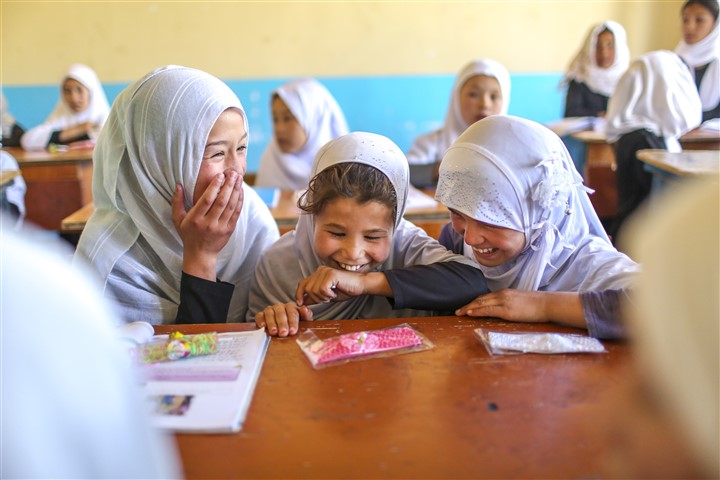 According to UN data, there are 140 million orphans in the world today. This number is increasing day by day due to reasons such as natural disasters, violence and war. Every year, 300,000 children are forced to fight in wars.
With your help, we supported over 107 thousand orphans in Turkey and 50 countries of the world in 2020. They are supported every month regularly. The Orphan Sponsorship System, built with the support of thousands of benefactors, contributes to the protection of orphans and let them stand on their own feet safely. Orphans who know they are not alone continue their lives as healthy individuals.
Thank you for taking care of the orphans. Together, we can have more orphans. What do you think?
Orphan Solidarity Days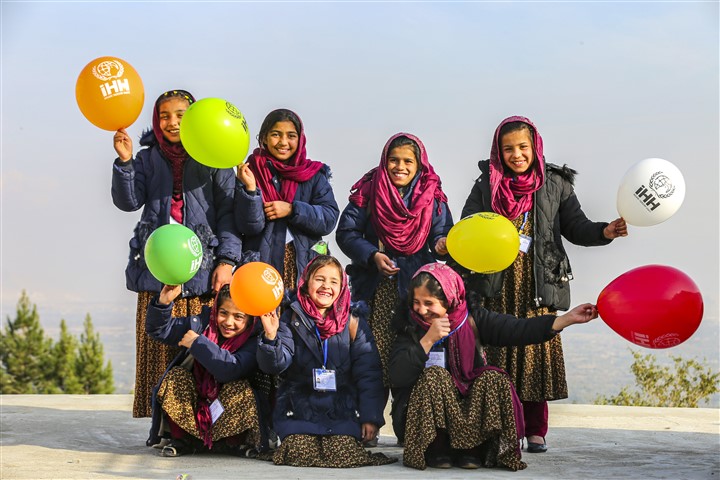 IHH organizes Orphan Solidarity Days every year to draw attention to the reality of orphans, to publicize the projects for orphans, and to raise awareness in the society for children who remain unprotected; hundreds of projects are being implemented.
Instead of financial assistance, the projects are made up of development projects in which orphaned children and their families can make their lives easier and earn a living without being dependent on anyone. We aim to change their lives with social projects on many issues such as buying animals, vocational courses and opening shops.
2020 Orphan solidarity days projects carried out 236 projects in 25 countries, including Turkey, where IHH continues its orphan work. He implemented 18 projects in various cities in Turkey. 91,548 people benefited from the implemented projects.
Syria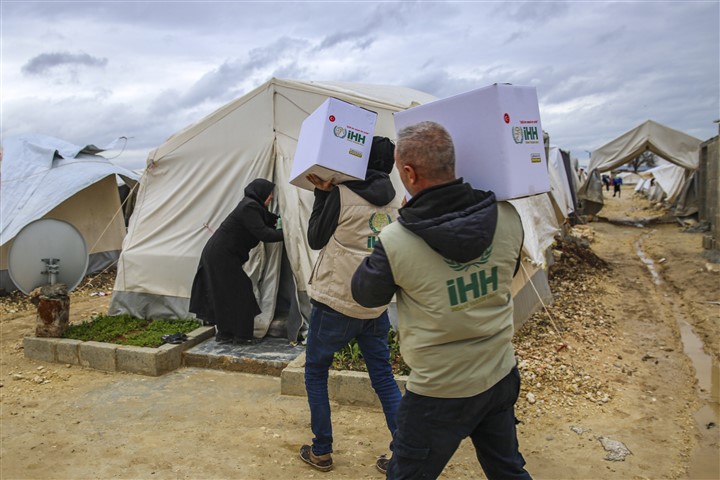 Since the beginning of the war, we have been working to compensate the grievances of refugees who were displaced inside Syria and forced to seek refuge abroad. The aid provided to meet humanitarian needs such as shelter, clothing, education, health and food is delivered to the Syrian people through our coordination centers.
We strive to mitigate the devastating effect of the war on refugees with the permanent works we have made. The importance of permanent work projects for Syrians, who cannot return to their homes, increases as the crisis deepens.
TIR carrying 2 thousand 704 humanitarian aid was sent to Syria. We produced a total of 153 million pieces of bread in the 12 bakeries we established in Syria and on the border, and in 27 bakeries that we assisted with flour aid; and delivered them to those in need.
Water Wells
In 2020, IHH drilled 1,311 water wells in 22 countries. These wells enabled 535 thousand people to reach clean water. With the support of our benefactors, these wells are drilled in Chad, Ghana, Mali, Guinea, Sierra Leone, Niger, Cameroon, Somalia, Togo, Ethiopia, Kenya, Tanzania, Uganda, Sudan, Zimbabwe, Nigeria, Benin, Liberia, Afghanistan, Nepal, Bangladesh and Thailand.
Water wells save people from walking for miles every day and consuming foul water that causes deaths. It contributes to the development of livestock and agriculture. IHH has 9,880 water wells in 41 countries. Through your support, drilled wells enable more than 3 million people to access clean water.  With a well, about 400 people meet their need for clean and healthy water.
Help people who can not reach clean water
Ramadan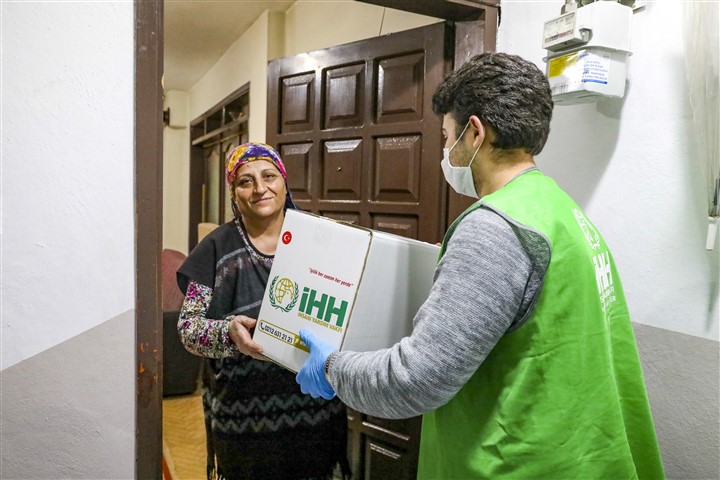 Due to the coronavirus, Ramadan 2020 was difficult for those in need. We started our Ramadan campaign earlier to cure the problems of the needy people and delivered thousands of food packages to those in need. In our work, we have focused our country and  regions in crisis.
With your support and donations,  in the month of Ramadan 2020 we have reached more than 2 million people in crisis regions together with Turkey. We distributed 246,857 food packages and shared iftar tables with 601,940 people. We delivered your zakat, fitrah and fidyah to 137,244 needy people. We gave clothes for Eid al-Fitr to 100,396 orphans and children in need.
Qurban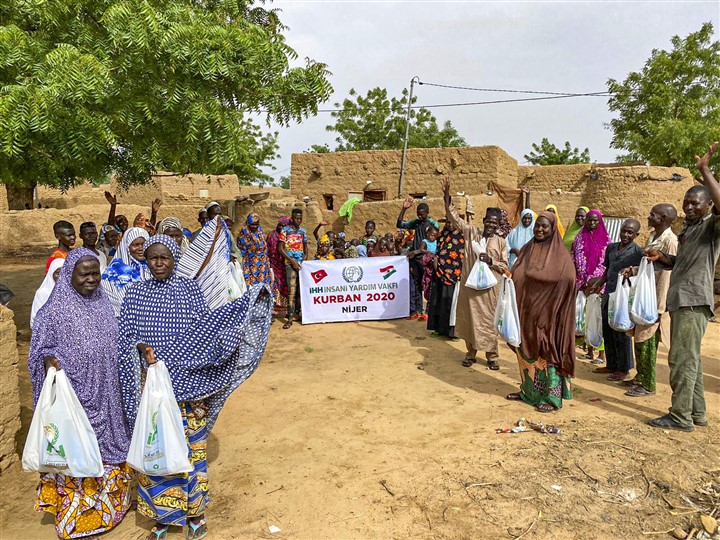 In Eid al-Adha 2020, we reached 52 countries together with Turkey.  With your support and donations, more than 4 million people in need benefited from 82 thousand 440 qurban shares.  The faces of 184,552 orphans and children in need laughed in their new eid outfit.
Cataract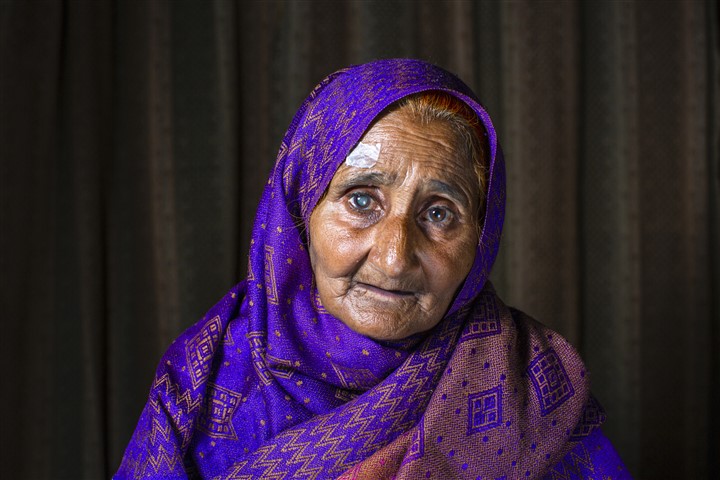 Millions of people lose their eyesight and continue their lives dependent on others as they cannot have surgery because of technical and financial impossibilities. IHH is working all over the world to change this situation.
Our benefactors helped to cure 14,555 people's eyes in 2020. These surgeries were performed in Mali, Uganda, South Africa, Chad, Bangladesh, India, Pakistan and Sri Lanka. Within 13 years, more than 130 thousand people started to see through your support. Our goal is to reach everyone in need.
Quran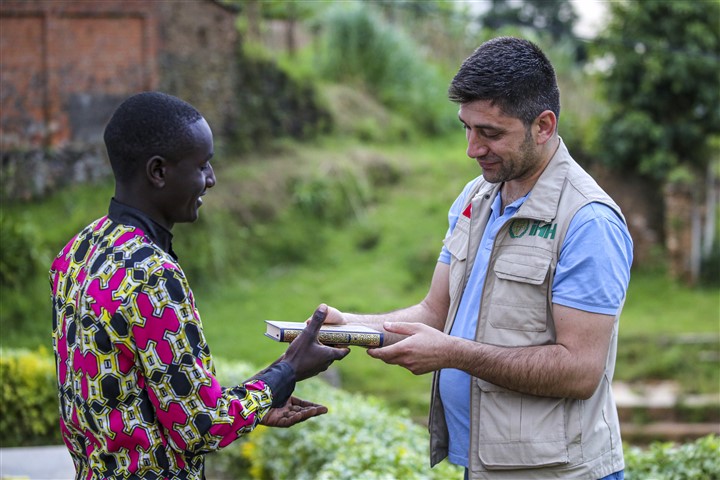 In 2020, our foundation distributed 25 thousand 600 Qur'ans in 7 countries. With the Qur'an distributed in Ukraine, Niger, Cameroon, Sierra Leone, Chad, Guinea and Ghana, it aimed to meet the need of the Qur'an of Muslims. With the distribution of the Quran in 2020, 242 thousand people have attained the Quran so far.
With your support tens of thousands of Muslims will be able to learn and read the Quran more easily.
Palestine/Gaza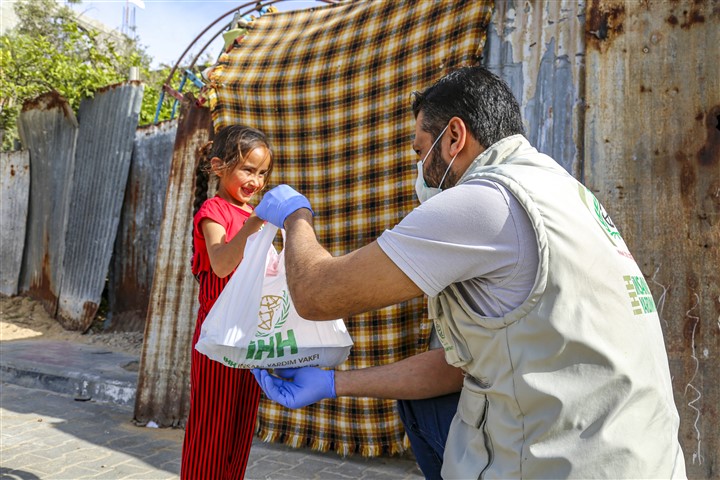 Since the Israeli occupation in 1948, life in Palestine has become more difficult every day. Under the ongoing blockade in Gaza, about 2 million people are deprived of their basic needs. We have reached hundreds of thousands of people in Gaza with the work we have done for many years.
Only in 2020, 320 thousand 760 people benefited from our education, food, health and orphan activities.
Yemen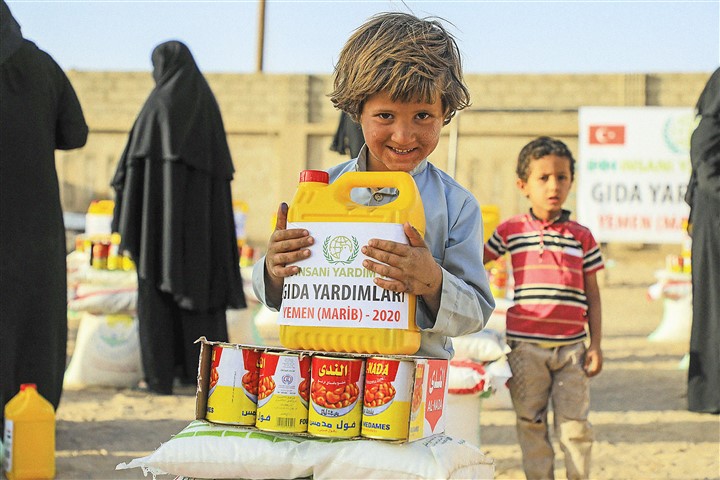 Yemen has been struggling with civil war for years. In Yemen, where even humanitarian aid can hardly be delivered, food deficiency causes epidemics. Due to conflict, hospitals are falling into ruins, housing conditions are getting worse every day, millions of people have trouble accessing food.
In 2020, we delivered aid to 690,085 needy people in Yemen, especially in the most needed areas like food and health.
Elazığ earthquake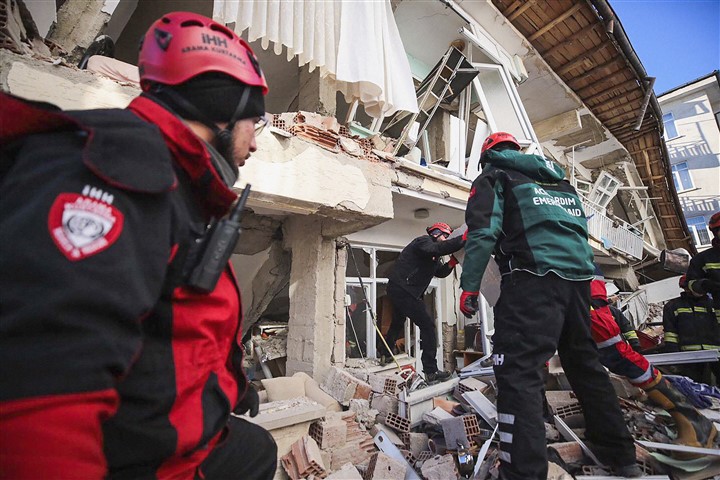 In early 2020, the magnitude-6.8 quake centred on Elazığ and Malatya provinces occurred. Our foundation immediately sent its search and rescue and emergency aid support to the region and remained there until the impact of the earthquake was over. A team of 314 people picked up the pieces of the Elazig earthquake victims.
For Elazığ, our foundation;
- delivered emergency aid supplies with 5 TIR, 4 trucks and 2 minibuses.
- distributed boots, coats, gloves, scarves, blankets, stoves, bottled gas, catalytic, ready-made food, baby food, breakfast, hygiene packages, diapers and water.
- delivered 250 heaters.
- provided hot meals to the public in 2 mobile soup kitchens; more than 9 thousand citizens had the opportunity to have hot meals.
- supported the establishment of tents in coordination with AFAD. 950 tents were set up and earthquake victims were settled.
2020: The Mavi Marmara Year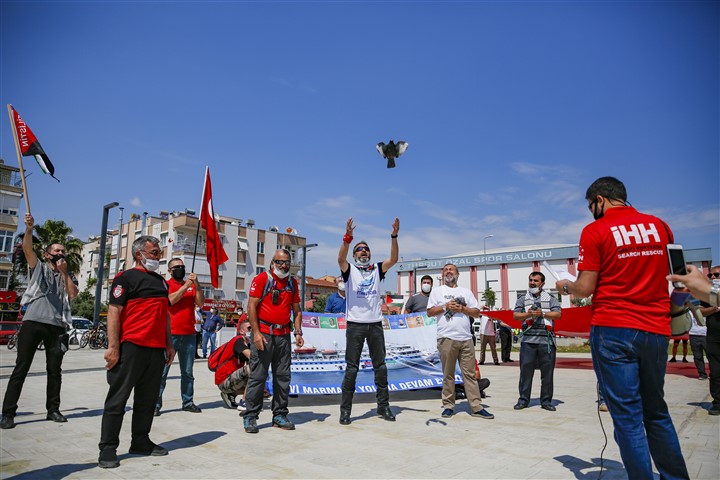 Mavi Marmara, which set out in 2010 to deliver humanitarian aid to Gaza, and the Gaza Freedom Flotilla were attacked by Israel in international waters. 10 humanitarian aid workers lost their lives in these attacks, 56 people were seriously injured. It has been 10 years since this incident. IHH has determined 2020 as the year of Mavi Marmara and commemorated Mavi Marmara with various activities.
Edirne refugees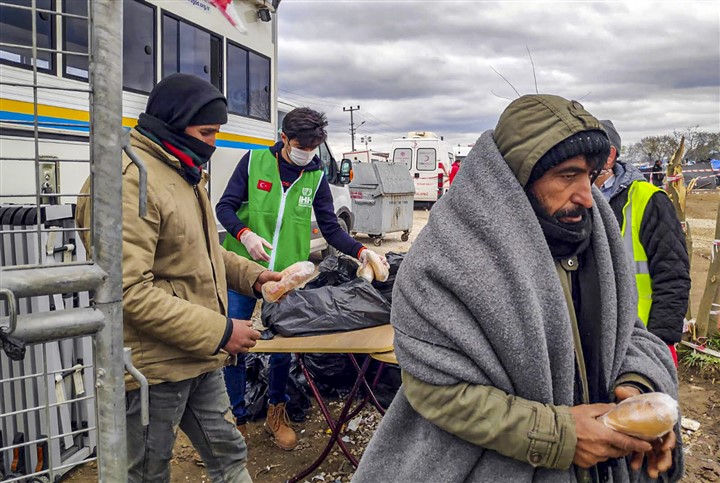 Earlier in the year, Turkey opened its border gates with Europe for refugees and allowed them to pass. However, as a result of the harsh interventions of Greece, thousands of refugees could not cross the border, and the refugees who stucked between Pazarkule and Kastanies gates experienced difficult situations. Some were in danger of death due to starvation and some from cold.
Our foundation started humanitarian aid activities for refugees in Edirne from the first moment of the incidents. Food for 50 thousand people, blankets for 5 thousand people, milk, diapers, and cleaning supplies for women were some of the aids distributed in the region.
Beirut explosion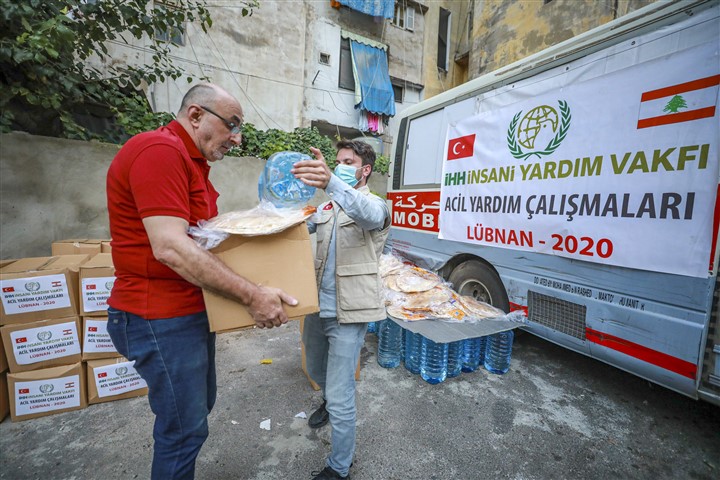 One of the most painful events of 2020 happened in Beirut, Lebanon in August. As a result of the explosion of an ammonium nitrate warehouse in the Port of Beirut, 154 people died and more than 15 thousand people were injured.
IHH delivered aid to thousands of Lebanese through an emergency relief campaign launched immediately after the explosion. Aids consist of the main headings like flour, food packages, hot meals, hygiene packages, repair of damaged houses. More than 50 thousand people benefited from these assistances.
İzmir earthquake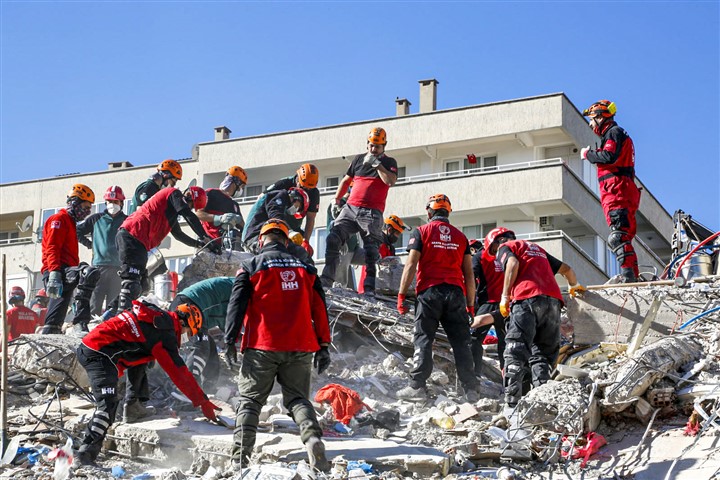 In the last months of the year, an earthquake of 6.6 magnitude occurred in Izmir. IHH Search and Rescue teams were dispatched to the region with 287 people from 32 provinces. The teams picked up the pieces of earthquake victims by carrying out emergency aid activities as well as search and rescue with 52 vehicles, 1 search and rescue boat, 1 mobile soup kitchen. Blankets, hot food, water, masks and chocolate were distributed to thousands of people. Our foundation remained in the region until the impact of the earthquake wore off.
Arama Kurtarma çalışmalarına destek ol
Flood Disaster in Giresun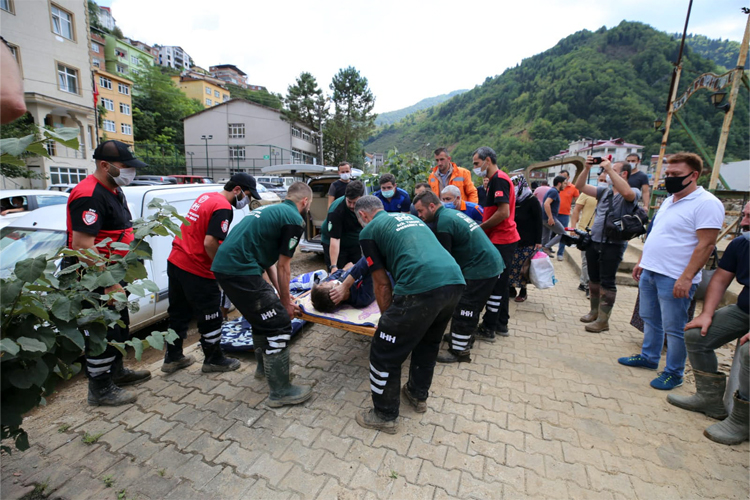 From the first day of the flood disaster in August, IHH Search and Rescue teams supported the search and rescue operations with a team of 60 people, 10 of them divers, to find people missing in Giresun. Search and rescue operations were carried out along the streams and in the water to reach the seven missing persons in Dereli, Doğankent, Çaldağ and Yağdere regions of Giresun. While continuing search and rescue operations under the Coordination of AFAD, IHH team also distributed hot meals and breakfasts for a thousand people daily with a mobile soup kitchen sent to the region.
Briquette Houses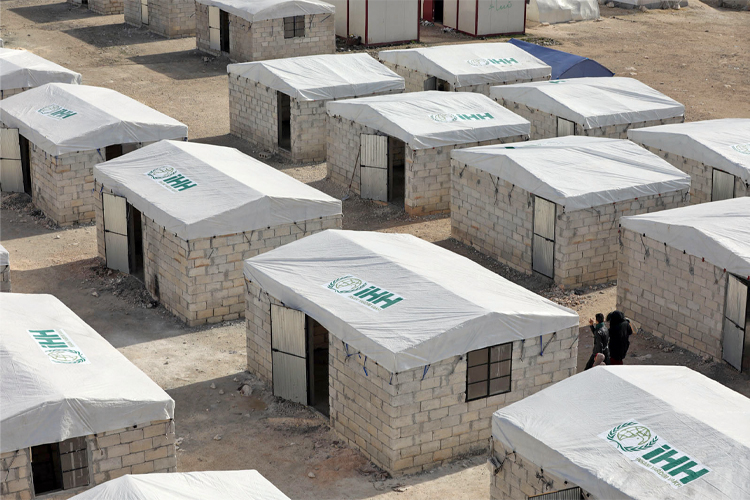 The war in Syria caused a serious humanitarian crisis. 6.6 million people were displaced inside the country. The ones that survive war are trying to keep living in tents or derelict buildings. There are 1.5 million people living in tent cities and 80% of them are women and children.

We have developed various projects to solve this problem. One of them was Briquette Houses. In 2020, IHH realized the Briquette House Project and built 12 thousand houses and settled families.
Support Convoy for Azerbaijan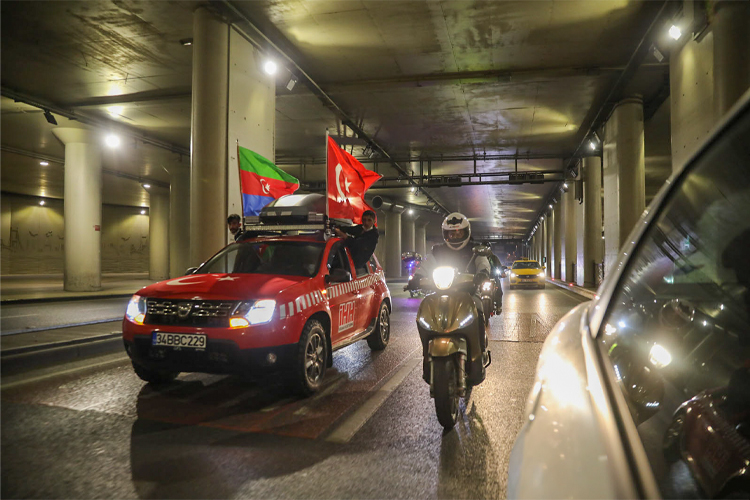 IHH Humanitarian Relief Foundation organized a convoy in support of Azerbaijan against the attacks carried out by Armenia. In the convoy, which was decorated with Azerbaijani and Turkish flags, civilian vehicles left from Sarachane Park. Motorcycles and off-road vehicles joined the convoy from IHH Headquarters with the slogan "Time for Brotherhood."
The convoy followed the route Saraçhane, Şişhane, Taksim, Harbiye, Şişli, Mecidiyeköy, Barbaros Boulevard, Beşiktaş, Dolmabahçe, Tophane, Karaköy and Eminönü and completed its tour in Edirnekapı.