One in ten person in the world does not have access to water.

Drought, poverty, rapid growth of population, and pollution threaten clean water resources. Epidemic are on the rise in our planet where millions of people do not have access to clean water. If we fail to take affirmative and sustainable action against diminishing water resources the risks threatening human lives are going to grow bigger.
Help people who can not reach clean water
IHH has so far opened 9.967 wells in 41 countries for 21 years.

We are working to help people, who have problems having access to clean.
Opening wells in the areas of need comes at the top of our relief operations to this end.
Commissioning to open a water-well costs 3.000 Euro in 19 countries.

Technical features of water wells:
Depth: Between 15-90 meters
Number of people who benefit from the wells: 300-500 people daily
Surface construction: Concrete shell, hand-pump, animal water trough (a majority of the standard water wells are built using a hand-pump and by adding the water trough. The water wells are constructed based on a specific surface concept. However, based on conditions in certain regions, a different concept apart from the specified surface concept, and pump types can be used when necessary).
Countries where we opened water wells: Chad, Ghana, Mali, Guinea, Niger, Cameroon, Sierra Leone, Benin, Sudan, Ethiopia, Somali, Tanzania, Kenya, Zimbabwe and Afghanistan.

Technical Features of Special Water Wells
The more extensive water wells that are put into operation in regions and situations where opening standard water wells would fail to meet demands, are called specialized water wells. These can meet the water needs of almost 5.000 people. In regions where the specialized water wells are built, these contribute immensely to the development and sustainability of livestock farming. In addition, with its vast reservoir, these can be vital for the irrigation of agricultural land in regions suffering from drought. The costs of these wells vary according to each individual project.
Depth: Between 90-200 meters
Numbers that benefit from these wells: Between 2000-5000 people daily
Surface construction: Tank/reservoir, fixtures, solar energy system or generator, taps for daily use, animal water trough
Countries where specialized water wells were opened: Chad, Somalia and Tanzania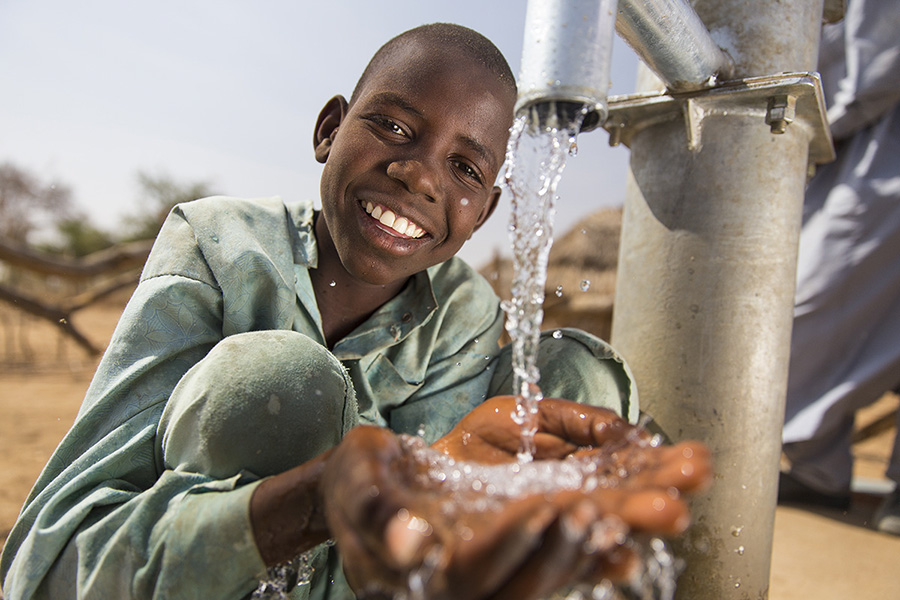 How much a standard well costs? 
A donor can commission a water well of regular standards for the fixed price of 3.000 Euro.
Apart from standard ones, we give quotes for wells especially specialized wells depending on the project. IHH carries out construction and maintenance of donated wells in Chad, Ghana, Sierra Leone, Kenya, Sudan, Tanzania, Afghanistan, Ethiopia and Burkina Faso. However IHH identifies the countries to open wells based on the needs and demands of the local communities. Therefore project countries and regions may change time to time. Please get in touch with IHH Water Well Office before you make up your mind about the country of your choice for donating for opening a well. 
For more information call us at +90 212 631 2121 
Water Source Projects Execution Timeframe and IHH Standards  
The execution of projects for construction of standard wells takes six to twelve months in African and Asian countries.

Checking and Renovating Wells  
Our teams follow up and regularly check the wells that are constructed with your donations.
A person is appointed as contact in the area of the well for emergency situations and any problems related to the well. 
If any problems are identified in regular checks or the well breaks down during two years after it was opened IHH covers the cost of repair. 
IHH draws up a separate project to carry out the repair of wells 2 years or older, and incurs the costs as well.

Analysis of Water Retrieved from Well 
A water sample is taken for analysis from each well opened in order to confirm that is free of chemicals like arsenic and cyanide and will not cause any health problems at all.
The water samples are analysed in specialized laboratories. 
According to the lab reports on water the well is opened to the public. 

Quote and Organization
At the beginning of each calendar year IHH identifies the areas where wells are needed and how many should open.
Based on the allocated quotes the wells are opened in 20 or 40 at a time on a periodic basis. 
The wells are built under the supervision of the experts from the region who make sure the standards are met. 

Follow Through and Inspection of Wells 
Our teams travel to the area to check the well that is completed and inspect the situation of the facility.
When the construction is completed we open the wells.
Digging and drilling in the wells under construction are monitored and inspected.
The needs of the local community are reviewed and the place of a new well is decided accordingly. 
What Can You Do? 
You can come together with your family or friends or relatives to raise funds to donate for opening a well or donate to the funds allocated for opening, repairing, and refurbishing. You can also contribute to the purchase of power generators; water channels, storage and equipment to this end hence help our Muslim brothers have access to clean water.