1000 Families Received Food Aid In Kyrgyzstan
IHH delivered food aid to Osh and Jalalabad cities in Kyrgyzstan. Last week's ethnic clashes in the country resulted in a death toll of 251. 1000 families received immediate food aid in addition to 62
Kyrgyzstan, Central Asia, Uzbekistan
24.06.2010
The death toll of last week's violent ethnic clashes between Kyrgyz and Uzbek groups in Osh and Jalalabad cities of Kyrgyzstan has reached 251 according to official records and the number of the injured has reached 2182. As a result of the violent riots, thousands have fled their homes and embarked on a journey to find new homes. Based on unofficial accounts, thousands were killed during the violent clashes.
Right after the start of the riots, IHH sent a team of 4 to the region, including 2 doctors and 2 paramedics. Orhan Sefik, aid worker from IHH, who has been in the region for over a week now, reports that the situation in the region is now gradually stabilizing. Orhan Sefik went to Osh and Jalalabad to carry out evaluation work and said that major parts of the two cities have been evacuated and the homes of Uzbeks have been razed to the ground.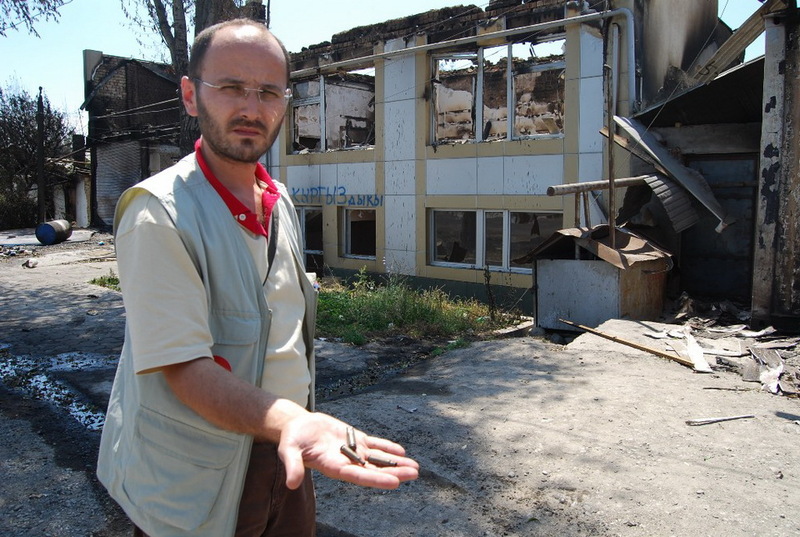 IHH team carried out assessment work in the region in addition to delivering food aid. IHH teams have taken the food aid cargo that was purchased from the capital Bishkek to the southern cities of Osh and Jalalabad.
1000 families received food aid
IHH's team of aid workers delivered food aid to 1000 families who were affected by the violent clashes in the region. The team also provided 62 orphans with clothing items, medicine, blankets and toys. Especially those Uzbek families who fled their homes because of the violence and ran away to the villages were given priority.
5000 people are now trying to go back to their homes
IHH teams have visited some places near the border and carried out assessment work there as well. Orhan Sefik reports that they witnessed 5000 families' efforts to return to their homes. In villages near the border, a lot of families took refuge in others' homes and in Jalalabad a lot of homes, university buildings and buildings of TV channels were burnt down and destroyed. Sefik also noted that the local authorities needed their time to declare precise reports on the damage and casualties, it will take at least 15 days to put forward clear information regarding the situation.
Emergency aid for Indonesia
IHH launched emergency aid operations in Indonesia following the eruption of the Mount Semeru volcano. Food was distributed as part of its initial aid.
Emergency aid for Cameroon refugees
45.000 people took refuge in Chad as a result of the conflict that broke out between tribes due to access to water sources and use of land. IHH Humanitarian Relief Foundation launched aid efforts for the refugees living under extremely difficult conditions in camps in the capital N'djamena.