3rd Cataract Surgery Center opened in Sudan
The IHH Humanitarian Relief Foundation has opened the third cataract surgery center in Sudan's Darfur region in partnership with Turkish Cooperation and Development Agency (TİKA). The cataract surgery
The IHH has been offering free treatment to eye patients in Africa since 2007 thanks to donations from Turkish charity givers. The IHH provides all the treatment expenses at the center.
The cataract center in Al Janine has already begun to admit patients.
Turkish medics also offer services at the center. Two Turkish medics, Cafer Ziya Alyamaç from the Ordu State Hospital and medical technician Ercan Kayrak, join in cataract surgeries and give training to Sudanese doctors. The Turkish medics will stay in Sudan for 10 days.
Accepting the IHH team, Turkish ambassador to Khartoum Ertuğrul Kök praised the IHH for its efforts in the region as he said: "We offer our thanks to the IHH for implementing such a project in Sudan where eye problems are very common."
For his part, TİKA's Sudan coordinator Enver Arpa said: "We are very happy to be with our brothers and sisters in Darfur." Noting that the Turkish and Sudanese people have very old brotherly ties, he said: "We did not forget the aid delivered to the Ottoman Empire by Darfur in the most difficult times of the empire. We are here to strengthen our brotherhood."
IHH-TİKA joint project
Arpa said TİKA carries out a variety of projects to meet the basic needs of the Sudanese public and that it works in cooperation with many non-governmental organizations. Stressing that the TİKA carries out its cataract project in the region in partnership with the IHH, Arpa said: "Many non-governmental organizations have difficulties in accessing west Darfur out of security concerns but TİKA and the IHH can carry out their relief efforts in west Darfur as well."
IHH Cataract Project Coordinator İhsan Özyürek said treatment of 30 eye patients is expected to be made in the newly-opened cataract surgery center. He noted that approximately 50.000 cataract patients have been treated in Africa and 26.000 of those patients were from Sudan. Özyürek noted that the IHH also has some other projects for Sudan.
Darfur: a safe place for Turks
Al Janine Health Minister Abul Kasım Al Emin Baraqa described Turkey as a brother country as he welcomed IHH and TİKA officials. "We send our greetings to Turkey via the IHH," said al Baraqa, who called on Turkish people to visit Darfur.
"You have no worries about coming here. This is a safe place for Turks. Sudan will have stability with you," he said.
Arpa and Özyürek were presented with plates at the inauguration ceremony.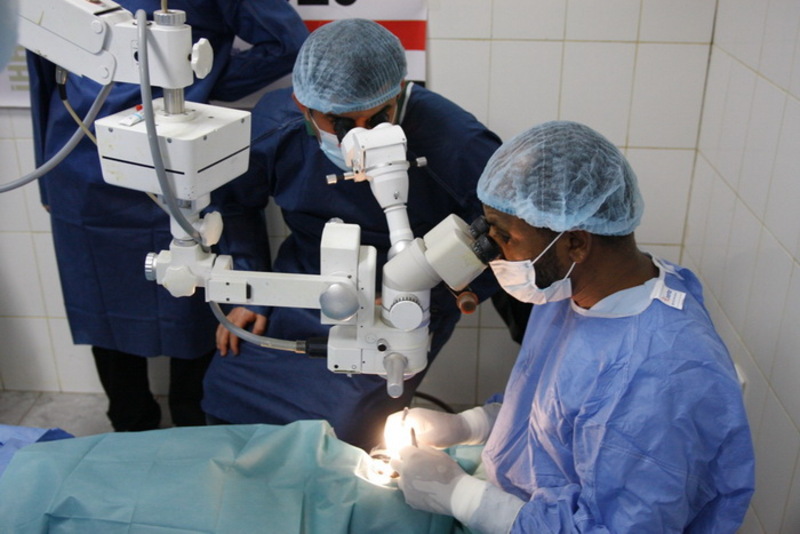 7 years later… Life is very strange
Surgeries have begun at the newly-opened cataract surgery center in Darfur. Dawut Mujeybir who has been suffering from cataract for seven years and has almost lost his eyesight is one of the first patients treated at the center. Quickly regaining his eyesight after undergoing a surgery, Mujeybir shared his joy with remarks: "It [seeing things again] is a very strange feeling. I am very happy. I found that the appearances of people I know have changed."
Cataract surgery project in Africa is funded through donations from our benevolent public. It is possible to make one regain their eyesight by making a donation of TL120. IHH's cataract project is implemented in 10 African countries which include Mali, Niger, Burkina Faso, Somali, Sudan, Ghana, Benin, Togo and Chad.
Cataract cases in Africa
Many people in Africa lose their eyesight at a very young age due to malnutrition, lack of hygiene and climate conditions. Considering the fact that there is a shortage of eye doctors in the continent, cataract patients particularly those living in rural areas do not have the means to undergo a surgery, hence they continue to live in darkness.
How can I take part in the cataract project?
You can take part in the cataract project by making donation to the IHH.
1-You can come to the IHH headquarters and make a donation in cash.
2- You can make online donation through the IHH's website.
3-You can transfer money to our bank account numbers.
Meat aid for Syria
IHH Humanitarian Relief Foundation has delivered meat aid to 25,000 families living in tent cities and IDP camps in the countryside of Syria's Idlib and Aleppo provinces.
Sacrifice-Aqiqah, Qurbani
15.09.2022
Mosque-Masjid, Education
19.08.2022