46th aid truck from Sakarya to Syria
With funds raised from the Outcry documentary viewed in Sakarya, an aid truck has departed for Syria from Sakarya.
In conjuction with Ilim and Hikmet Waqf, Ozgur-Der Sakarya Branch, and funds raised from joint production between IHH and Outcry Documentary, an aid truck has been prepared for Syria.
The 46th aid truck that will leave Sakarya to Syria departed with an official ceremony, officiated by the Ozgur-Der Sakarya Branch manager M.Baki Kiziltepe, who in his speech highlighted the plight of the Syrians in his speech. The truck then departed after a prayer by the Ilim and Hikmet Waqf committee member Abdullah Ozdemir.
At the end of the programme, they reiterated their continuous support for food and aid whenever required.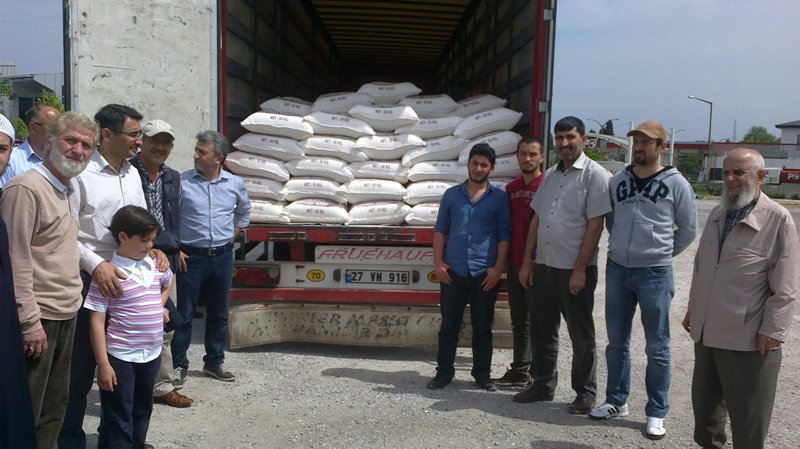 Aid for flood-affected families in Sudan
Sudan's last week's flood is still impacting the country. The floods, which claimed 99 lives and wounded 94 others also destroyed houses, workplaces, and acres of farmland. After the floods, IHH Humanitarian Relief Foundation launches its relief efforts for the victims there.
IHH Takes Action for Pakistan
The flood occurred the day before due to heavy rains in Pakistan. The flood resulted in the deaths of 1061 people and injured 1575 others. Right after the flood, the IHH Humanitarian Relief Foundation launched an emergency relief effort for the country.
IHH delivers aid to Gaza
In the attacks carried out by the occupying Israel against Gaza, 44 people, including 14 children, were martyred and 360 people were injured. The IHH Humanitarian Relief Foundation, which took action immediately in the aftermath of the attacks, launched emergency relief efforts for the people of Gaza.