Aid Initiative from IHH to the Eastern Turkey
IHH Humanitarian Relief Organization has mobilized its donors for aid initiative toward the residents of eastern and southeastern parts of Turkey who are having a hard time due to conflicts and the winter conditions. 500,000 TL worth of aid was delivered to the region as a result.
IHH Humanitarian Relief Foundation continues to offer a helping hand to the millions of people affected by conflicts at home and abroad. In this regard IHH delivered 500,000 TL worth of aid in cash and in kind to the needy residents of various cities and towns in Eastern and Southeastern parts of Turkey where curfew is imposed frequently due to terror incidents and armed conflicts which gravely victimized the people.
IHH teams who visited towns and cities including Diyarbakır, Şırnak, Mardin, Hakkâri, Şanlıurfa, Cizre, Yüksekova, Nusaybin, Derik, Midyat, Viranşehir, Ceylanpınar and Silopi delivered aid in cash, food hampers, canned food, baby biscuits, baby formula, winter clothes, scarves, winter boots and shoes, blankets, pillows, quilts, carpets, kilims, bay diapers, hygiene kits.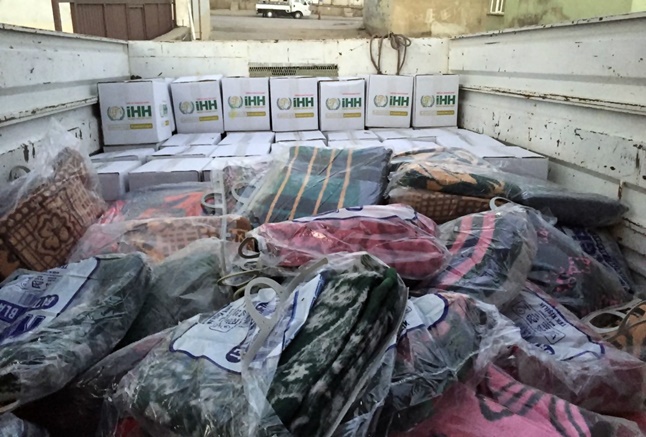 The Neeed Continues
The regional coordinator Behçet Atila commented on the topic and noted that they would not forget about the regions in Turkey affected by conflicts and terror incidents:  
"Many eastern and southeastern cities and towns including Şırnak, Cizre, Yüksekova, Mardin, Nusaybin, Derik, Midyat, Diyarbakır are victims of the recent events. We as IHH have immediately initiated the aid campaign. In the last month we have sent out aid trucks to Yüksekova, Hakkâri, Şanlıurfa, Viranşehir, Ceylanpınar, Şırnak, Cizre and Silop as a part of aid operations. In the last month we have distributed aid supplies that are worth of 500,000 TL to the victim families identified by our representatives in respective cities and towns. In addition to the aid work we are constantly in touch with them in order to identify their needs and provide for them.
We would like to extend our thanks to our staff in the headquarters, to those in Ankara IHH office, in Şanlıurfa IHH office, Solhan IHH office and Kahramanmaraş IHH office."
The problems increase especially during winter months in the region, said Atila and expressed that they are waiting more support from all donors and volunteers across the country.  
Emergency Aid Items
The immediately needed items of aid for the region are as follows:
Aid in cash (money)
Various food items (Food hampers)
Baby Biscuit
Baby Formula
Winter clothes(brand new)
Blanket
Pillow, blanket
Carpet etc.
Hygiene Kit
Firewood
Charcoal
Support from IHH to people of Yemen
In Yemen, where a civil conflict has been raging since 2014, relief efforts are still being made by the IHH Humanitarian Relief Foundation. Recently, IHH dispatched a team to the area to provide relief to the nation's needy.
Emergency aid to Afghanistan's earthquake victims
A least 1.000 people lost their lives and 1.500 people were injured in the 5.9 magnitude earthquake that struck the Khost province of Afghanistan. IHH Humanitarian Relief Foundation immediately launched an emergency aid campaign for the region.