Aid to more than 1 million Arakan people in one year
IHH Humanitarian Relief Foundation has delivered aid to 1 million 232 thousand Arakan Muslims who fled from the oppression and persecution that escalated in August 2017. IHH will continue its aid activities in the region.
Arakan,
Bangladesh,
Myanmar
06.09.2018
The Rohingya people, who have been constantly subjected to persecution for more than half a century, are continuously forced to flee from Arakan. The most recent, unprecedented migration wave that began in August 2017 reveals the magnitude of persecution in Arakan. Since the last crisis almost 800 thousand people were forced to flee to Bangladesh. With this migration, the number of Rohingya people living in Bangladesh has now reached 1 million 300 thousand.
Since August 1996, IHH Humanitarian Relief Foundation has been carrying out aid works for Arakan. Since August 2017 until August 2018, 1 million 232 thousand people in total have benefitted from IHH's Arakan aid works in the region. Throughout the crisis, IHH has provided aid to the Arakanese including food, water, hygiene supplies, clothing, healthcare, shelter, rehabilitation and also winter aid as a part of our winter operations. Aid was distributed in Bangladesh, Myanmar and India.
IHH's houses selected as sample homes
Our activities, particularly in scope of shelter, have brought great relief to the Arakan people. Until the present, we have built 7 thousand 432 homes in the region. These homes that are built from bamboo were also installed with solar panel systems. With the installation of these systems, this provided the Arakanese with both electricity and light. Before they were forced to flee from the country, the Arakan people were living without of electricity in Myanmar. International organizations that come from all over the world and carry out aid activities in the region failing to materialize such a project, distinguished Turkey's aid organizations from all the others. While none of the camps in the region had electricity or lighting, with the solar panels systems these camps were provided with light.
With the support of our donators, IHH plans to build another 5 thousand 568 bamboo houses, bringing the figure to 13 thousand homes in total. IHH is also materializing projects for walkways, stairs, green areas and garbage collection in the areas these homes were built. These homes constructed by IHH were displayed as sample homes to other NGOs that carry out aid activities in the region by the International Organization for Migration (IOM), an organization related to the United Nations.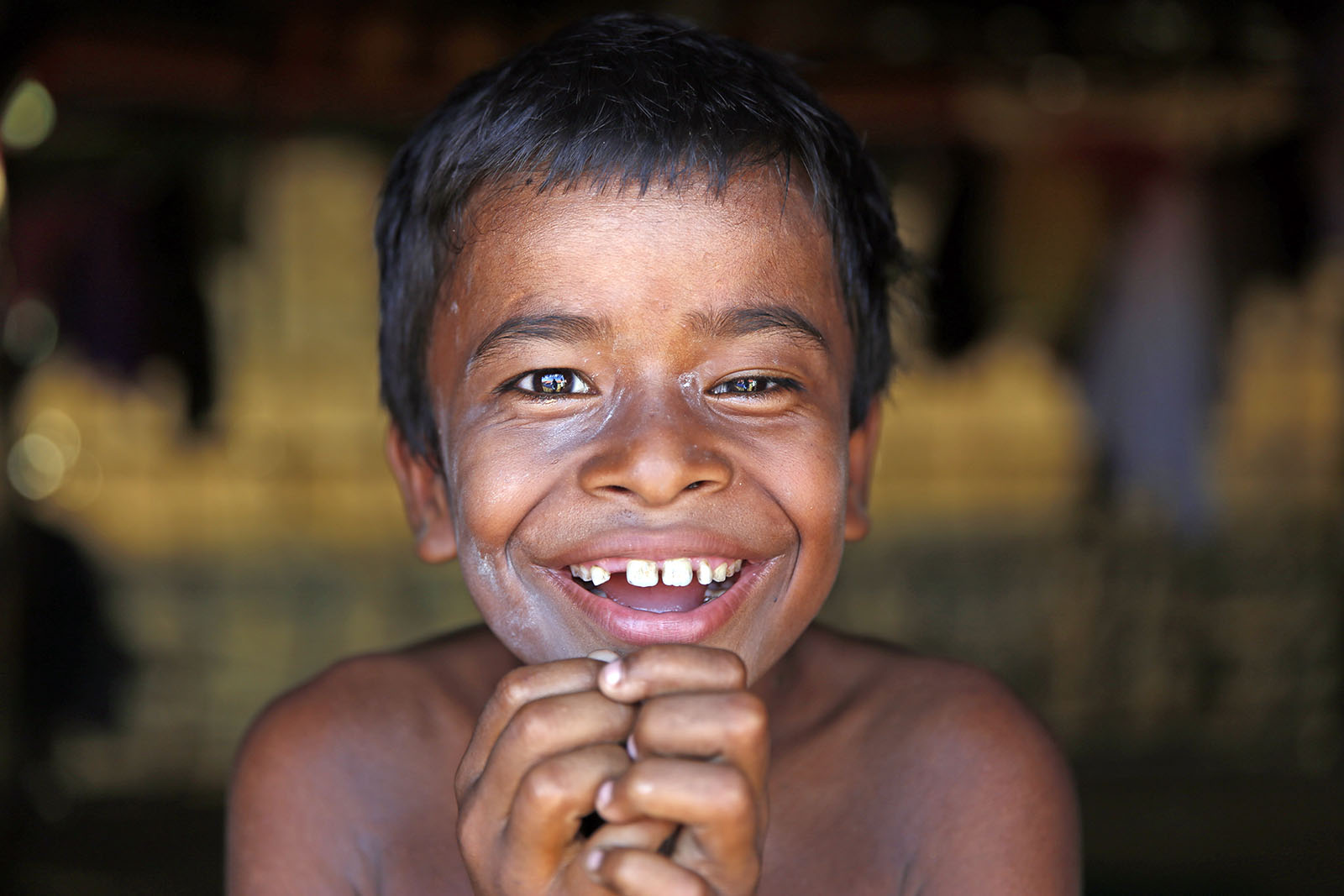 Emergency healthcare aid to 109 thousand people
In the early days of the crisis, we opened 1 temporary healthcare center in the camps in Bangladesh and 2 healthcare centers in Myanmar for healthcare services. Currently, in Bangladesh healthcare services are given in 1 healthcare center that serves 200 people a day. Additionally, during the early days of the crisis we provided treatment and hospital transport for 45 injured people. Up to today, 109 thousand 750 people have undergone health checks.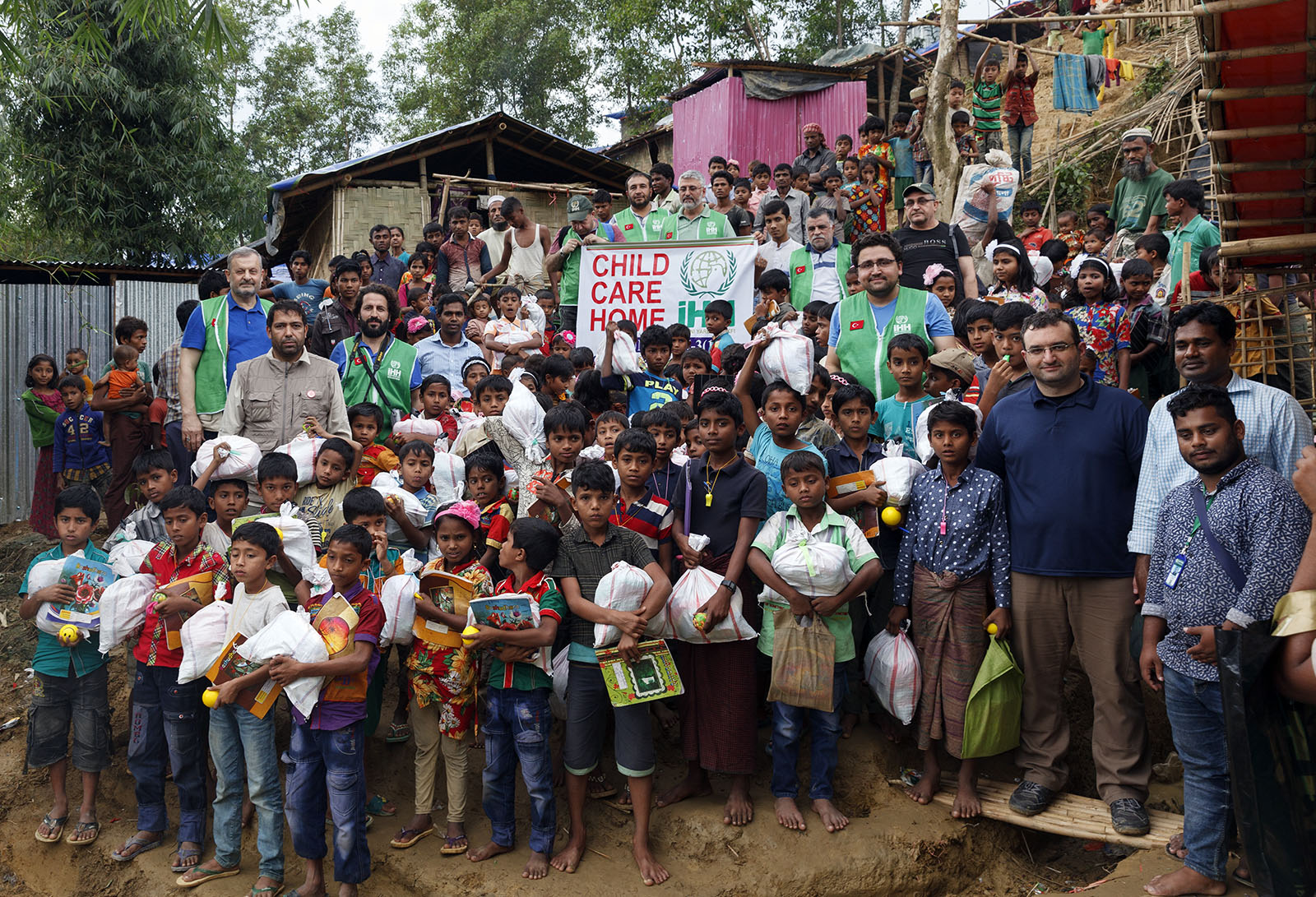 5 separate rehabilitation centers for Arakan children
IHH built 5 separate rehabilitation centers for children and orphans with the support of our donators. Rehabilitation Centers began to operate in the Balukhani, Jamtoli, Palongkhali, Bagguna and Ghumdhum camps in Bangladesh's Cox's Bazar region. In total, 1 thousand 94 children, including 94 orphans are benefitting from the 5 separate rehabilitation centers that also have play centers. In addition to rehabilitation services, in these centers shelter, education, healthcare and food services are also provided.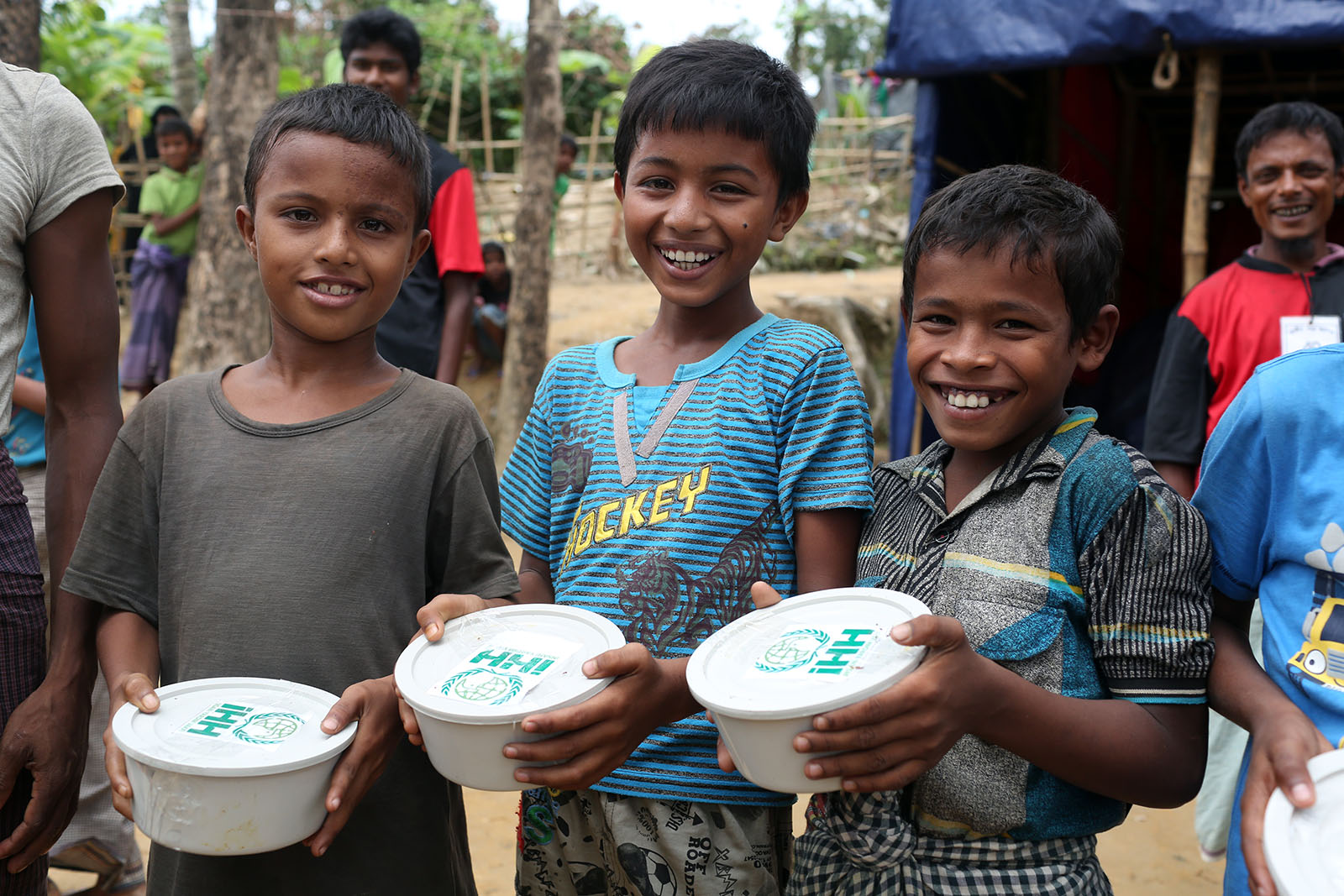 Orphans were not forgotten
With IHH's Orphan Sponsorship System, Arakan orphans living in the camps were not forgotten. As a part of this system, 678 orphans were included in the monthly support scheme. Stationary materials and toys were also distributed to the other children.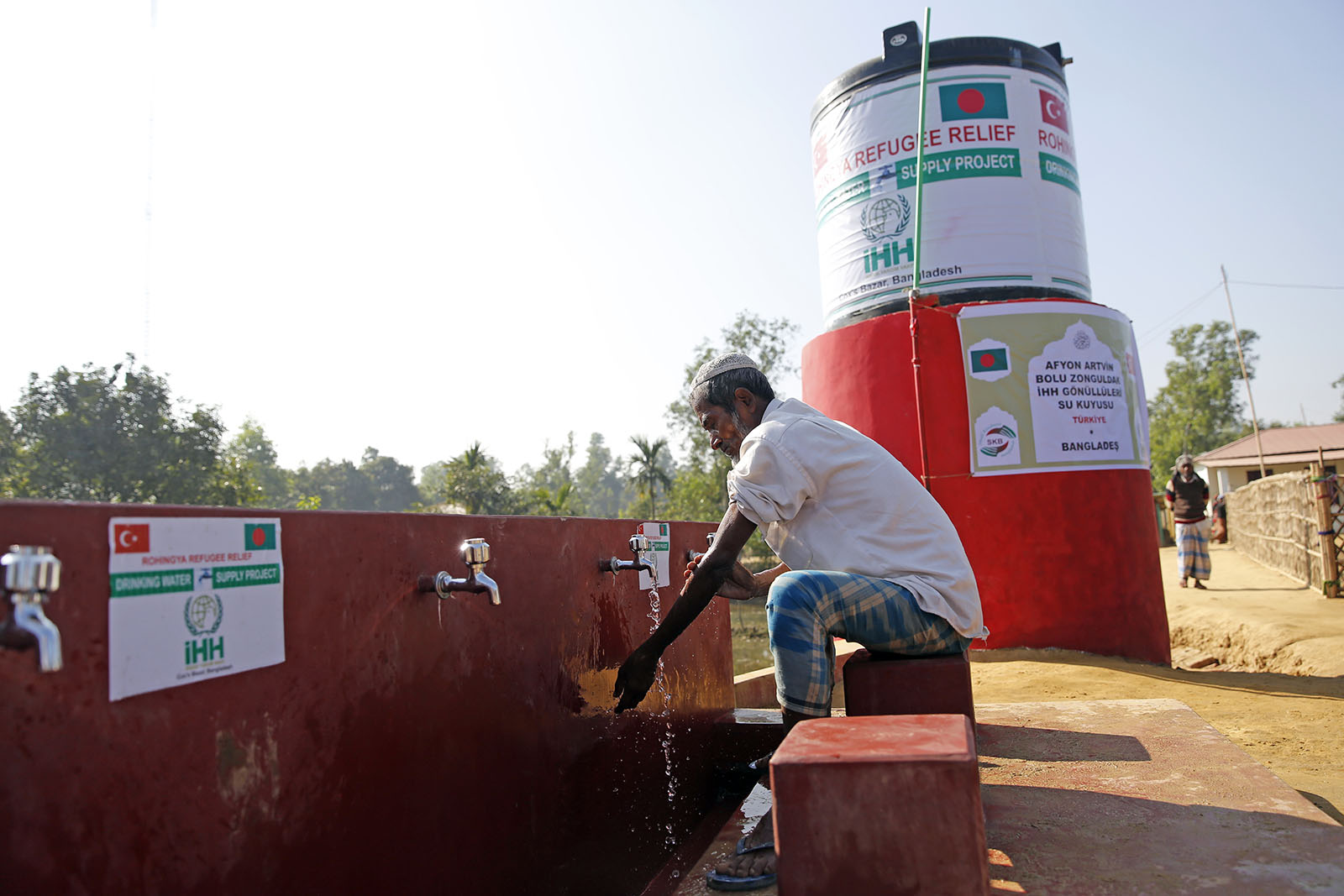 Water wells, bathing and toilet facilities
IHH opened 113 water wells and built 10 separate deep water wells that have 5 thousand litre water tanks for the Arakan people who have great difficulty in accessing clean water in the camps. In addition to the water wells, the building of 305 bathing and toilet facilities is also included in the construction of permanent works.
Winter operations
As a part of our winter operations, IHH teams distributed blankets to 19 thousand 385 families, 10 thousand jumpers, 1 thousand 500 women's shawls, and winter clothing aid packets to 800 people.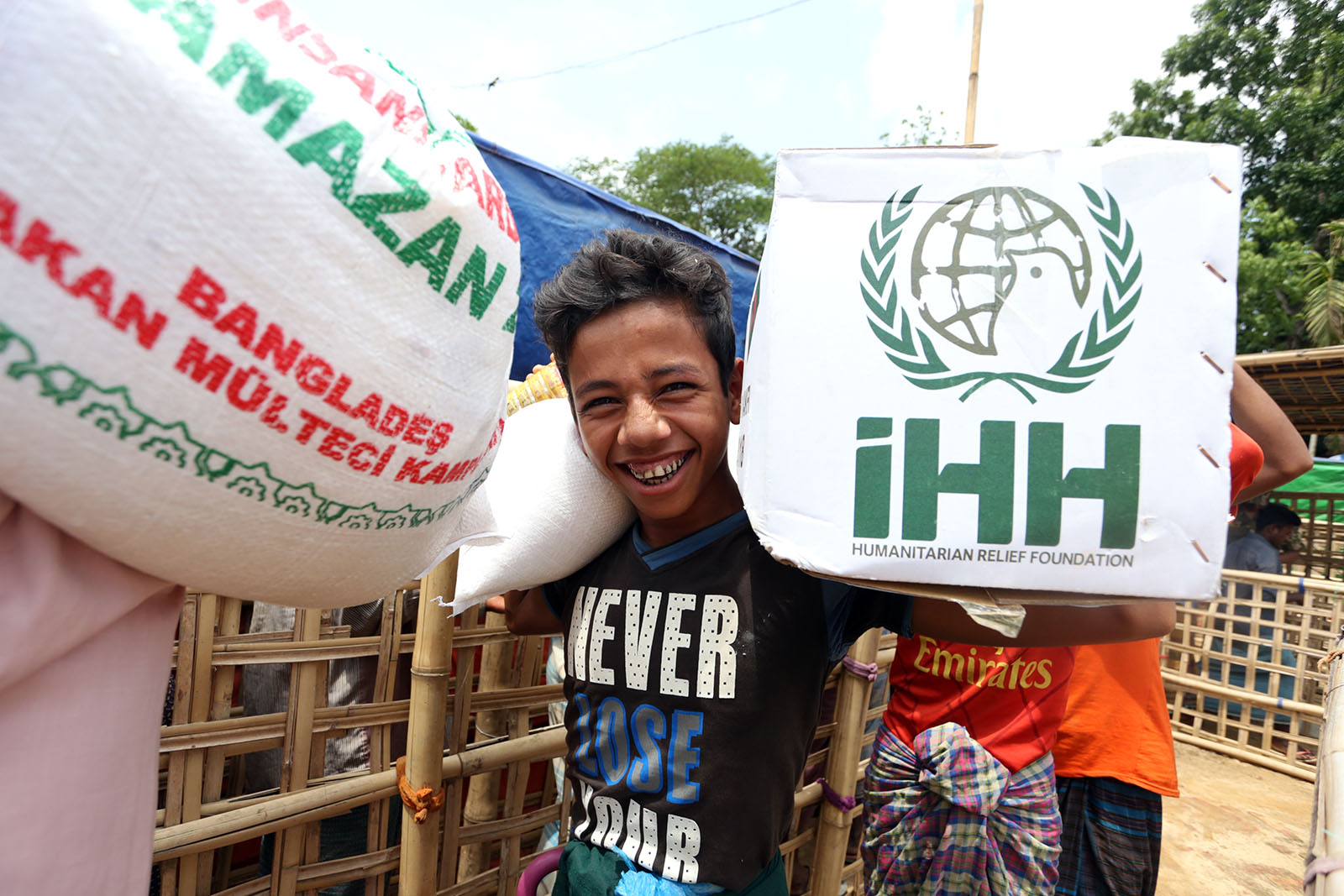 Other items of aid
With the support of our donators, IHH distributed various other kinds of aid including food packets to 136 thousand 699 families, hot meals to 111 thousand 550 people, cooked meat to 18 thousand 484 families, 3 thousand 750 packets of baby food, mosquito nets to 14 thousand 750 families, hygiene packets to 28 thousand 770 families, personal hygiene packets to 1 thousand women, straw mats to 12 thousand 540 families, kitchen and survival equipment to 10 thousand 783 families, cash aid to 5 thousand 336 families, clothing aid to 12 thousand 886 families and 25 thousand umbrellas.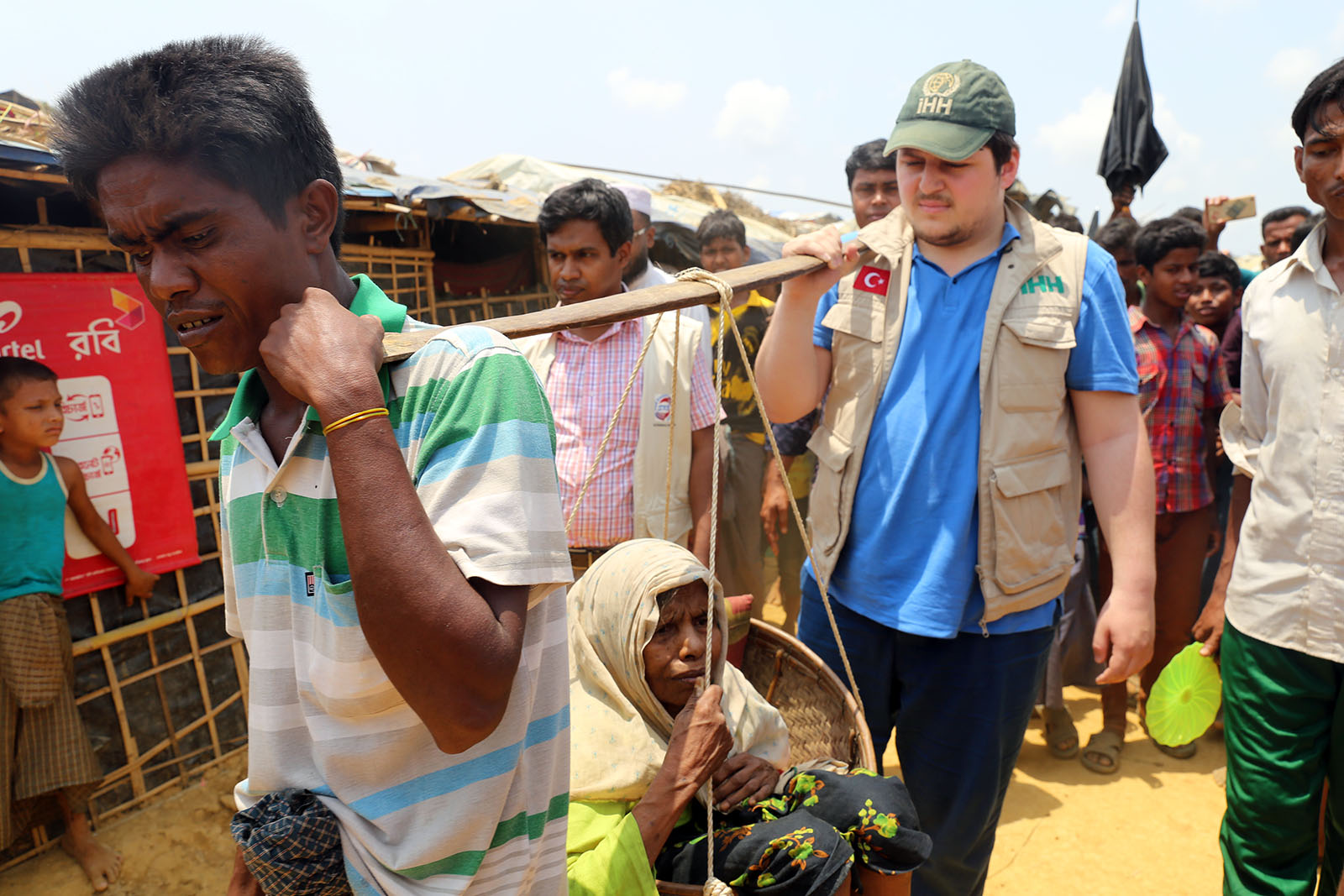 IHH met all the needs of Muhammad Ayyub
Among those who received aid from IHH was Muhammad Ayyub who carried his mother and father for seven days in baskets on his shoulders. IHH, that found Muhammad Ayyub, a young man who carried his mother and father in baskets on his shoulders when fleeing from the persecution in Arakan in April in the camp where he lived, provided treatment for him and his family and began to meet his needs.
IHH responded to Muhammad Ayyub's appeal to President Recep Tayyip Erdogan for help in the treatment process of his mother Asia Hatun, and transported his mother by ambulance to the Sahara Hospital established in the region by the Turkish Ministry for Health. In the hospital also supported by AFAD, Ayyub, his mother Asia Hatun and his wife were treated. IHH donated a wheelchair to Asia Hatun who has been paralyzed since 2008. IHH also met all the needs of Muhammad Ayyub and his family by providing them with the necessary humanitarian aid.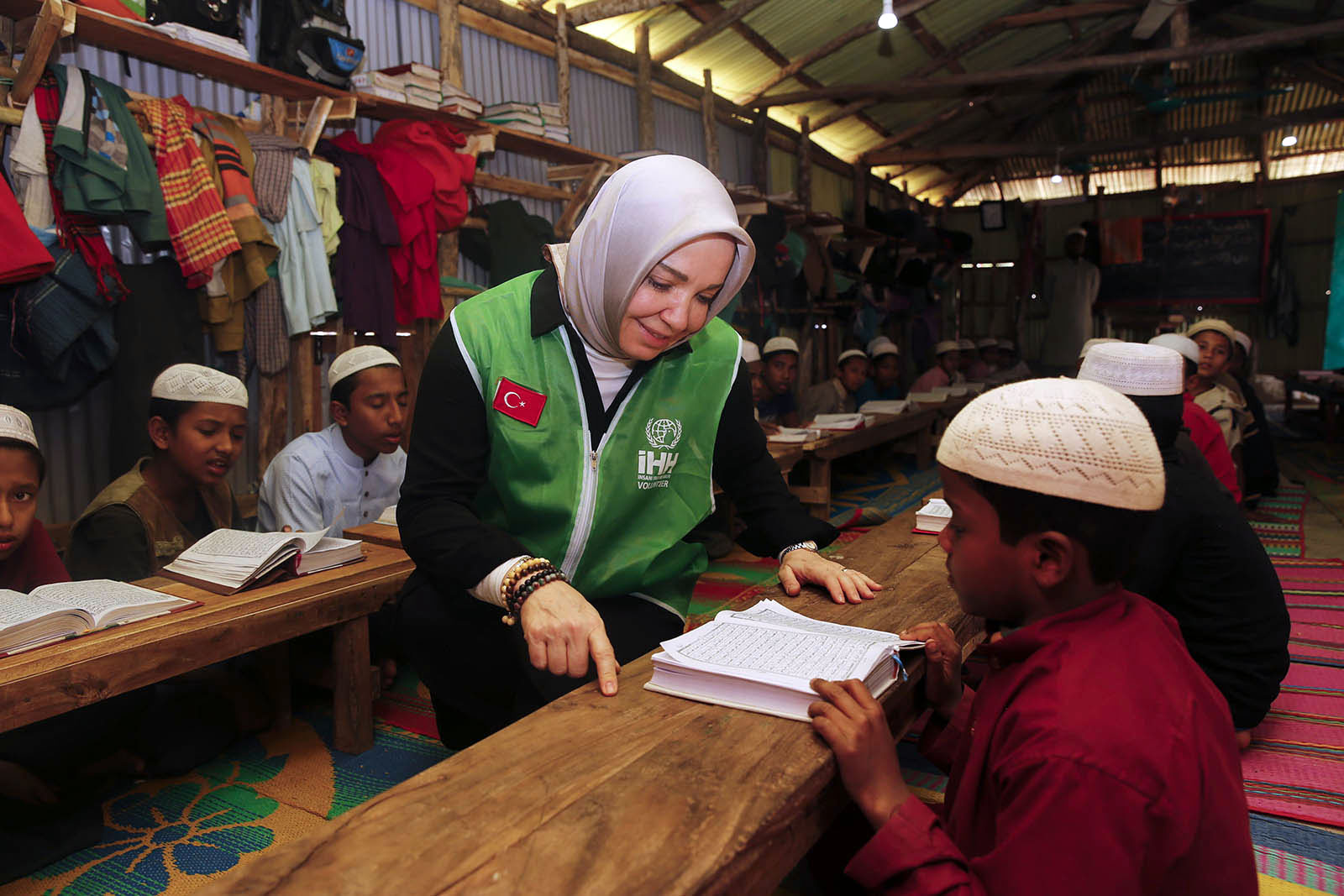 Visit to the Arakan people by senior officials
In January, AK Party MPs and Members of the IHH Board of Trustees visited IHH's camps in Bangladesh. Immediately after this, Former Minister of Culture and Tourism Numan Kurtulmuş visited the Coordination Center opened by IHH and was briefed on IHH's activities in the region. Actor Sinan Albayrak was also among those who travelled to visit IHH's camps in the region.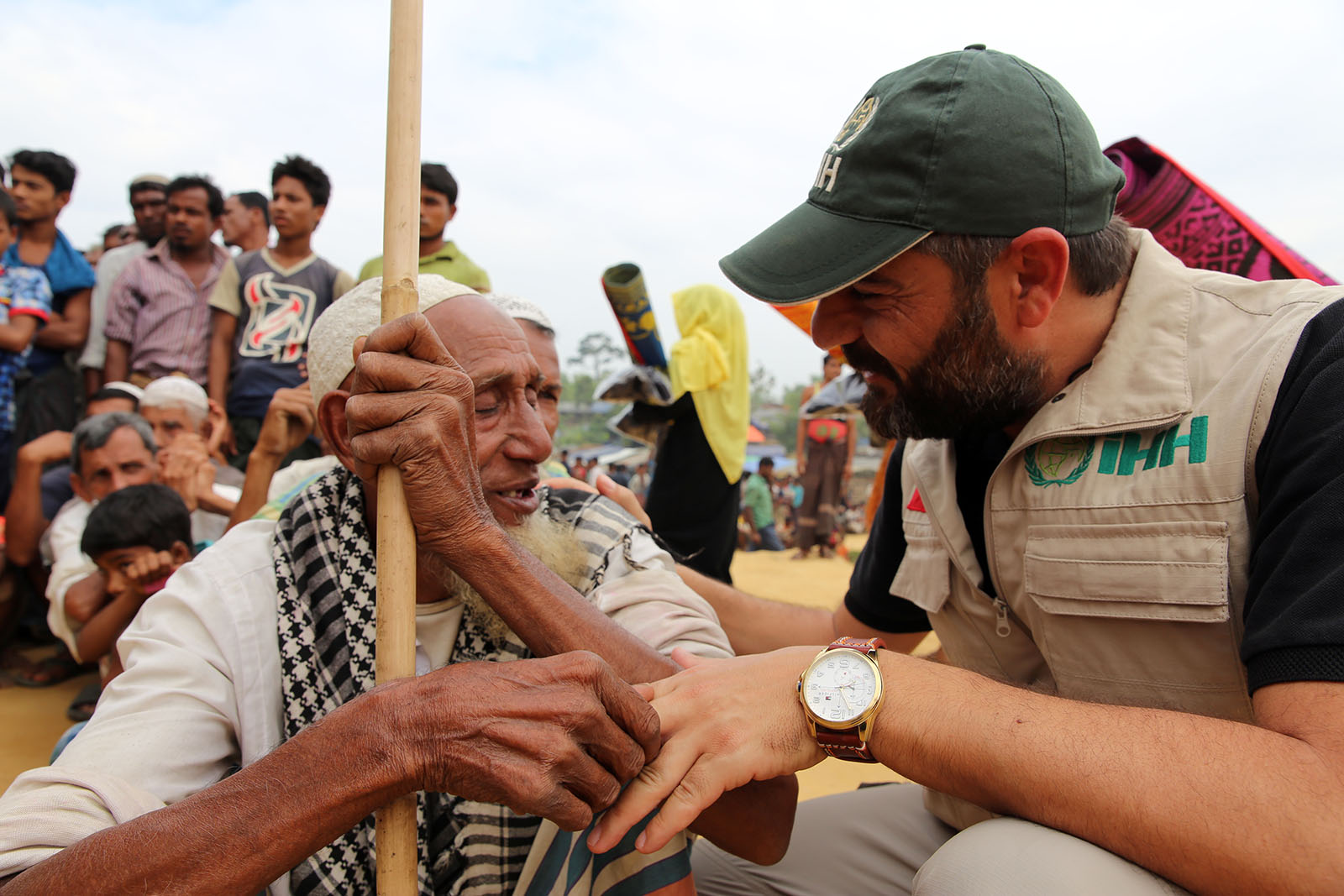 To give support
Donators who want to give aid to the Arakanese via IHH can donate 5TL by texting ARAKAN via SMS to 3072. Donations can also be made on IHH's website or bank account numbers stating the code ARAKAN.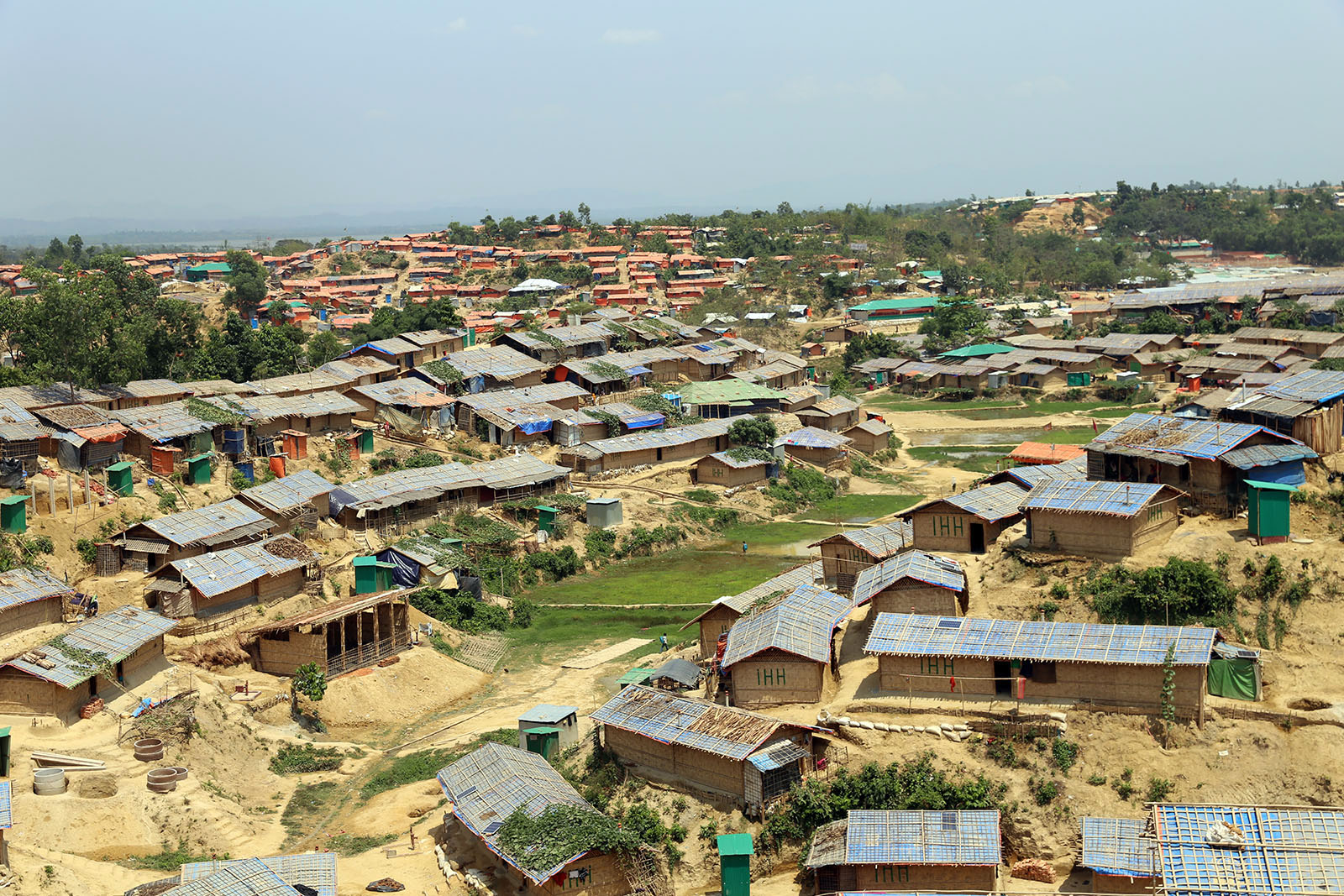 Flour distribution to 38 thousand 601 families in Somalia
IHH Humanitarian Relief Foundation has been carrying its aid efforts in Somalia, and our effort intensified following the severe drought that has hit the country since 2020, causing millions facing difficulties in accessing clean water and food.
Mobile soup kitchen from Turkey to Ukraine
The mobile soup kitchen dispatched by the IHH Humanitarian Relief Foundation to Ukraine, which is under Russian bombardment, departed from Istanbul. The soup kitchen was intended to provide food to 30,000 people each day. In addition, three truckloads of humanitarian supplies provided to Ukraine by the IHH in recent weeks have been delivered to war victims.
IHH helped 700,000 Syrians in 2022.
In 2022, IHH Humanitarian Relief Foundation delivered 2,043 truckloads of humanitarian relief supply to war-affected Syrian residents living in the country's IDP camps and settlements in various locations.