COMCEC meeting in Istanbul
The 35th COMCEC (ISEDAK) Meeting has just been held in Istanbul. IHH General Secretary Durmuş Aydın gave a speech at the meeting titled "Food and Agriculture in Periods of Crisis: NGO's Emergency Response."
Africa,
Somalia
28.11.2019
The 35th meeting of the OIC's Committee for Economic and Commercial Cooperation was held at the Istanbul Congress Center on 25-28 November. Participating in a special session at the meeting, IHH Humanitarian Relief Foundation General Secretary Durmuş Aydın delivered a speech titled "Food and Agriculture in Periods of Crisis: NGO's Emergency Response."
In the beginning of his speech, Aydın said, "The food crisis in Africa that are caused by drought is an important issue". He added, "The collaboration of states and NGOs in countries suffering these crisis intensely plays a major role in the prevention of the crisis. Drought is the cause of the food crisis that is ongoing in Africa and it is a seasonal reoccurrence. So we can conclude that drought is the sole cause of food crisis." Mentioning the preventive measures to be taken to prevent the crisis from reoccurring, Aydın gave presentations under the sub-headings "Water-based Solution Proposals", "Production Increase-based Solution Proposals" and "Education-based Solution Proposals." Some highlights of Aydın's presentations are as follow:
"Water-based Solution Proposals"
"In order to prevent food crisis in the region, it is necessary to open water wells or irrigation canals from streams and materialize deep water well projects immediately. As an example, IHH Humanitarian Relief Foundation is organizing a pilot project throughout Somalia aimed at combating the drought expected to hit the region in the next ten years. The project was launched in 2007. Water wells constitute the main part of this project. Although there is less water in the wells during the drought season, the wells do not dry up completely. Acknowledging that access to water is vital in droughts, to date our foundation has opened 1.730 surface wells and 49 solar energy deep water wells."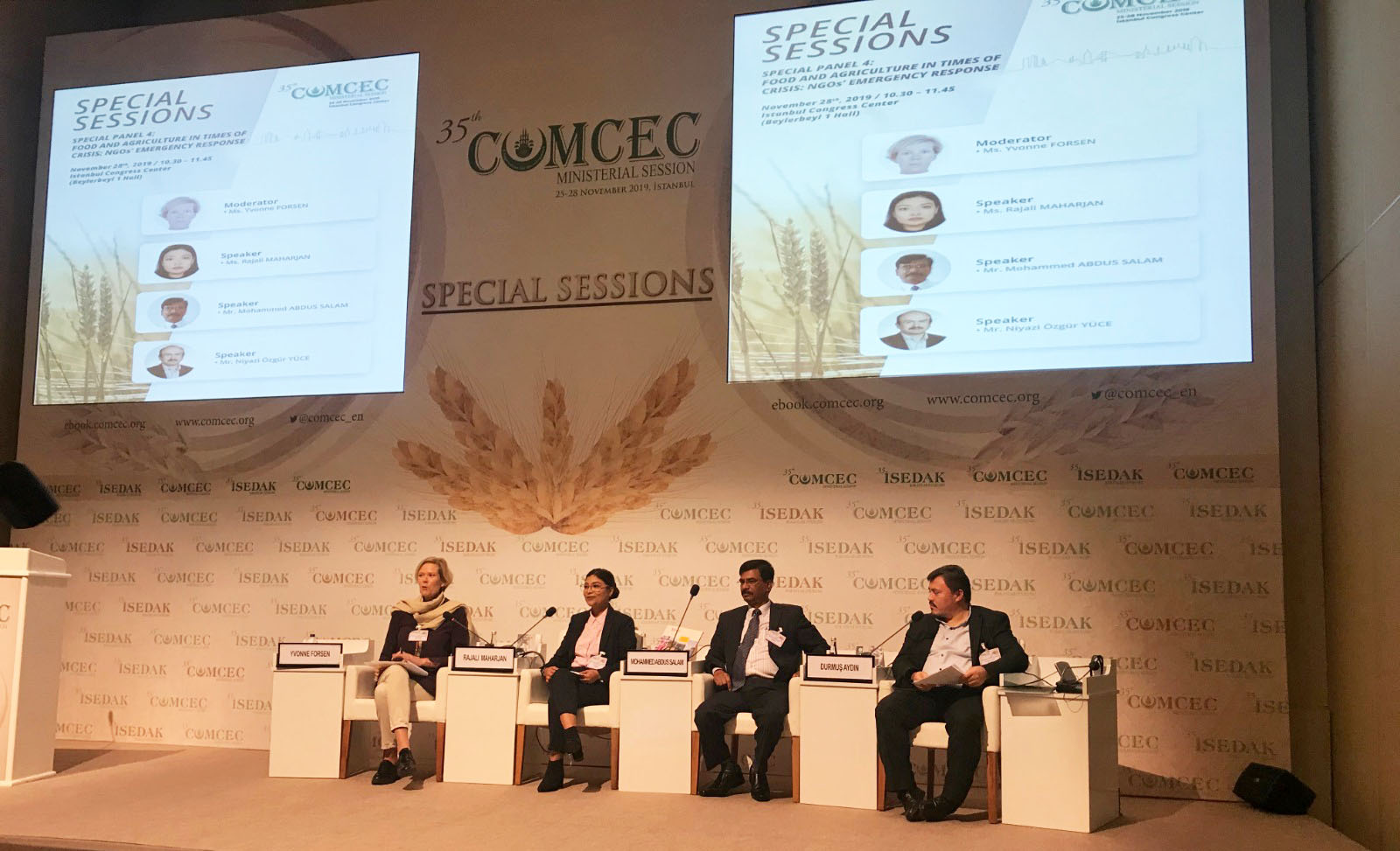 "Production Increase-based Solution Proposals"
After a fluctuating period before the food crisis, agricultural production would plunge after droughts. Agricultural production must be improved as much as possible before the drought occurs. Developing solutions to increase produce harvested per acre is essential. To achieve this, it is necessary to increase the installment of modern irrigation systems, including drip irrigation systems in certain areas. Old and unproductive seeds must be replaced with high-production seeds, and it would take at least 2 years for the compatibility and adaptation of the plantations to happen. This project was launched throughout Somalia in 2013, and six years on the project has reached the point of sustainability. The establishment of farmer training centers that is also the basis of production is essential. This means agricultural knowledge that is generated in the research centers reaches the farmers. In this context, in 2011 IHH Humanitarian Relief Foundation established its Somalia Agricultural School that offers training programs for farmers. The project is still continuing in 2019, and has completed its eighth year. I would like to take this opportunity to thank the Turkish Cooperation and Coordination Agency (TIKA) for their support.
"Education-based Solution Proposals"
The true richness of a country is its manpower with occupational abilities. Agriculture is a private production-based sector that needs qualified workers in every segment and it is also a sector where more than half of the population in under-developed countries is employed. In 2014, IHH Humanitarian Relief Foundation constructed an agricultural vocational school in Somalia to meet the needs of sub-employees in agricultural production. Until 2019, our Somalia Anatolian Agricultural School has graduated students for three terms. The establishment and support of agricultural faculties in training agriculture engineers is particularly important in agriculture-based societies of newly developing countries for the planning of farming produce on large plots of land, for the planning of macro-production all over the country and for the state to introduce agriculture policies. The university constructed by IHH Humanitarian Relief Foundation in Mogadishu began its 5 school terms in 2014 and in 2019 the university has just inaugurated its first graduates. In the scope of our target, in 2018 our second faculty of agriculture was founded outside the capital. In 2019, we also opened our third faculty of agriculture in another city that has a different climate."   
"A specific budget must be allocated for permanent solutions"
At the end of his speech, Aydın mentioned the measures that must be taken after a crisis.
"During time of crisis it is difficult to spend time on long-term strategic improvement programs. Acting quickly to solve famine-based crisis and assessing issues such as food, health, water and sanitation are the most realistic solutions. In addition, it is necessary to appoint a team in the country suffering the crisis for feasibility reports regarding what must be done after the crisis. When the effects of the crisis begin to fade in the media, funds that are generated during the time of crisis begin to decline. This process poses severe risks in the planning and materialization of long-term sustainable projects. In this context, when the crisis ends, it is important to have a specific budget allocated for permanent solutions."      
Palestine Our Route
01.06.2022
Palestine Our Route
27.05.2022
Women marched for East Turkistan
On 8 March International Women's Day, women staged marches in 61 cities to be the voice of the East Turkistan women. A joint press statement was given after the protests in Fatih, Istanbul.