Cultural center for Nepal from İstanbul
The IHH team has inspected a cultural center in Nepal that has been building with the donations of charitable people in Göngören, İstanbul.
The IHH team consisting of the IHH officers and some charitable people visited four-storey cultural center that is under construction in Birgunj district of Nepal that is 5 km away from Indian border. The team checked over the building work on site.

The project that has been carried out by Islamic Sang Nepal, the IHH's regional partner organization in the region will involve some classes for women and children, conference and meeting halls, a library, a dining hall and a quest house.
The IHH officers announced that the name of the cultural center will be Güngören Cultural Center as it has been built with the contributions of charitable people in Güngören, Istanbul.
The IHH officers told that the foundations of the project were laid one and a half month ago and the project that has costed 130,000 Euros is planned to be finished in a year.
Afterwards, the team visited a primary school which is in the neighborhood of cultural center. Islamic Sang Nepal gave the IHH team some information about the school and the team distributed various presents to the students.
They learned that 125 students are studying in 5 classes in the school that is also under construction.
The IHH officers mentioned that they expect the cultural center that is very near to the school will meet an important need in the region.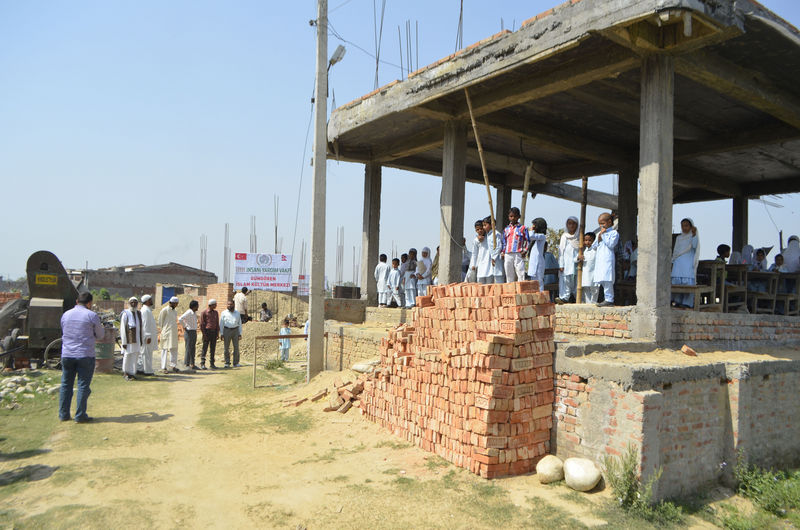 Flour distribution to 38 thousand 601 families in Somalia
IHH Humanitarian Relief Foundation has been carrying its aid efforts in Somalia, and our effort intensified following the severe drought that has hit the country since 2020, causing millions facing difficulties in accessing clean water and food.
Mobile soup kitchen from Turkey to Ukraine
The mobile soup kitchen dispatched by the IHH Humanitarian Relief Foundation to Ukraine, which is under Russian bombardment, departed from Istanbul. The soup kitchen was intended to provide food to 30,000 people each day. In addition, three truckloads of humanitarian supplies provided to Ukraine by the IHH in recent weeks have been delivered to war victims.
IHH helped 700,000 Syrians in 2022.
In 2022, IHH Humanitarian Relief Foundation delivered 2,043 truckloads of humanitarian relief supply to war-affected Syrian residents living in the country's IDP camps and settlements in various locations.