Daily Hot Meals to 7,500 IDPs in Jarablus
Internally displaced people who fled Aleppo and Homs and took shelter in Zoghara camp located in Jarablus, Syria are trying to hold onto life with relief aid from IHH Humanitarian Relief Foundation.
The evacuees from al-Waer town long besieged by Assad regime forces in Homs of Syria and those rescued in Euphrates shield operation are settled in Zoghara camp and trying to survive through relief aid distributed in the camp.
IHH Humanitarian Relief Foundation is providing the daily meals for 7,500 internally displaced civilians staying in the camp. The soup kitchen set up in the camp serves daily hot meals to the camp residents.
"Everything Was Prepared"
12-year-old Eyhem Mahmod from al-Waer, who is living in the camp, says "We arrived in Jarablus after being evacuated from Homs. When we arrived everything was prepared fur us. Thanks to the soup kitchen we get hot meals everyday."
11-year-old Halid Ibrahim who had to flee al-Waer tells that they had a hard time to find food under the siege. "Thanks God we get free food from the soup kitchen here" he adds.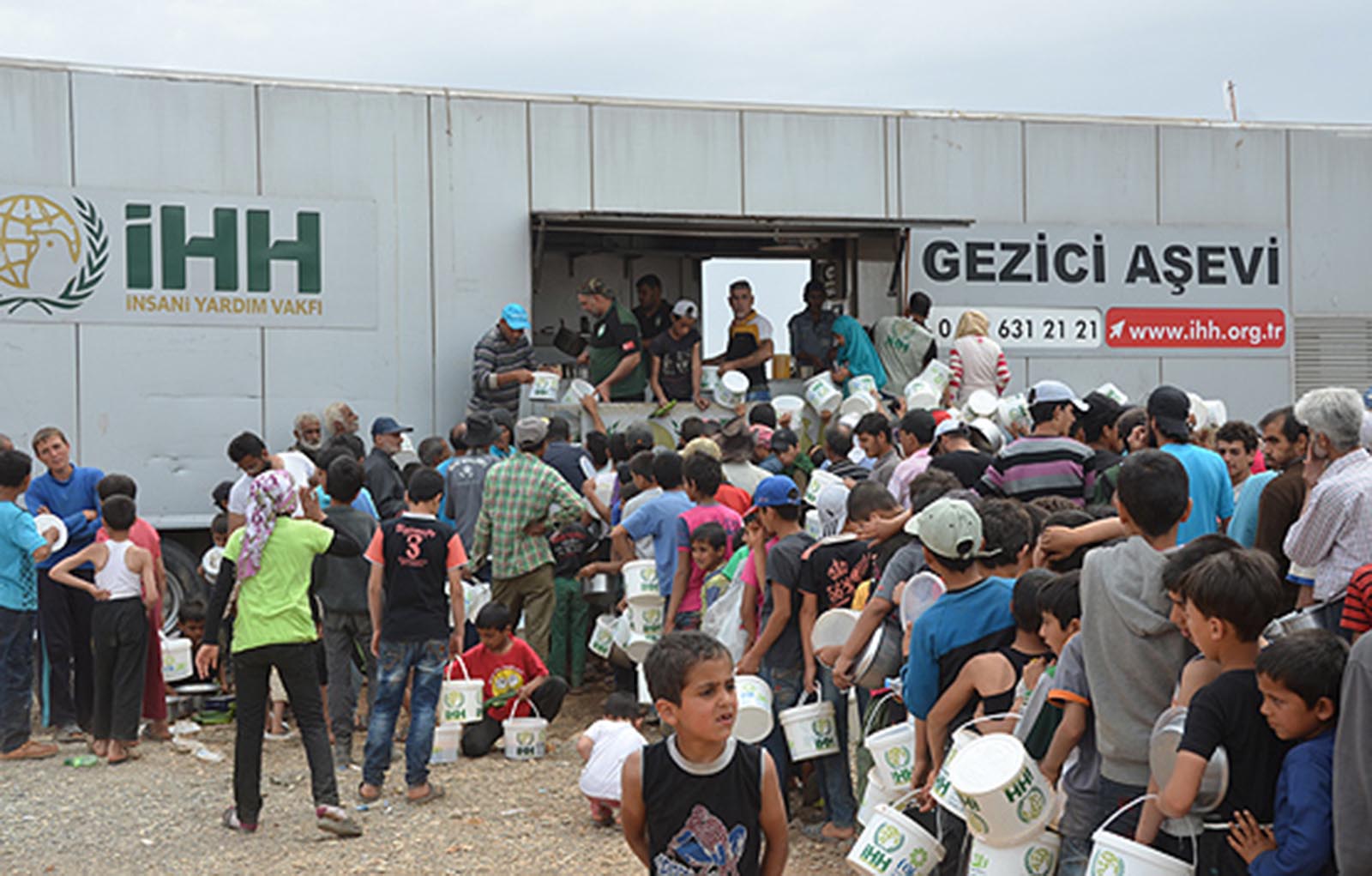 "We`d Go to Sleep Hungry"
38-year-old Wael Abu Haid says that they had to eat only rice and burghul for 6 months on end in al-Waer, which they finally had to leave.
"On most days our children would go to bed hungry. Our situation was unbearable there. We are grateful to IHH for serving us daily hot meals here." 
"Not Just a Hot Meal"
"IHH serves hot meals to 7,500 internally displaced civilians in Zoghara camp. Not just hot meals but we also hand out packages that contain basic daily human needs to the families in the camp" said IHH Soup Kitchen director Isam Abu Yunus.
The last terminal of "An Armful of Goodness"
IHH Humanitarian Relief Foundation continues to commemorate the 11th annual Orphan Solidarity Days (OSD) project with the theme "An Armful of Goodness". Many studies have been carried out for orphans and their families in Kenya, one of the countries where the initiative is executed.
54,000 loaves of bread for camps in Syria per day
Through a partnership between the IHH and the İnsan Charity Foundation, and with financial support from The United Nations Office for the Coordination of Humanitarian Affairs (OCHA), 54,000 loaves of bread are supplied daily to civilians living in camps in the countryside of Idlib province in northern Syria
4 permanent works in Sierra Leone
In West Africa's Sierra Leone, IHH inaugurated four distinct buildings including orphanages, universities and mosques. The newly inaugurated permanent works are vital to the country's future.
Mosque-Masjid, Orphan
17.11.2022