Deaths due to starvation continue in Syria
Growing number of attacks against civilians in Syria leads to mass mobilization in the country. Syrian people who flee their homes in search of safety encounter many problems in the regions they migrated to.
Safira town in Aleppo is one of these places. There is a big flow of people from this town, which was seized by the regime forces 1,5 months ago, to neighboring towns.
What is worse is that regime forces' taking control of Safira, known to be a gate opening to Aleppo, has blocked the passage of humanitarian aid to neighboring towns and districts. There is a growing number of people dying of starvation in the regions where no humanitarian aid has been dispatched for a long time.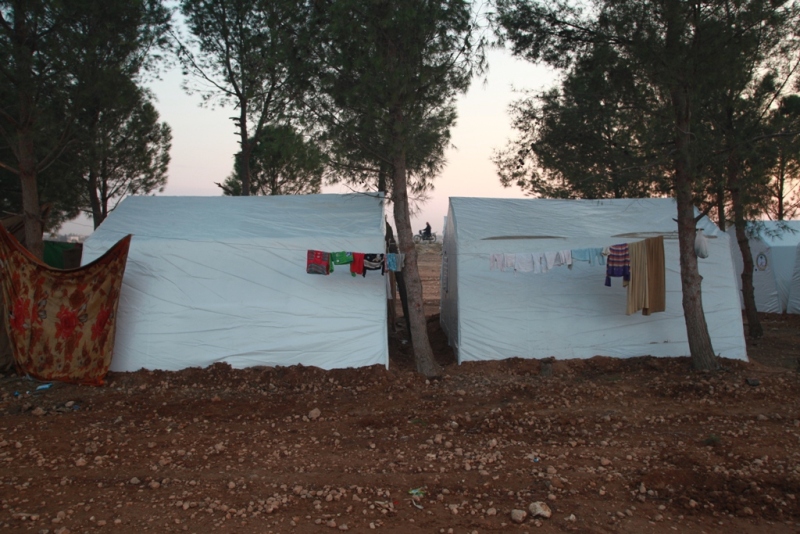 140,000 people migrated from Safira

According to information IHH Humanitarian Relief Foundation has gathered, around 140,000 people who have migrated from Safira have taken shelter in neighboring towns. Syrians who have taken shelter in Minbic and al-Bab, which draw the most number of people, live under very difficult circumstances.
Syrians who flee their homes set up tents in open areas in these towns or they stay in shanty houses which have no doors or windows.
Since tents are established separately in this region, tent cities have begun to emerge in some areas. The war-stricken people of Syria who are deprived of electricity and water try to have some water either by digging water wells or walking to other places for kilometers.
The Syrians who fled their homes in Safira due to the bombardments of al-Assad regime and took refuge in Minbic and al-Bab set up their tents under trees in order not to be detected by warplanes.
Food and clothing aid from IHH
IHH teams have taken seven tons of flour, food packages, 10,000 loaves of bread and winter clothes to the people who have taken refuge in Minbic.
According to IHH teams, there is urgent need for winter clothes, tents, blankets, flour and water in the region.
Meanwhile, what affects Syrian people most nowadays is the cold weather. Epidemics have already begun to appear in tent cities where medical aid is not taken.

IHH launched an aid campaign after the flood in Bosnia
Due to the heavy rains that have been continuing for a week in Bosnia-Herzegovina, a flood disaster occurred in the Bihac region. Many houses, workplaces and agricultural lands were submerged in the flood. IHH Humanitarian Relief Foundation delivered food and hygiene packages to 165 families affected by the flood with the emergency aid relief it started.
Humanitarian aid from IHH to the people of Sudan who migrated to Chad
The clashes between the army and the Rapid Support Forces (SSF) in Sudan have been going on since April 15. During the civil war process, in which 550 people lost their lives and nearly 5,000 were injured, more than 700,000 Sudanese migrated to different places. IHH, which provides emergency aid to civilians in the country, distributed hot meals and food parcels to people of Sudan who migrated to the border country of Chad.
IHH continues relief efforts with 5,943 people
The IHH Humanitarian Relief Foundation is carrying out activities in earthquake zones with 5,943 search and rescue workers and aid volunteers. While the IHH Search and Rescue Teams pulled 3,028 deceased and injured people from the rubble, emergency aid volunteers delivered support to hundreds of thousands of people in many different areas.