East African Diary
Drought which affects East Africa severely continues to paralyze daily life in Kenya, Somalia, Ethiopia, Djibouti and Uganda. The situation is heartbreaking particularly in Somalia. People living in s
Africa,
Djibouti,
Ethiopia,
Kenya,
Somalia,
Uganda
05.08.2011
Children await death in Somalia
27 July 2011
Teams from the IHH Humanitarian Relief Foundation which went to Kenya in the wake of the problems in the region have moved to Somalia. IHH emergency aid teams first visited the camps in Mogadishu to figure out what could be done in the medium and long term and they launched relief efforts in the region immediately. IHH Emergency Aid Coordinator Recep Güzel who coordinates relief efforts in Somalia after Kenya said what he has witnessed in the camps is the preliminary signs of bigger disasters. Having joined many emergency relief efforts in many parts of the world, Güzel said he has never faced with such a tragedy.
Most deplorable scene I've ever seen in my life
Visiting the camps and a women's-children's hospital in Mogadishu, Güzel explained: "Following relief efforts in Kenya, we have come to Mogadishu to launch relief efforts here. I can describe the situation here as the end of the humanity. I have joined in emergency relief efforts in many troubled regions of the world but I have never seen such a picture. Since no aid is dispatched to the south of the country out of security concerns, people living there migrate to Mogadishu. There is 500-kilometer of distance for them to cover. People who were already exhausted by drought and hunger walk for kilometers under these circumstances."
At least one from each family dies
Güzel said people who leave their houses to migrate to Mogadishu experience big problems during their journey to the capital city. "Some people lose their lives on their way to Mogadishu. At least one from each family dies during this challenging journey. Contrary to the situation in Kenya, there are smaller camps here. Around 150-200 families live in each camp," he said.
It is so sad to wait for the death of a child
Stressing that it is the children again who are most affected by drought and hunger, Güzel shared his impressions from his visit to a women's and children's hospital as follows: "People who are able to make it to Mogadishu collapse from exhaustion. Their situation deteriorates due to inadequate nutrition. Let alone walking, women and children cannot even take one step. It is so sad to say this but children are like skeletons. The face of a child was not seen due to the small flies that covered his face in a hospital where we made examinations. He was receiving serum treatment but he was unable to keep his eyes stable. I have never felt myself so desperate throughout my life. A child was slowly dying in front of my eyes but I was able to do nothing to save him."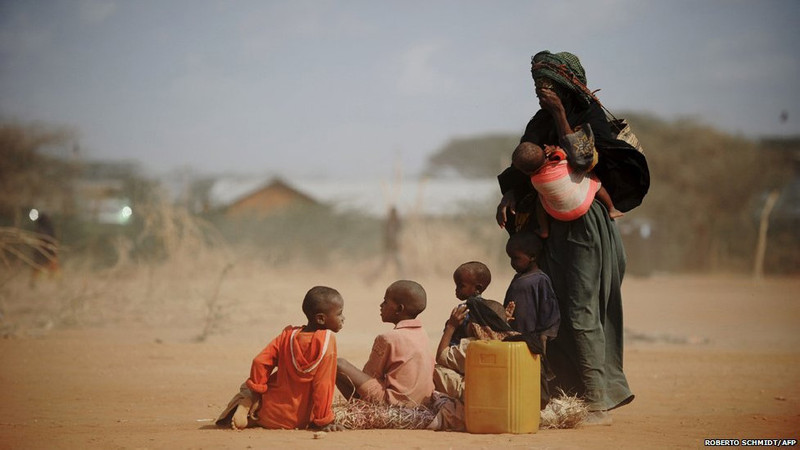 Click for details
23 July 2011
Humanitarian tragedy in East Africa
People who fled the drought in Somalia and have taken shelter in camps in Kenya are undergoing a real humanitarian tragedy. These people who fled regions which received no rain over the past three years and walked for 400 kilometers under 50 degrees centigrade are trying to survive in the camps they have taken refuge. While most of the people lost their lives during this tiring journey, those who were able to make it to the camps are suffering from exhaustion, hot weather and hunger.
Click for details
22 July 2011
Drought turns into a humanitarian crisis in Somalia
People in Somalia are striving to survive in the midst of a heavy drought which paralyzes the daily life in the country severely. Many people in the country who had to leave their homes due to severe drought and moved to other places are suffering from hunger, which is one of the worst humanitarian crises.
Click for details
21 July 2011
Droughts bring famine to Horn of Africa
Droughts in East Africa have hit Somalia the worst. Somalia is suffering the worst drought and hunger in 60 years.
Click for details
20 July 2011
IHH teams set off to Somalia
The people in Somalia, who are subject to the biggest drought of the last 60 years, are struggling with famine and other consequences of drought. While hundreds of thousands of people have sought refuge in neighbouring countries, a significant increase in deaths due to starvation has been observed in Somalia. As a result of the severity of the situation in Somalia, an IHH team of four headed off to Somalia.
Click for details
Mobile soup kitchen from Turkey to Ukraine
The mobile soup kitchen dispatched by the IHH Humanitarian Relief Foundation to Ukraine, which is under Russian bombardment, departed from Istanbul. The soup kitchen was intended to provide food to 30,000 people each day. In addition, three truckloads of humanitarian supplies provided to Ukraine by the IHH in recent weeks have been delivered to war victims.
IHH helped 700,000 Syrians in 2022.
In 2022, IHH Humanitarian Relief Foundation delivered 2,043 truckloads of humanitarian relief supply to war-affected Syrian residents living in the country's IDP camps and settlements in various locations.
The last terminal of "An Armful of Goodness"
IHH Humanitarian Relief Foundation continues to commemorate the 11th annual Orphan Solidarity Days (OSD) project with the theme "An Armful of Goodness". Many studies have been carried out for orphans and their families in Kenya, one of the countries where the initiative is executed.