Emergency Aid From IHH to Three Thousand Yemeni People
IHH Humanitarian Relief Foundation delivered food aid to 400 families that make up 3.000 people in Yemen who suffer from the ongoing crisis.
The current internal conflict and political instability in Yemen resulted in the near collapse of social and economic life. Government and its bodies are unable to deliver service to the people for a while now. Therefore, IHH Humanitarian Relief Organization keeps delivering aid to Yemen, which faces a critical humanitarian crisis due to the on-going conflict for one year.
Recently, IHH has delivered food aid to 3.000 people living in el-Hudaida region, which suffers sanctions imposed by Husis. The current aid campaign, when completed, will have delivered emergency aid hampers to 2.000 families that make up around 15.000 people.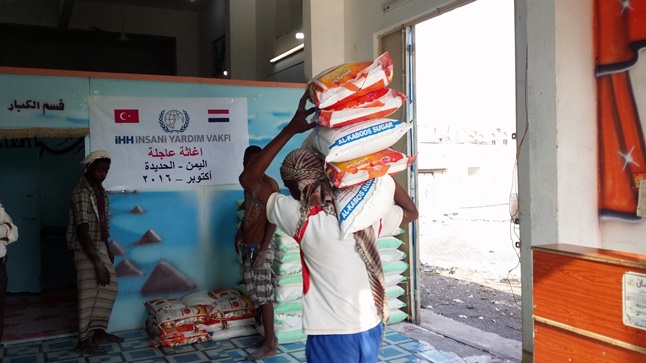 Humanitarian Crisis in Yemen
The civil war that is going on over one year now caused the destruction of the livelihood of the families and thus their access to healthy nutrition. As a result thousands of people who live along the coastline of Yemen (el-Hudaida) had to face great hardship to survive.
21% of the people living in el-Hudaida region suffer greatly due to malnutrition. Thousands of olderly, women, and children struggle with hunger in El-Hudaida with 2,5 million-population.
So far, at least 6,500 civilians were killed while over 32,000 have been wounded during the conflict in Yemen. Eight in every ten persons in the country needs humanitarian relief aid.
Drought affects 36.1 million people in East Africa
There are currently 36.1 million people in Somalia, Ethiopia, and Kenya who are suffering from the effects of the protracted drought. Drought has created severe obstacles to the availability of food and water in three different nations.
Aid for flood-affected families in Sudan
Sudan's last week's flood is still impacting the country. The floods, which claimed 99 lives and wounded 94 others also destroyed houses, workplaces, and acres of farmland. After the floods, IHH Humanitarian Relief Foundation launches its relief efforts for the victims there.
IHH Takes Action for Pakistan
The flood occurred the day before due to heavy rains in Pakistan. The flood resulted in the deaths of 1061 people and injured 1575 others. Right after the flood, the IHH Humanitarian Relief Foundation launched an emergency relief effort for the country.