Gaza attack protest and press release
IHH President Bulent Yildirim condemns the attacks on Gaza and calls out for people to help Palestine in the latest IHH press relief.
Speaking in front of the Galatasaray Lisesi, Yildirim said, "I speak with sadness, and call out to the Jewish community here. We are not enemes of Jews, please do no fool people this way. At this moment there are Jewish people who condemn the attacks by Israel.  There are protests all around the world and the Jewish people there are also taking part in these protests. We are calling out to the Zionist, and to those who support the Zionists in Turkey. Don't even think of leaving here and getting on a plane and going to Israel to fight against the Palestinians".
Approximately at 1pm, the IHH members and volunteers, also chanted slogans such as "Everywhere is Palestine, We are all Palestine", "Continue the resistance", "Many Greetings to Gaza from Istanbul". Those holding banners had slogans 0such as "the Siege on Gaza will be broken by Resistance" and "Stop the Israeli attacks on Gaza".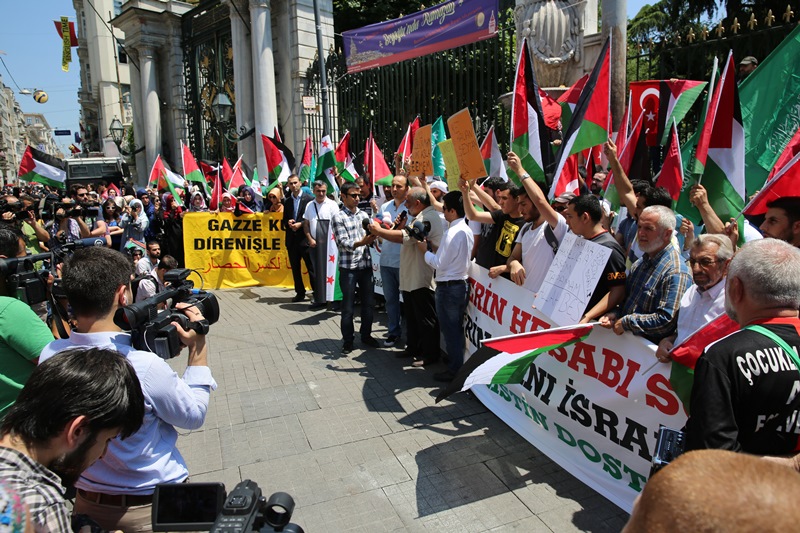 Civilians are being killed
Yildirim, pointing out the attacks on Palestinian civilians by Israel also said "At this moment, there are close to 700 injured and more than 70 martyrs. Israel claims they are targeting military points but ony 5% of this is military. They are killing civilians, they are trying to fool the world".
Do not support the Zionists
He continued, saying, "We know that most of the money of the Israeli's is sourced from the Zionists who reside in Turkey. For this reason we are telling the Zionists, use your strength in Israel and stop these attacks. These attacks won't just hurt the Zionist in Israel, but also you. I am calling out to you.  We have taken a decision to boycott the Zionist companies. We know all the Zionist owned companies. Do they think we don't know which firms pay tax to MOSSAD. Come to your senses.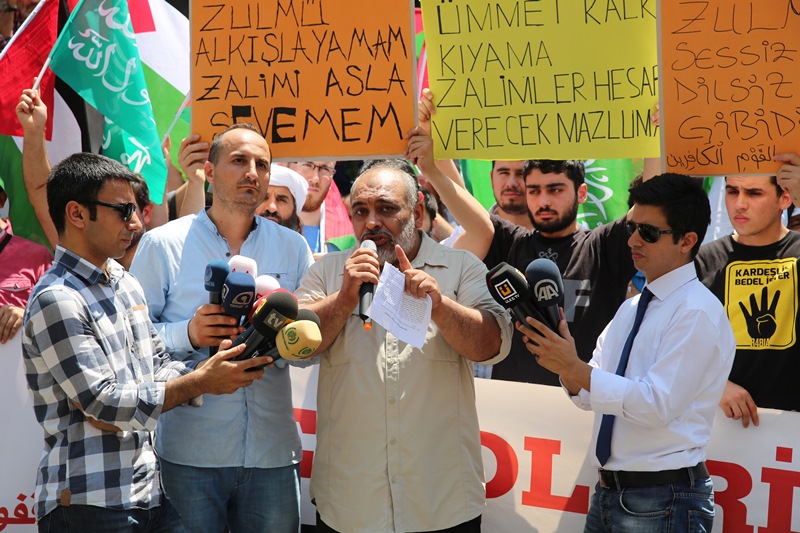 Provocative attacks on mosques
With the recent attacks on a mosque in Istanbul's Esenyurt, Yildirim said, "We know that there have been attacks in the mosques. We believe that these provocative attacks have an agenda. This is not a Caferi or Sunni attack. Those who are taking the advantage of this situation are drowning Gaza".
Call out for aid for Gaza
Reminding everyone of the heavy casualties, Yildirim said that "We are forced to take out the injured. The surgical equipment is running out, and they need medicine. Previously opening the doors of ease, there must effort to open these doors again". Calling out for ngo's to unite for a campaign for Gaza, Yildirm said that "Let us deliver the aid to Gaza. Whether by sea or land let us take it to Gaza. Let us not leave Gaza alone." 
Yildirim stated that after tomorrow there will be a funeral prayer in absentia at Fatih mosque for those who lost their lives in Gaza and that they request all Muslims to attend.
Mobile soup kitchen from Turkey to Ukraine
The mobile soup kitchen dispatched by the IHH Humanitarian Relief Foundation to Ukraine, which is under Russian bombardment, departed from Istanbul. The soup kitchen was intended to provide food to 30,000 people each day. In addition, three truckloads of humanitarian supplies provided to Ukraine by the IHH in recent weeks have been delivered to war victims.
IHH helped 700,000 Syrians in 2022.
In 2022, IHH Humanitarian Relief Foundation delivered 2,043 truckloads of humanitarian relief supply to war-affected Syrian residents living in the country's IDP camps and settlements in various locations.
The last terminal of "An Armful of Goodness"
IHH Humanitarian Relief Foundation continues to commemorate the 11th annual Orphan Solidarity Days (OSD) project with the theme "An Armful of Goodness". Many studies have been carried out for orphans and their families in Kenya, one of the countries where the initiative is executed.