Gazan Prime Minister Haniyeh: Mavi Marmara won a victory for Palestine
Gaza's Prime Minister İsmail Haniyeh who on Monday visited the Mavi Marmara ship, which was the target of a deadly Israeli attack in 2010 on its way to Gaza, said the "Palestinian cause won a victory
Palestine,
Turkey
05.01.2012
Haniyeh who is on an official visit to Turkey visited the Mavi Marmara ship, which was the part of a six-ship humanitarian aid flotilla for Gaza, docked in İstanbul along with IHH Humanitarian Relief Foundation President Bülent Yıldırım. At a news conference before the visit, Haniyeh offered his thanks to the Turkish people, the IHH, which organized the flotilla and all the activists on board the flotilla for their support for Palestine.
IHH President Yıldırım: We will never give up until blockade is lifted
At the news conference, IHH President Yıldırım said that the struggle of Palestine is a just struggle for freedom as he explained: "The entire humanity is with Palestine. When children and women are killed in Palestine every day, we have been killed and attacked together with them but we have never given up supporting them and we will never do so. The second Mavi Marmara voyage had to be postponed. I would actually would like to give you a good news here. I would very much like to say, 'We will now board the Mavi Marmara with Mr. Haniyeh and go to Gaza.' But there is need for time to do this. The blockade on Gaza will be removed; never have any doubts about this. And we will not give up from our struggle until the blockade on Gaza is lifted. Now, the Mavi Marmara continues its mission on the land. Allah willing, after we complete our march in Libya, Egypt, Syria, Yemen and in some several other countries, we will set sail again and reunite with our sisters and brothers in Palestine."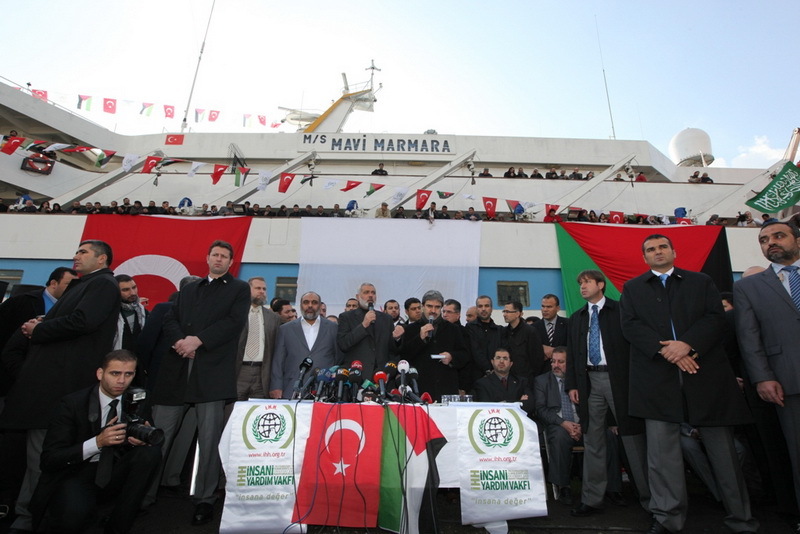 Haniyeh: Gazans reached Mavi Marmara
Haniyeh began his remarks by greeting the Turkish nation on behalf of the Palestinians.
"Muslim and noble Turkish nation, we came to you from Masjid al-Aqsa, from the besieged land of Gaza. I brought you the greetings of millions of Palestinians around the world and in Palestine. I greet you all before the memory of Palestinian martyrs and Mavi Marmara martyrs," he said.
Regarding the nine Turkish peace activists who were killed by Israel on the Mavi Marmara, Haniyeh said: "The blood of your victims beat the blockade, your victims are our victims and your wounded are our wounded," and explained the situation in Gaza before and after the flotilla. "After we won the elections as Hamas, Israel imposed a blockade on Gaza. They wanted to change our political attitude and break the resistance of the mujahedeen Palestinian people. They wanted to cut off the ties of Palestinian cause with other Muslims. They waged a war against Gaza, imposed a blockade on it. They martyred our brothers on Mavi Marmara. We have faced with a kind of piracy which is unprecedented in the history but we got rid of the blockade thanks to Mavi Marmara. We won a victory against Israeli blockade. The blood of Mavi Marmara victims reached Gaza and surrounded the people of Gaza with love. The martyrs of Mavi Marmara have made Turkey return to its historical path and mission. We tell this to the world: Mavi Marmara may not have reached Gaza but Gazans have reached Mavi Marmara."
Haniyeh thanks Prime Minister Erdoğan
Recalling a meeting he had with Prime Minister Recep Tayyip Erdoğan on the first day of his visit to Turkey on Sunday, he said: "I offer my special thanks to the Prime Minister of Turkish Republic, Recep Tayyip Erdoğan, for the support he gives to Gaza. At our meeting, I have seen that he thinks the same with us for Palestinian cause."
Haniyeh also thanked Turkey for welcoming some of the Palestinians who were released from Israeli prisons as part of a prisoner swap deal with Israel last year.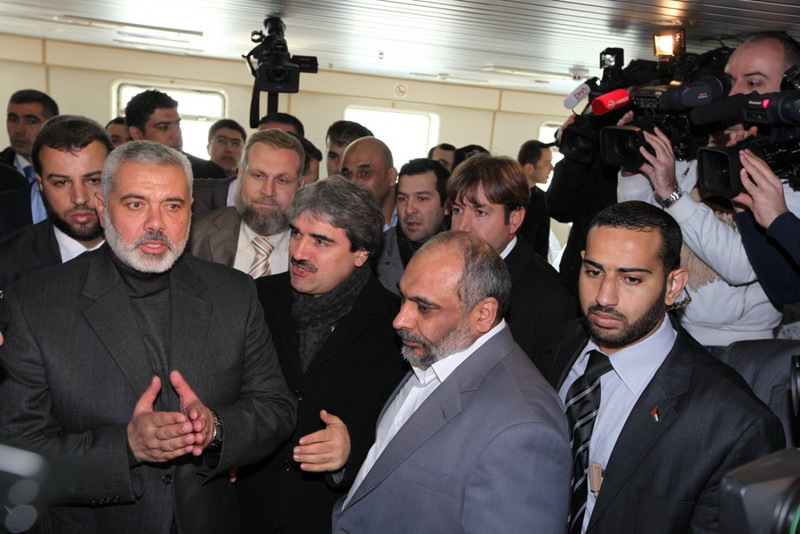 "I thank Turkey for opening its arms to these brothers. They had been jailed for decades. Now, these brothers who are with you now are the brothers who will keep the Palestinian cause alive," added Haniyeh.
The Gazan leader said the Arab Spring will be beneficial for the cause of Palestine and they will never take a backward step in the wake of the Israeli blockade.
"The Palestinian cause won a victory with Mavi Marmara. Thanks to Mavi Marmara, all the plots made on us were foiled. I greet all of our martyrs, I commemorate them with prayers. I hope to see you in Jerusalem, I say I hope to see you in Jerusalem, the capital of Palestine. I greet you all on behalf of Hamas and Ezzedeen Al-Qassam. Allah willing, we will win a victory. If you ask 'when,' my answer will be 'as soon as possible.'"
Haniyeh was greeted joyfully with slogans and takbeers as he was coming to the news conference in front of the Mavi Marmara ship which is docked at Haliç Shipyard. He joined slogans saying, "May my life and blood be sacrificed for you, al-Aqsa."
The Gazan prime minister also met with families of the Mavi Marmara martyrs, saw the deckhouse of the Mavi Marmara ship and received information about the moments on the ship during Israel's attack.
Flour distribution to 38 thousand 601 families in Somalia
IHH Humanitarian Relief Foundation has been carrying its aid efforts in Somalia, and our effort intensified following the severe drought that has hit the country since 2020, causing millions facing difficulties in accessing clean water and food.
Mobile soup kitchen from Turkey to Ukraine
The mobile soup kitchen dispatched by the IHH Humanitarian Relief Foundation to Ukraine, which is under Russian bombardment, departed from Istanbul. The soup kitchen was intended to provide food to 30,000 people each day. In addition, three truckloads of humanitarian supplies provided to Ukraine by the IHH in recent weeks have been delivered to war victims.
IHH helped 700,000 Syrians in 2022.
In 2022, IHH Humanitarian Relief Foundation delivered 2,043 truckloads of humanitarian relief supply to war-affected Syrian residents living in the country's IDP camps and settlements in various locations.