Huge aid convoy for Syria
46 aid trucks of 400, filled with humanitarian aid packs contributed jointly by IHH and international partners is making its way to Syria.
46 aid trucks of 400, filled with humanitarian aid packs contributed jointly by IHH and international partners is making its way to Syria.
As part of the "I Need You" campaign, NGO's representing South Africa, Qatar, Kuwait, Bahrain, England, Yemen, Denmark, Saudi Arabia and Mozambique collected aid in 46 trucks and were sent to Syria by way of Reyhanli province. In a ceremony held at the Reyhanli Lojistic Centre, IHH President Bulent Yildirim as well as NGO represenatives as well as senior officials from Turkey took part in the ceremony.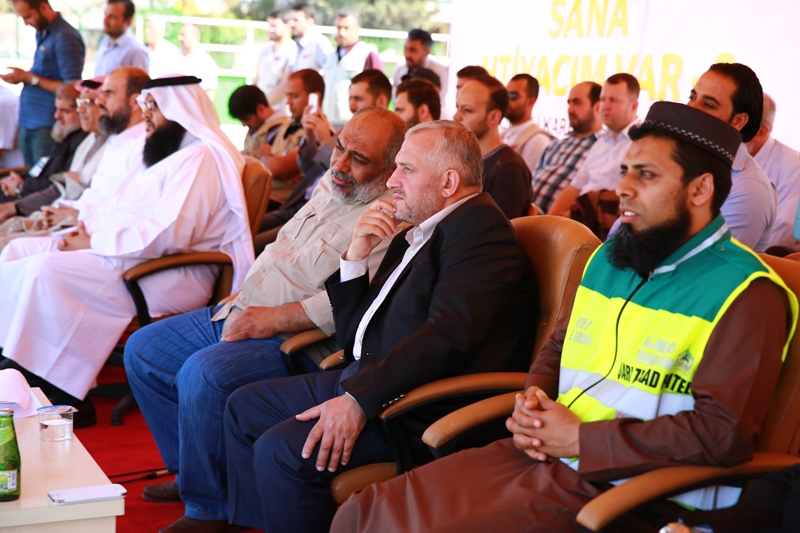 President Yildirim gives thanks to NGO's
Speaking at the ceremony, IHH President Bulent Yildirim mentioned the 4 year civil war that has torn Syria, that there should be no break in the aid that has been sent to those in need and thanked those who assisted in preparing of the convoy of aid trucks.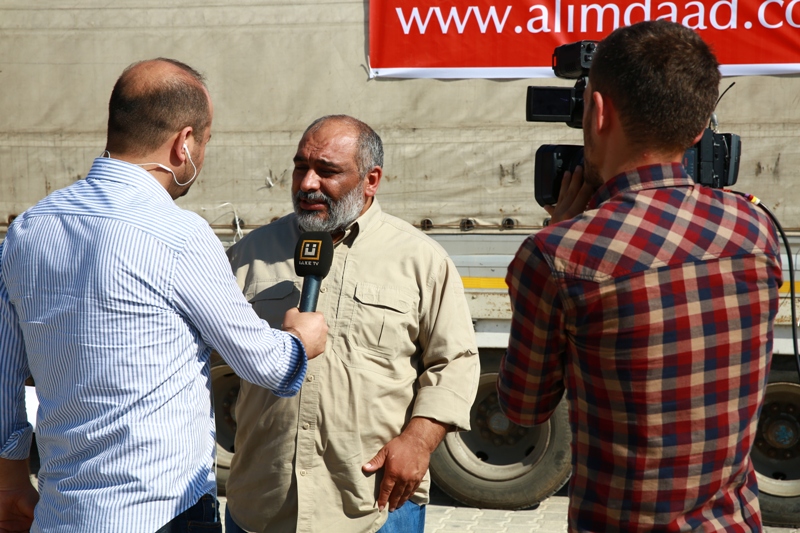 Visiting the aid camps
After the ceremony, a two day camp on the 25th -26th October will be held for the dignitaries in Reyhanli and Kilis. During the two day programme, there will be a visit to the Kilis refugee Camp.
Aid packets
The aid packs include baby need packets, hygiene packs, sponge beds, blankets, pulses and legume, childrents coats and boots, scarfs, cap and glove sets as well as food packs – a part of these will be sent to the Cilvegozu Border Camp at Reyhanli and some to the Kilis based Oncupinar Border Camp and distributed by IHH representatives.
The entire 400 truck convoy of aid will be delivered by the end of January to those in need in Syria. IHH has sent more than 4,000 trucks with humanitarian aid since the war began in Syria.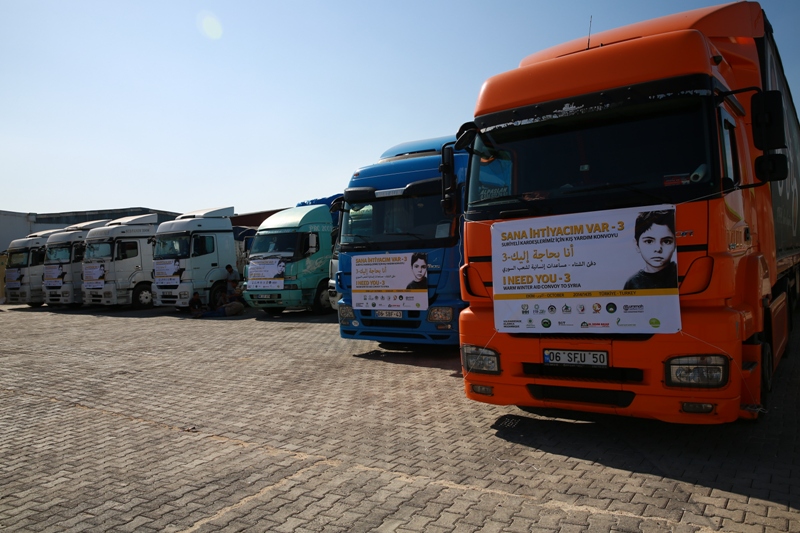 LIST OF PARTICIPANTS:
| | |
| --- | --- |
| | AGENCY |
| 1 | Al Imdaad Foundation - South Africa |
| 2 | Sheikh Eid Bin Mohammad Al-Thani Charitable Association- Qatar |
| 3 | Abdullah Al Nouri Society-Kuwait |
| 4 | Al Eslah Society-Bahrain |
| 5 | Ummah Welfare Trust- UK |
| 6 | RAF - Sheikh Thani Bin Abdullah Foundation for Humanitarian Services- Qatar |
| 7 | Olive Grove Foundation - UK |
| 8 | Qawafel Humanitarian Relief- Kuwait |
| 9 | Islah & Irshad Society-Yemen |
| 10 | Det Islamiske-Denmark |
| 11 | Amal-International Commission for Human Development-Saudi Arabia |
| 12 | Munazzamat Al-Da'wa Al-Islamiyya - Qatar |
| 13 | Al Ihsaan Relief - South Africa |
| 14 | Solidariedade Islamica-Mozambique |
IHH launched an aid campaign after the flood in Bosnia
Due to the heavy rains that have been continuing for a week in Bosnia-Herzegovina, a flood disaster occurred in the Bihac region. Many houses, workplaces and agricultural lands were submerged in the flood. IHH Humanitarian Relief Foundation delivered food and hygiene packages to 165 families affected by the flood with the emergency aid relief it started.
Humanitarian aid from IHH to the people of Sudan who migrated to Chad
The clashes between the army and the Rapid Support Forces (SSF) in Sudan have been going on since April 15. During the civil war process, in which 550 people lost their lives and nearly 5,000 were injured, more than 700,000 Sudanese migrated to different places. IHH, which provides emergency aid to civilians in the country, distributed hot meals and food parcels to people of Sudan who migrated to the border country of Chad.
IHH continues relief efforts with 5,943 people
The IHH Humanitarian Relief Foundation is carrying out activities in earthquake zones with 5,943 search and rescue workers and aid volunteers. While the IHH Search and Rescue Teams pulled 3,028 deceased and injured people from the rubble, emergency aid volunteers delivered support to hundreds of thousands of people in many different areas.