IHH teams in flood-stricken Bosnia
Teams from the IHH Humanitarian Relief Foundation have provided emergency aid in Bosnia and Herzegovina, which has recently been hit by flash floods.
BosniaandHerzegovina,
Turkey
06.12.2010
Four days of heavy rain caused the Sarajevo, Gorazde and Neretva rivers to burst their banks, leading to homes and agricultural areas in their neighborhood to be inundated by flood waters.
Due to the overflowing of Zheleznitsa River in the capital city of Sarajevo, hundreds of houses in Osijek neighborhood were submerged by flood waters and the Sokolovic-Kolonya road was closed to traffic. Residents of the region were evacuated by civilian defense teams on boats.
Overflowing of River Drina, which separates Bosnia from Serbia and Montenegro, also led to the houses and agricultural areas in Gorazde to be inundated by flood waters. Residents from this region said the flooding has been the worst of the past 30 years. Around 250 families had to evacuate their houses in this region. Civilian defense teams that evacuated people from their houses, warned people living in the riverside to move to safe areas.
Homes and agricultural areas in the Janja, Amajlije, Popovi and Mecasi towns in Gorazde were also submerged by flood waters.
IHH teams in flooded regions
The growing of the flood disaster in Bosnia prompted the IHH to send teams to the region to provide emergency aid. IHH teams immediately prepared 30 emergency packages and distributed them to the flood-victim families. The IHH teams provided financial aid to families whose houses were demolished by flood waters as well as providing aid and cleaning materials to twenty families in the Foca district.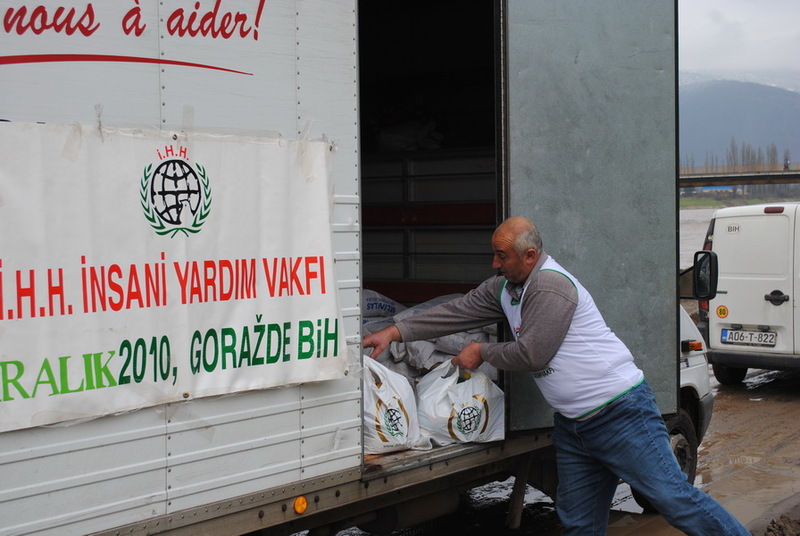 Ten stoves, fuel wood, 70 packages of food, 20 kilograms of flour, 100 kilograms of cleaning materials, 100 blankets, 150 rain coats were distributed to flood victim families in Hubijari, Mravnjav, Zupcici and Pobarnik towns in Gorazde. In addition, 200 euros were given to five families each.
A local foundation, Propetrol, was given a financial aid of 950 euros to be used in aid distribution.
Aid to help West Darfur conflict
95.000 people were forced to migrate to other regions and 213 people lost their lives due to the conflict between tribes in Sudan's West Darfur. IHH Humanitarian Relief Foundation launched emergency aid projects for the people affected by the conflict and became Internally Displaced People.
IHH delivers humanitarian aid to Ukraine
IHH Humanitarian Relief Foundation continues to provide humanitarian aid to the refugees who have fled to nearby countries and to the Ukrainian people who are under attack by Russia.
Medical aid for Afghanistan
IHH sent 4 trucks of medical aid to Afghanistan. This medication will be distributed to hospitals in the cities of Kabul, Herat, Mazar-i-Sharif and Kandahar.