IHH reaches out to refugees in Chad
IHH reaches out to refugees in Chad
Central African refugees who have taken refuge in Chad received food hampers containing basic food items.
IHH Humanitarian Relief Foundation delivered basic food items to the refugees from the Central African Republic, who are staying in a refugee camp in Chad.
This year in Ramadan, IHH reaches out to Chad, one of the poorest countries of Africa to offer a helping hand. IHH teams visited Govi refugee camp located close the capital city N'Djamena' and handed out food hampers containing basic foods like cooking oil, pasta, rice and flour.
Mr. Hikmet Şölen from the IHH team told that in conjunction with humanitarian relief operations in Chad they are trying to help refugees who fled Central Africa due to escalating violance in the country.
Şölen reported that around 5 thousand refugees are staying in Govi refugee camp under very harsh conditions and that IHH has distributed each family in the camp basic food items like flour, rice, cooking oil and pasta.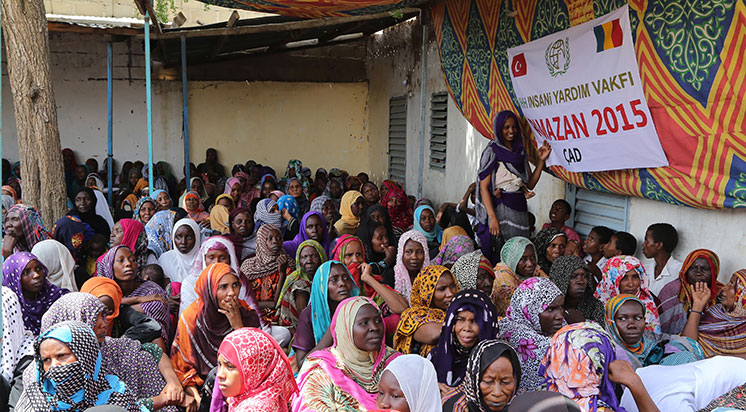 Learning Islam despite the adversity
Şölen noted that they are delivering aid regardless of religion, language and race of the needy: "Unfortunately children and elderly are affected worst by the wars. In this camp refugees unable to have access to clean water and healthcare are facing various illnesses. Through the food aid we have delivered, we are trying to help them survive a little more. From now onwards, we will keep helping out the poor people in the region as much as we can."
Şölen also noted that children in the refugee camp are trying to learn Islam despite the adversity. He said that around thousand children are trying to learn Quran in makeshift classrooms.
Şölen called out to the other humanitarian organizations and charities to offer a helping hand to destitute peoples in African countries.
IHH launched an aid campaign after the flood in Bosnia
Due to the heavy rains that have been continuing for a week in Bosnia-Herzegovina, a flood disaster occurred in the Bihac region. Many houses, workplaces and agricultural lands were submerged in the flood. IHH Humanitarian Relief Foundation delivered food and hygiene packages to 165 families affected by the flood with the emergency aid relief it started.
Humanitarian aid from IHH to the people of Sudan who migrated to Chad
The clashes between the army and the Rapid Support Forces (SSF) in Sudan have been going on since April 15. During the civil war process, in which 550 people lost their lives and nearly 5,000 were injured, more than 700,000 Sudanese migrated to different places. IHH, which provides emergency aid to civilians in the country, distributed hot meals and food parcels to people of Sudan who migrated to the border country of Chad.
IHH continues relief efforts with 5,943 people
The IHH Humanitarian Relief Foundation is carrying out activities in earthquake zones with 5,943 search and rescue workers and aid volunteers. While the IHH Search and Rescue Teams pulled 3,028 deceased and injured people from the rubble, emergency aid volunteers delivered support to hundreds of thousands of people in many different areas.