IHH reaches out to refugees in Chad
IHH reaches out to refugees in Chad
Central African refugees who have taken refuge in Chad received food hampers containing basic food items.
IHH Humanitarian Relief Foundation delivered basic food items to the refugees from the Central African Republic, who are staying in a refugee camp in Chad.
This year in Ramadan, IHH reaches out to Chad, one of the poorest countries of Africa to offer a helping hand. IHH teams visited Govi refugee camp located close the capital city N'Djamena' and handed out food hampers containing basic foods like cooking oil, pasta, rice and flour.
Mr. Hikmet Şölen from the IHH team told that in conjunction with humanitarian relief operations in Chad they are trying to help refugees who fled Central Africa due to escalating violance in the country.
Şölen reported that around 5 thousand refugees are staying in Govi refugee camp under very harsh conditions and that IHH has distributed each family in the camp basic food items like flour, rice, cooking oil and pasta.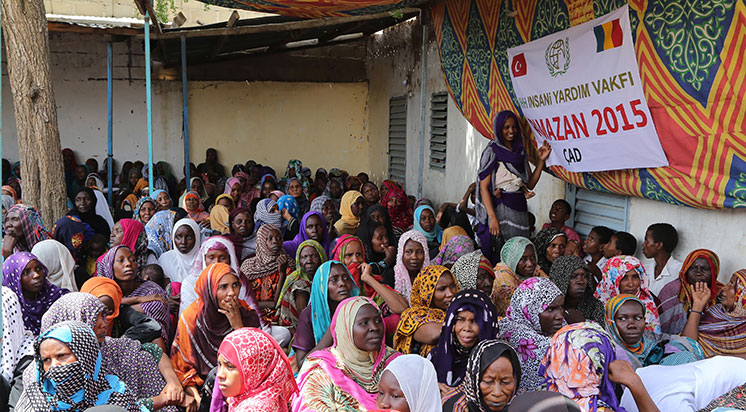 Learning Islam despite the adversity
Şölen noted that they are delivering aid regardless of religion, language and race of the needy: "Unfortunately children and elderly are affected worst by the wars. In this camp refugees unable to have access to clean water and healthcare are facing various illnesses. Through the food aid we have delivered, we are trying to help them survive a little more. From now onwards, we will keep helping out the poor people in the region as much as we can."
Şölen also noted that children in the refugee camp are trying to learn Islam despite the adversity. He said that around thousand children are trying to learn Quran in makeshift classrooms.
Şölen called out to the other humanitarian organizations and charities to offer a helping hand to destitute peoples in African countries.
Drought affects 36.1 million people in East Africa
There are currently 36.1 million people in Somalia, Ethiopia, and Kenya who are suffering from the effects of the protracted drought. Drought has created severe obstacles to the availability of food and water in three different nations.
Aid for flood-affected families in Sudan
Sudan's last week's flood is still impacting the country. The floods, which claimed 99 lives and wounded 94 others also destroyed houses, workplaces, and acres of farmland. After the floods, IHH Humanitarian Relief Foundation launches its relief efforts for the victims there.
IHH Takes Action for Pakistan
The flood occurred the day before due to heavy rains in Pakistan. The flood resulted in the deaths of 1061 people and injured 1575 others. Right after the flood, the IHH Humanitarian Relief Foundation launched an emergency relief effort for the country.