IHH sends aid to refugees in Libya
IHH Humanitarian Relief Foundation keeps humanitarian operations in Libya since the day conflict started. During Ramadan IHH delivered the donations to the internally displaced people living in camps and shelters due to the clashes.
Africa, Algeria
26.08.2015
IHH continues its humanitarian work in Libya where a civil war is going on without fail. IHH, which was initially providing medical supplies and medicine to the hospitals, is now also delivering food aid to tens of thousands of internally displaced people in Benghazi, Tripoli, Misrata, Derne and Sebhe. The aid campaign does not dismiss the illegal refugees who set off from various African countries and caught in Libya on their way to Europe.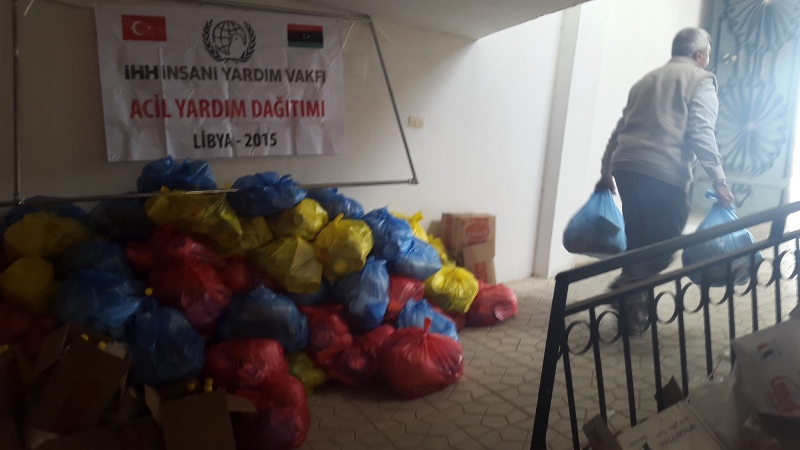 Due to the ongoing clashes in Libya, currently 15 thousand families in Benghazi are sheltering in public buildings, government offices and schools. Moreover, 17 thousand families, who fled the clashes, are living in Tripoli, Misrata, Zawiya, Zaletan and Baida. In Sebhe 3 thousand families had to flee their homes due to the clashes between Tebu and Tawarik tribes. 4 thousand illegal refugees caught en route Europe are detained in 7 detention camps in Misrata and Tripoli.
IHH, which delivered $2.5 million of aid to Libya during the revolution, has delivered $200 thousand of aid from the donors to Libyan families affected by the civil war.
Emergency aid for Cameroon refugees
45.000 people took refuge in Chad as a result of the conflict that broke out between tribes due to access to water sources and use of land. IHH Humanitarian Relief Foundation launched aid efforts for the refugees living under extremely difficult conditions in camps in the capital N'djamena.
Aid to Nepal flood victims
In the wake of the flood disaster that struck Nepal, IHH delivered food packets to 360 families in need.
Aid to 8.000 people in Afghanistan
IHH has delivered food packets to almost 8.000 people in Afghanistan as part of our emergency aid campaign. Right now the suffering of the Afghani people can only be alleviated with the support of donors.