IHH sends aid to refugees in Libya
IHH Humanitarian Relief Foundation keeps humanitarian operations in Libya since the day conflict started. During Ramadan IHH delivered the donations to the internally displaced people living in camps and shelters due to the clashes.
Africa,
Algeria
26.08.2015
IHH continues its humanitarian work in Libya where a civil war is going on without fail. IHH, which was initially providing medical supplies and medicine to the hospitals, is now also delivering food aid to tens of thousands of internally displaced people in Benghazi, Tripoli, Misrata, Derne and Sebhe. The aid campaign does not dismiss the illegal refugees who set off from various African countries and caught in Libya on their way to Europe.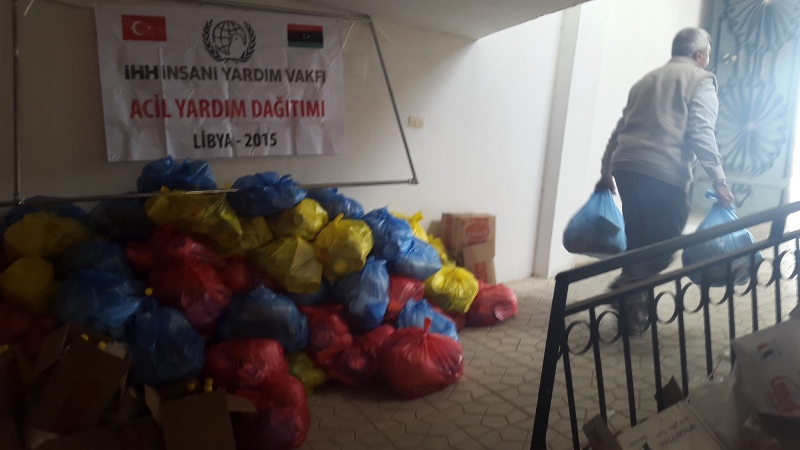 Due to the ongoing clashes in Libya, currently 15 thousand families in Benghazi are sheltering in public buildings, government offices and schools. Moreover, 17 thousand families, who fled the clashes, are living in Tripoli, Misrata, Zawiya, Zaletan and Baida. In Sebhe 3 thousand families had to flee their homes due to the clashes between Tebu and Tawarik tribes. 4 thousand illegal refugees caught en route Europe are detained in 7 detention camps in Misrata and Tripoli.
IHH, which delivered $2.5 million of aid to Libya during the revolution, has delivered $200 thousand of aid from the donors to Libyan families affected by the civil war.
Aid to help West Darfur conflict
95.000 people were forced to migrate to other regions and 213 people lost their lives due to the conflict between tribes in Sudan's West Darfur. IHH Humanitarian Relief Foundation launched emergency aid projects for the people affected by the conflict and became Internally Displaced People.
IHH delivers humanitarian aid to Ukraine
IHH Humanitarian Relief Foundation continues to provide humanitarian aid to the refugees who have fled to nearby countries and to the Ukrainian people who are under attack by Russia.
Medical aid for Afghanistan
IHH sent 4 trucks of medical aid to Afghanistan. This medication will be distributed to hospitals in the cities of Kabul, Herat, Mazar-i-Sharif and Kandahar.