IHH sends emergency aid to flood stricken Arakan
Myanmar is suffering from the worst flood in recent years. It is said that the torrential rains, which has continued for three consecutive weeks, have affected millions and the death toll has exceeded 100 people
Myanmar is suffering from the worst flood in recent years. It is said that the torrential rains, which has continued for three consecutive weeks, have affected millions and the death toll has exceeded 100 people. Those who live less disadvantaged regions have been affected the most as many people are trapped in their homes and are desperately waiting for aid. It is reported that close to 50 people have died in the state of Arakan, which is known to be the most affected by the floods.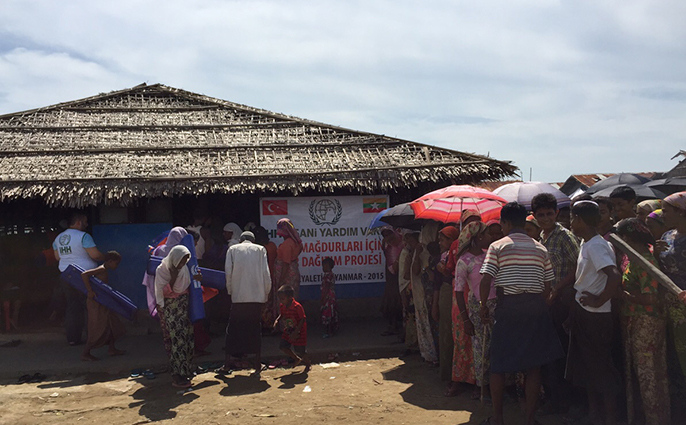 Meanwhile, the Komen hurricane has also caused disaster in the town as many homes have been destroyed and thousands of people have been evacuated. Close to 140 thousand Muslims, who live in run down camps in the province, is amongst those who have been severely affected the torrential rains and floods.
IHH team at Arakan
IHH began emergency relief work in the disaster stricken region by sending a team of three people to Arakan. The IHH team first visited the camps in the region and with the support of Qatar RAF, Qatar AID and Al-Imdaad the team distributed tents and food aid to two seperate refugee camps. At the Ohn Taw Gyi Camp, 450 people received tents and 400 families received food packages. Similarly, in the Nget Chaung Campm 304 received food aid. Due to the heavy damages to highways, railways and bridges, it is hard to reach certain regions.
Drought affects 36.1 million people in East Africa
There are currently 36.1 million people in Somalia, Ethiopia, and Kenya who are suffering from the effects of the protracted drought. Drought has created severe obstacles to the availability of food and water in three different nations.
Aid for flood-affected families in Sudan
Sudan's last week's flood is still impacting the country. The floods, which claimed 99 lives and wounded 94 others also destroyed houses, workplaces, and acres of farmland. After the floods, IHH Humanitarian Relief Foundation launches its relief efforts for the victims there.
IHH Takes Action for Pakistan
The flood occurred the day before due to heavy rains in Pakistan. The flood resulted in the deaths of 1061 people and injured 1575 others. Right after the flood, the IHH Humanitarian Relief Foundation launched an emergency relief effort for the country.