IHH Welcomes The Evacuated People at The Border.
After the ceasefire 4000 victim moved our of besieged Aleppo. IHH, welcomed them at the border.
After the ceasefire 4000 victim moved our of besieged Aleppo. IHH, welcomed them at the border.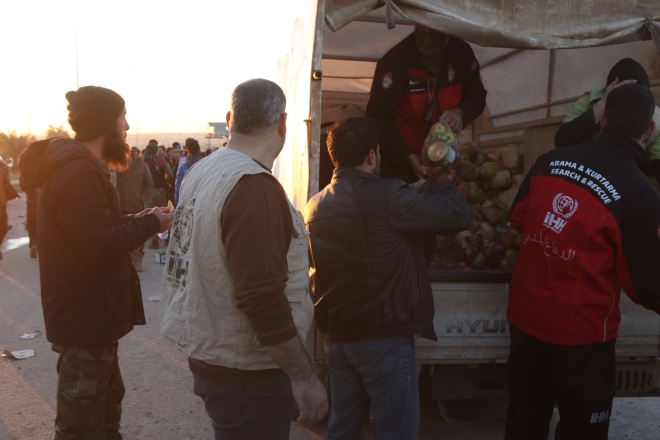 BUILDING A TENT CITY FOR 80 THOUSAND PEOPLE
Despite some mulfunctions, evacuation process still goes on. According to IHH staff on the field, 5 groups came, bringing 4000 thousand people. 6th group is on the way. IHH also started to build a tent city for 80 thousand people, with Kızılay and AFAD.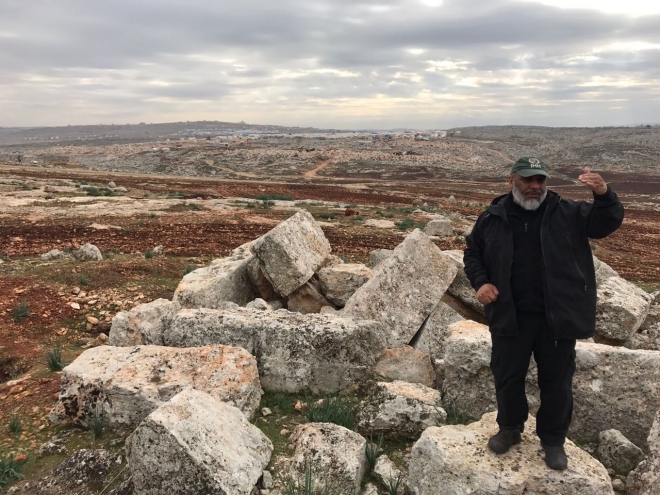 Bulent Yildirim On The Ground
Head of IHH, Bulent Yildirim went to Idlip, leaving the convoy to check the area.
He stated: "We are announcing a tent campaign.Please take your tents to the border.". And he stated further:

"We'll build the tent city on a 200.000 decare area. We'll try to supply everything a person will need. Everyone should come here with a tent. Because there is not enough tents in Turkey to compensate. So we want everyone to bring one tent which can be enough for one family. Maybe a martrys familiy will stay in it, maybe an orphan. Maybe this will open a gate for us to go to Jannah. By cars or by plains, come here. Come and be with these people. On Saturday at 11am we are expecting everyone at Cilvegozu border gate."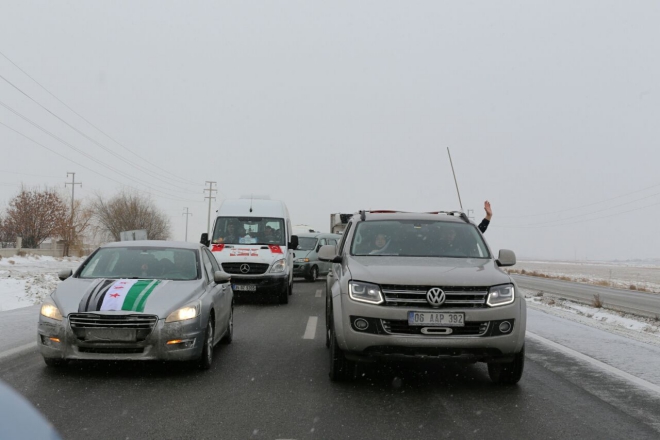 Convoy is on the way of Hatay.
The convoy "Open Road to Aleppo" expected to reach Hatay in the late hours of the day.
Aid for flood-affected families in Sudan
Sudan's last week's flood is still impacting the country. The floods, which claimed 99 lives and wounded 94 others also destroyed houses, workplaces, and acres of farmland. After the floods, IHH Humanitarian Relief Foundation launches its relief efforts for the victims there.
IHH Takes Action for Pakistan
The flood occurred the day before due to heavy rains in Pakistan. The flood resulted in the deaths of 1061 people and injured 1575 others. Right after the flood, the IHH Humanitarian Relief Foundation launched an emergency relief effort for the country.
IHH delivers aid to Gaza
In the attacks carried out by the occupying Israel against Gaza, 44 people, including 14 children, were martyred and 360 people were injured. The IHH Humanitarian Relief Foundation, which took action immediately in the aftermath of the attacks, launched emergency relief efforts for the people of Gaza.