IHH provides Djibouti with livestock aid
With the help of Turkey's Embassy in Djibouti, IHH provided food and live stock aid to 2 separate regions in Djibouti.
Africa,
Djibouti
14.05.2015
With the support of Turkey's Embassy in Djibouti, IHH distributed food and livestock aid to Djibouti.
The Djibouti public welcomed Turkey's Djibouti Ambassador, Hasan Yavuz joyfully as he personally distributed the aid to those in need.
In the Turish Village (which means Turkish village) located 30 km away from the Djibouti capital, 200 food packages weighing 30 kgs each, was distributed.
The villagers, welcomed Turkish Ambassador Hasan Yavuz with flags of Turkey in their hands. During his speech at the village, Yavuz stated that "today we are delighted that we were able to keep our promise to you by delivering aid." Turkey is honored by your welcoming ceremony. Turkey has always been there for its African brothers, and will continue to always be there," he said.
Turkey is committed to fulfilling its duties towards Africa. Although the Turkish village in Djibouti is thousands of kilometers away from Turkey, the name has been protected for hundreds of years said Yavuz. He then continued by saying " Today we did provide aid, in fact we brought you the love and brotherhood of the Turkish public."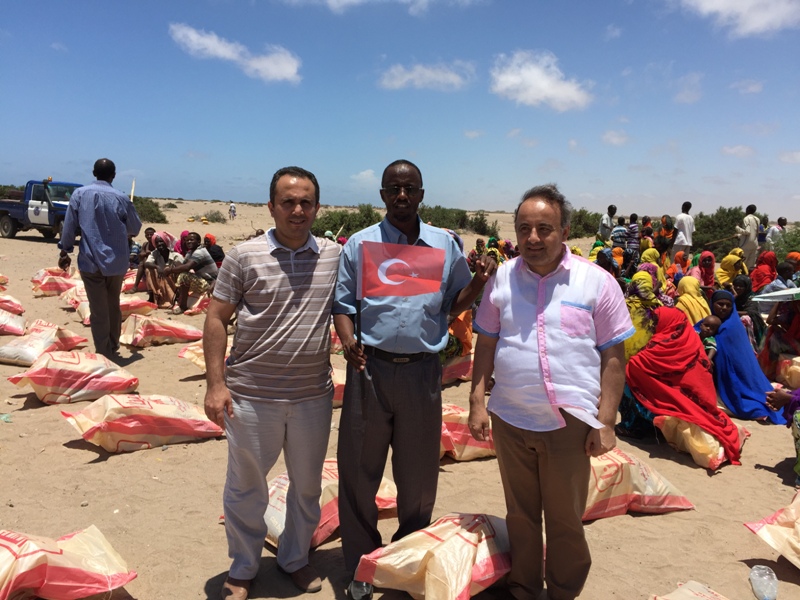 The Turkish village lived under the Ottoman rule for nearly 380 years. In the 16 century, Ottoman merchants came over to this region in order to import and export salt. Since the 16th century, the village is known as Turk Koyu.
300 goats were distributed to those singing the Istanbul titled song since 150
300 goats were distributed to 300 families living in the Dikhil Djibouti region and in the Senkal village. Aid was delivered to the villagers by Turkish Ambassador Hasan Yavuz himself.
The villagers who welcomed the Aid delegation with Turkish and Djibouti flags, thanked IHH and Turkey for providing aid.
Residence of Dikhila sing the "Istanbol" titled tune when their daughters are getting married. In the song it says "Istanbul shine like a flashlight, illuminate your country."
Drought affects 36.1 million people in East Africa
There are currently 36.1 million people in Somalia, Ethiopia, and Kenya who are suffering from the effects of the protracted drought. Drought has created severe obstacles to the availability of food and water in three different nations.
Aid for flood-affected families in Sudan
Sudan's last week's flood is still impacting the country. The floods, which claimed 99 lives and wounded 94 others also destroyed houses, workplaces, and acres of farmland. After the floods, IHH Humanitarian Relief Foundation launches its relief efforts for the victims there.
IHH Takes Action for Pakistan
The flood occurred the day before due to heavy rains in Pakistan. The flood resulted in the deaths of 1061 people and injured 1575 others. Right after the flood, the IHH Humanitarian Relief Foundation launched an emergency relief effort for the country.