IHH's 2015 Ramadan activities
During the month of Ramadan, IHH managed to deliver aid 1,416,390 people in 96 countries and 360 regions as well as 79 provinces and districts in Turkey. xxx
During the month of Ramadan, IHH managed to deliver aid 1,416,390 people in 96 countries and 360 regions as well as 79 provinces and districts in Turkey.
Since its establishment IHH's Ramadan organisations with the support of Turkish volunteers and charitable people has extensively reached out to many from the Middle East to the Balkans and from Africa to Asia. IHH has delivered the abundance and blessings of the month of Ramadan to those in need and orphans by traveling 640,000 kilometres throughout 96 countries and 360 cities in the world as well as 79 provinces and districts in Turkey. Volunteer teams who were appointed overseas and within Turkey, distributed aid packages according to the needs identified, organised Iftars, distributed Zakat-Sadaqah donations, provide healthcare assistance and also implemented permanent projects.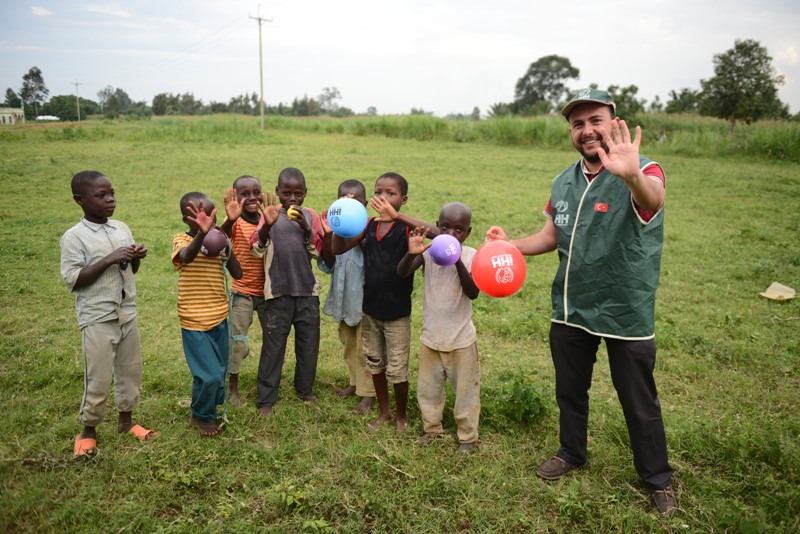 Assistance to those in need in Iraq, Syria, Palestine, the Balkans, Africa, Asia and millions of oppressed around the world was delivered and their prayers were received. During the month of Ramadan 283,278 food packages were distributed, were 1,416,390 people benefited from. 164,600 people opened their Iftar at the organised dinner events. 15,000 Ramadan Kids packages were distributed. 40,000 orphans were gifted Eid clothes. Stationery was distributed to 15,000 children. Zakat and Fitrah were given to 12,506 families in need.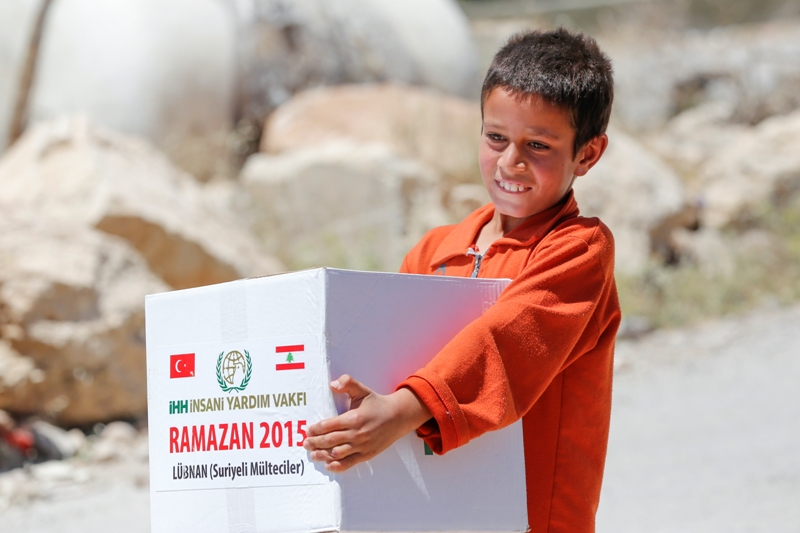 Only during the month Ramadan 249 trucks filled with humanitarian aid was delivered to Syria which is suffering from ongoing massacres. 30,000 food parcels, 1,500 tons of flour, 158,000 water, 218 kilograms of dates, 171,000 Iftar goods, 5,000 baby packages and 880 units of hygiene packs were distributed to 4.5 million Syrians In addition, 11,000 orphan children in Syria were gifted Eid clothes, 10,000 children were gifted books, candy, chocolates, biscuits, toothpaste, towels, soap and a "Ramadan Children's Package" consisting of 18 items were distributed.
IHH made orphans smile this Ramadan
Our foundation did not forget orphans in our 2015 Ramadan organisations. Eid clothes and kid packages were distributed overseas and in Turkey. In total 40,962 children in Palestine, Egypt, Lebanon, Yemen, Somali, Ethiopia, Bangladesh, Sri Lanka, Syria, Afghanistan, Azerbaijan, Arakan, Albania, Bosnia and Herzegovina, Chechnya, Aceh, Eritrea, Gambia, Ghana, India, Iraq, Iran, Kenya, Kashmir, Crimea, Kosovo, Moro, Nepal, Pattani, Sierra Leone, Tajikistan, Tunisia, Zimbabwe and Turkey were gifted Eid clothes. In Turkey "Ramadan Children's Packages" was distributed to 7,500 children in 61 provinces. In addition to the packages Hasan Aycin's 40 Hadith books were distributed.
Last year was the first time the World Orphans Day campaign was celebrated and events were organised in 81 provinces across Turkey. Orphan children and families in 81 provinces and 824 municipalities got together at the Iftar events organised. On the same day with the participation of orphan children Iftar and Ramadan activities were held at the Esenler Municipality. For four days orphans who had come to Turkey from many countries from all over the world visited historical and cultural sites in Istanbul. Also, the report "Rejunevation Program of the Orphanages in the Muslim World" was prepared and shared with the Islam Cooperation Organisation and member countries.
Our soup kitchen toured Turkey
IHH organised Iftar events with a mobile soup kitchen by touring 24 provinces across Turkey. IHH distributed 40,000 food parcels and 7,500 kids packages in 78 provinces and districts. 160,000 people benefited from these parcels. Close to 50,000 people had Iftar at the events organised.
Long-term projects set during the month of Ramadan
For more than 20 years IHH Humanitarian Relief Foundation is trying to implement permanent activities and solutions to the problems of people living in war torn countries, natural disasters, poverty and etc. This Ramadan IHH did the opening for permanent projects and also started to work towards for new projects in Burkina Faso one of Africa's poorest country the opening of Elif Giyim Mosque, Pir Seyyid Hasan Hüsameddin Uşşaki Mosque in Gambia and the Of volunteers Quran school was conducted. The construction of the Hacı Hasibe Ticani Mosque and Nazmi-Salih Mosque in Chad have started.
In addition to this 1 water well in Chad, 1 in Sri Lanka, 3 in Ghana, 6 in Kenya and 12 in Bangladesh have been opened in order to provide the community with clean water. During the month of Ramadan a request for 138 water wells was received.
Palestinian and Syrian refugees in Lebanon
Following Israel's invasion of Lebanon in 1978, 500,000 Palestinians have become refugees. Palestinians are trying to continue on with their lives in 12 refugee camps in Lebanon. The majority of people leaving in these camps have been born in Lebanon and have never seen their homeland Palestine. Lebanon just like Turkey and Jordan is a country where many Syrians seek refuge in. IHH teams during the month of Ramadan have continued to aid Palestinian and Syrian refugees in Lebanon's Sabra Shatila, Burc el Berence, the Mariylas, Akkar, Tarblus, Arsalan, Bekaa, Sidon and Katerina. Food parcels containing items such as rice, flour and oil were distributed to Syrian and Palestinian families staying at the refugee camps. Iftar events were organised. Close to 9,000 families benefited from the aid provided.
Refugees in Lebanon is in need of all kinds of permanent assistance.
Aid to the victims of the Nepal earthquake
In Nepal which is known as the roof of the world food parcels were distributed and Iftar events were organised.
IHH during the month of Ramadan worked to aid the Muslims in Nepal which is known to be the world's roof in the so-called shadow of the Himalaya. IHH distributed food parcels and organised Iftar's for orphans in the region, orphan families, women shelter homes and to Muslims in need.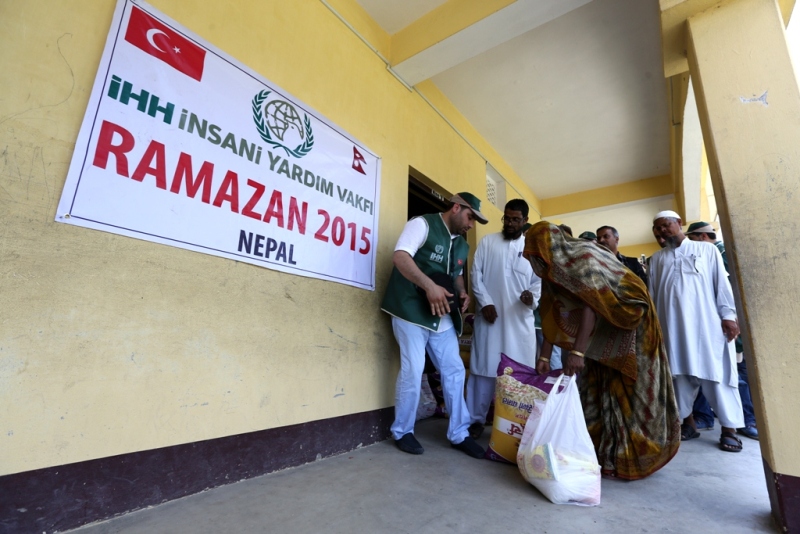 IHH conducted Ramadan activities with two different teams in Nepal. IHH reached Nepal with its emergency team following the earthquake it was struck by and was part of the search and rescue emergency aid team.
Almost 20,000 people benefited from the packages that were distributed. In addition to this Iftar events were organised for 3,400 people. The monetary value of aid IHH has done is 70,000 euros.
IHH teams who went to Nepal for Ramadan carried out their activities at the Prof. Dr. Necmettin Erbakan Mosque and School at the Sunsari-Bograha which is located near the city of Britnag on the Indian border. IHH also had activities at the Ali Ramazan Meryem Üstünsoy Orpahnage as well as at the Güngören Islamic Cultural Centre at the Birgunj region. Activities were also carried out at the Said Nursi Mosque.
Each family received a food parcel from the 3919 distributed and the packages included 25 kilos of rice, 2 kilos of sugar, 2 kilos of lentils, 2 kilos of chickpeas, 2 litres of oil and 1 kilo of salt. 20,00 people benefited from the food parcels.
IHH teams in the region also organised Iftar events for the Muslims in the area. Iftar programs for newly converted Muslims from different regions, people at the Islamic Cultural Centre in Bradnegar, Güngören Islamic Centre in Birgunj and at the women's shelter established in Kathmandu.
Arakanese Muslims in Myanmar
Muslims who are exposed to the massacres carried out by the Buddhist government, are facing difficulties and try to cope with problems such as lack of food, housing and infectious diseases. Muslims living in camps are trying to get along with their lives with the assistance received from outside sources. For the assistance provided to be effective, it needs be regular, diverse and continuous. IHH has this Ramadan once again continued to provide aid in Myanmar and made sure Rohinhya Muslims received aid comprehensively and continuously. 26,000 families received Ramadan food parcels and hot food was distributed to 70,000 families.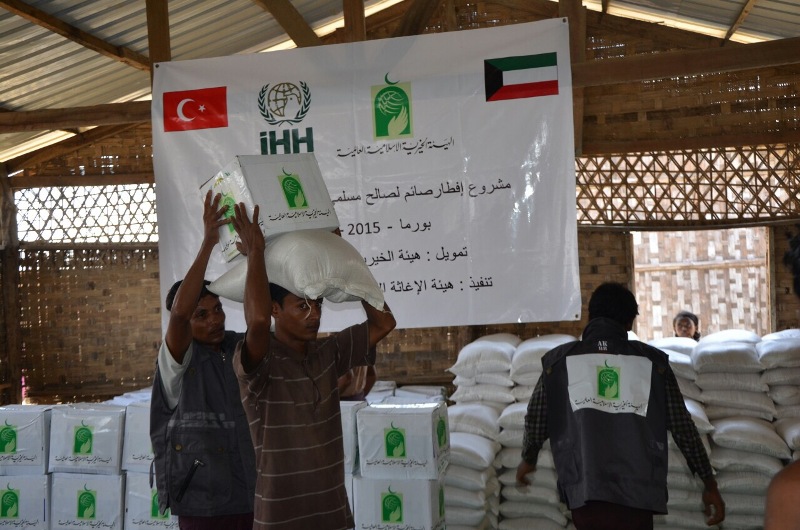 The greatest desire if the Rohingya Muslims is not to be left alone.
Central African refugees seeking refuge in Chad are not forgotten
IHH has continued to provide aid this Ramadan as well to the Muslims who have fled Central African Republic and have taken refuge in Chad due to attacks. IHH teams before Ramadan distributed 900,000 food parcels consisting of four, rice, sugar, oil and pasta to refugees living in camps in Chad, within the scope of emergency food aid campaign. During the month of Ramadan 3,570 food parcels were distributed which 23,000 people benefited from.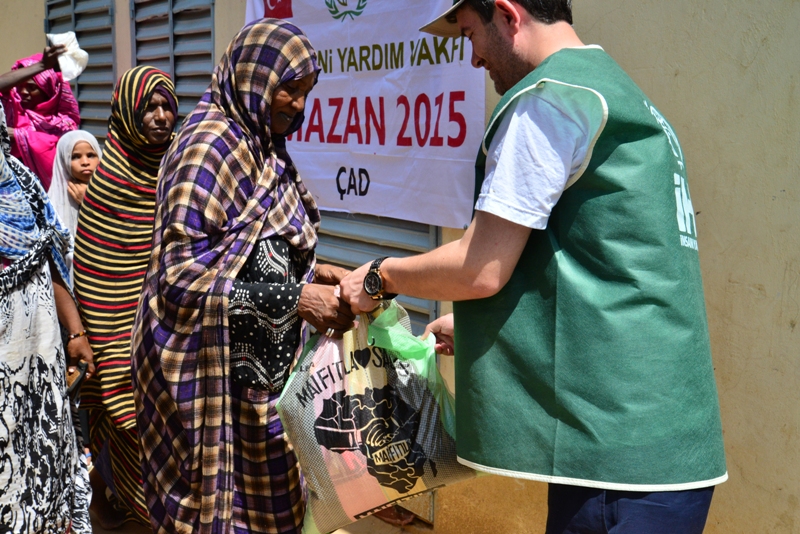 Blessings of Ramadan in the Balkans
IHH Humanitarian Relief Foundation did not forget the Muslims in the Balkans this Ramadan as well. IHH continued to share the blessings of the month of Ramadan with those in need in the region, orphans and the homeless. IHH teams distributed food parcels to those in need and orphan families in the Balkans including Bosnia and Herzegovina, Albania, Macedonia, Kosovo, Romania, Hungary, Sandzak (Serbia) and Bulgaria. 8,500 food parcels were distributed and Iftar events were organised for almost 5,000 people in the listed regions. Also 500 people in Bosnia Herzegovina, Kosovo and Macedonia received fitras.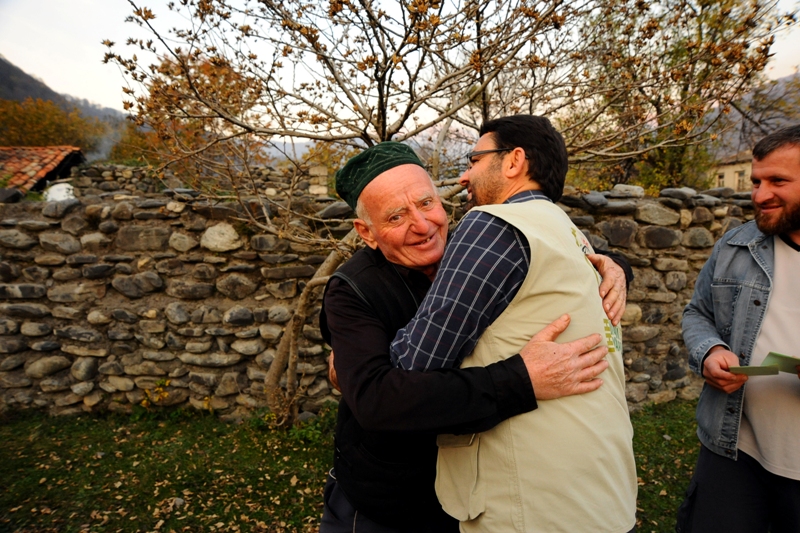 Orphans were given gifts and IHH also met with the people of the region by organising Iftars. IHH teams who got together with Muslims from the Balkans by bringing them greetings from Turkey, listened to the problems the people of the region are facing and also exchanged ideas and projects that can be implemented in the future.
Flour distribution to 38 thousand 601 families in Somalia
IHH Humanitarian Relief Foundation has been carrying its aid efforts in Somalia, and our effort intensified following the severe drought that has hit the country since 2020, causing millions facing difficulties in accessing clean water and food.
Mobile soup kitchen from Turkey to Ukraine
The mobile soup kitchen dispatched by the IHH Humanitarian Relief Foundation to Ukraine, which is under Russian bombardment, departed from Istanbul. The soup kitchen was intended to provide food to 30,000 people each day. In addition, three truckloads of humanitarian supplies provided to Ukraine by the IHH in recent weeks have been delivered to war victims.