Laser protest in front of Egyptian consulate
A protest rally was organised in front of the Egyptian consulate building in Besiktas as a result of the execution sentences that were given to anti-coup supporters in Egypt. Right before the protest a photo of Muhammad Mursi and a Rabia sign was formed against the consulate building using laser beams.
Many citizens attended the protest organised by the Egypt Solidarity Platform. Participants set off to Bebek from Eminonu and Uskudar in ships, opposing the Egyptian consulate.
Protester groups showed a projection of Muhammad Mursi and Rabia signs against the consulate building from their ships and chanted against the execution sentences. Afterwards, protesters approached the shore and gathered around the consulate building with poster saying "Is the world going to keep still to this cruelty?" and continued their protest by chanted "Go away, Sisi. We are with you, Mursi," "Don't Worry, don't give up, Allah is with you," "Murderer Sisi, Murderer Bashar" slogans. Egyptian citizens living in Turkey also supported the protest rally.
Speakers who attended the protest rally criticised coup decisions and demanded the cessation of the death sentences.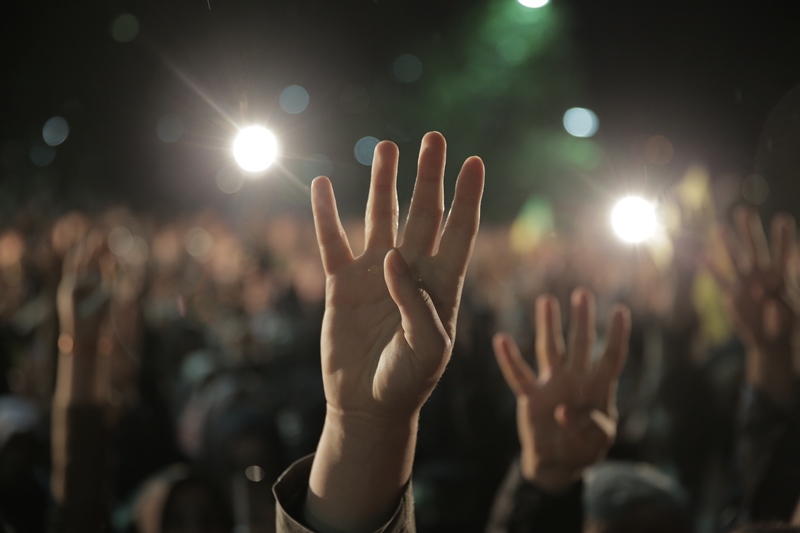 Bulent Yildirim: "We will strive against Israel in Egypt as well."
IHH Humanitarian Relief Foundation President Bulent Yildirim mentioned that the Egyptian administration says that the death sentences have nothing to do with Israel and stated that, "In that case, why did you confirm the death sentences after the merger in Palestine?"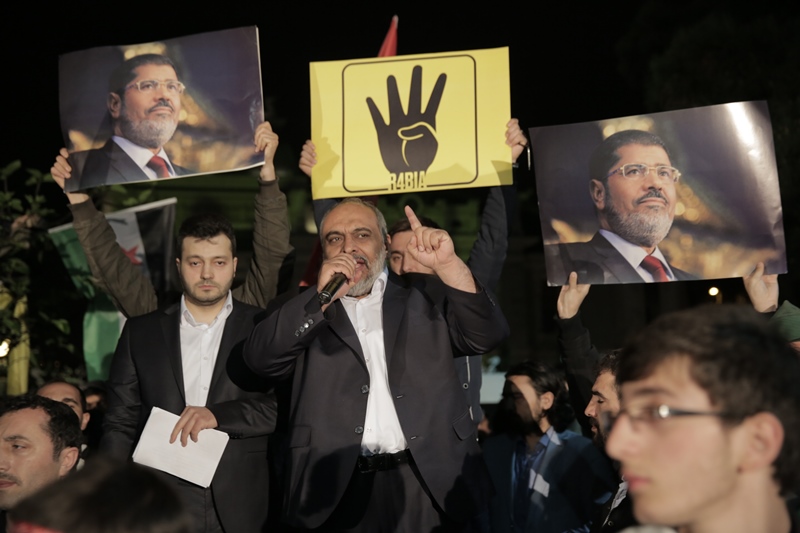 Yildirim, mentioning that even if they deny it, he knows the relationship between Sisi and Israeli administrators and also mentioned, "However we struggle against Israel in Palestine, we will struggle against Israel in Egypt. We will never give up."
Rasit: "One person, before the death sentences was given, died three years ago."
Former Egyptian Parliamentarian AdilRasit who also stated that the death sentences are the beginning of their end and that these decisions are going to humiliate them.
Rasit, explaining how there is a man among those sentenced to death that died three years ago, said, "Did the commissioner ever examine the names that were presented to him? Did he know that one of them died three years ago? Another person who was sentenced to death died in Rabi'a al-Adawiya Square. Today, Egyptian administrators are fulfilling all of Israel's and its supporters' desires and wishes. Do you think you are going to scare us with death sentences? We are not afraid of death sentences."
Ridvan Kaya: Our Egyptian brothers possess spirits of resistance
Independent Thought and Education Rights Association President Ridvan Kaya, who spoke at the protest, began his speech by saluting resisting Muslims in Egypt, Syria, Palestine and Afghanistan. Kaya emphasized on the death sentences given by the Egyptian junta and how they have no limit when it comes to cruelty and that this is a sign of desperation.
"They plan on deterring the general public by daunting them with massacres, imprisonments and torture. But they will not reach their goals because our Egyptian brothers possess spirits of resistance," said Kaya in his speech and also touched upon Muhammad Bedie's attitude, "Muhammad Bedie, whose son was murdered, house was burned and who was tortured, once said, 'we will never turn back from this path' and by doing so proved that the Egyptian Islamic movement is one to be proud of.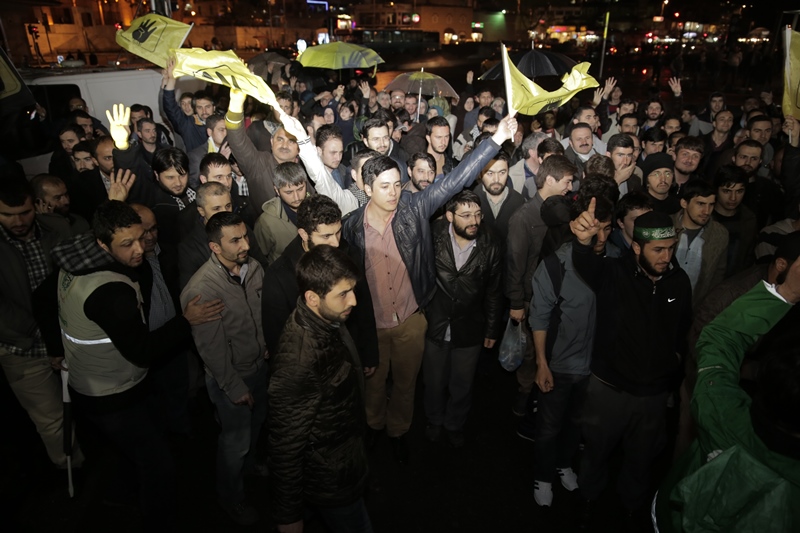 Bulent Yildirim saved Egyptian youths who were taken prisoner
While the speech was being made in a park right beside the consulate, a group of Egyptian citizens wanted to hang up flags on the consulate door. Two Egyptian citizens, who climbed the walls, lost their balance and fell into the consulate's garden and were retained by consulate employees. Due to this situation, three more Egyptian citizens entered the consulate's garden and chanted slogans.
[videoGaleri-439]
The two Egyptian citizens were set free after IHH President BulentYildirim's diplomacy attempt.
In pursuit of their two friends being set free, the Egyptian citizens who entered the consulate's garden put an end to their protests.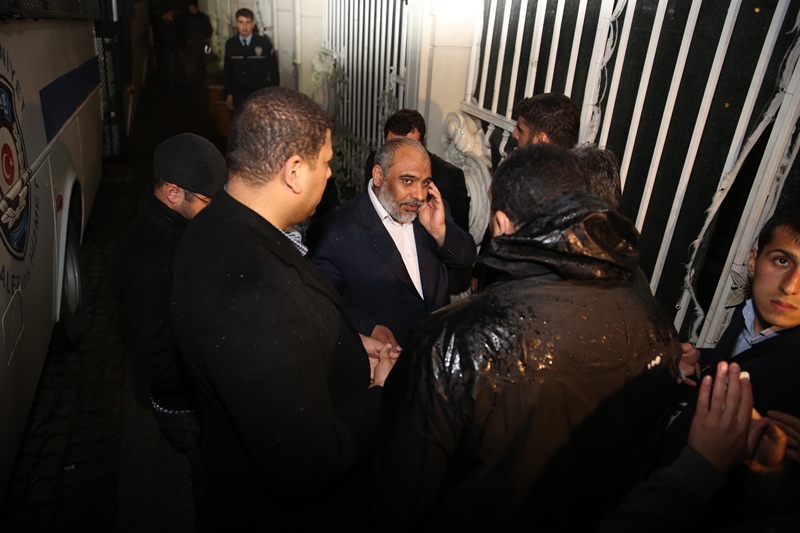 Ibrahim's first steps
The dream of 6-year old Ibrahim Tüser, who is supported under IHH's Orphan Sponsorship System, to be able to walk, came true with the support of donors.
Pedaling for orphans
IHH Malatya volunteer Ihsan Kılıç will be visiting 13 cities, cycling from Malatya and travelling a total of 500 km to raise "Orphan Awareness."
Malatya, Orphan
23.09.2020