Macedonian Minister of Justice Visits IHH
Macedonian Minister of Justice Valdet Xhaferi has paid a visit to IHH Humanitarian Relief Foundation
IHH board members Hüseyin Oruç, Osman Atalay, Ahmet Sarıkurt received Macedonian Minister of Justice Valdet Xhaferi in IHH headquarters and gave a brief to Xhaferi about IHH's operations in Turkey and around the world. Xhaferi also expressed his thanks for IHH's aid activities in Macedonia. 
A few months ago IHH has delivered bread, water and 10.000 EUR emergency aid to the victims of the floods that hit Macedonian capital Skopje and killed 20 people. 
After the meeting IHH board member Hüseyin Oruç presented Minister of Justice Xhaferi with a model of Masjid al-Aqsa.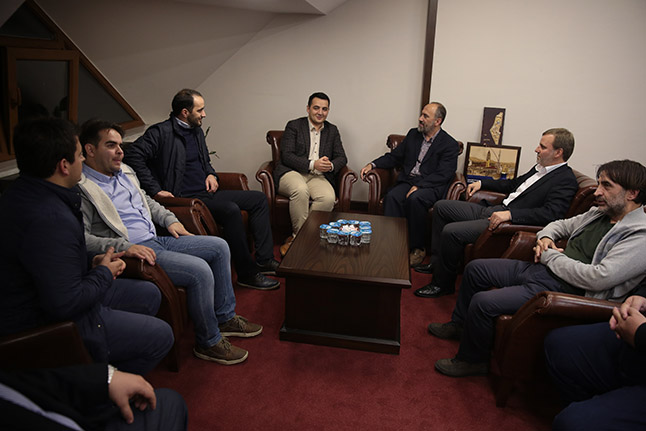 Flour distribution to 38 thousand 601 families in Somalia
IHH Humanitarian Relief Foundation has been carrying its aid efforts in Somalia, and our effort intensified following the severe drought that has hit the country since 2020, causing millions facing difficulties in accessing clean water and food.
Mobile soup kitchen from Turkey to Ukraine
The mobile soup kitchen dispatched by the IHH Humanitarian Relief Foundation to Ukraine, which is under Russian bombardment, departed from Istanbul. The soup kitchen was intended to provide food to 30,000 people each day. In addition, three truckloads of humanitarian supplies provided to Ukraine by the IHH in recent weeks have been delivered to war victims.
IHH helped 700,000 Syrians in 2022.
In 2022, IHH Humanitarian Relief Foundation delivered 2,043 truckloads of humanitarian relief supply to war-affected Syrian residents living in the country's IDP camps and settlements in various locations.