Malatya campaigning for aid to Syria and Gaza
The people of Malatya have sent 8 aid trucks to Syria and 120.000 TL financial aid to Gaza.
Palestine,
Palestine-Gaza,
Syria
27.09.2014
IHH orchestrated "Medicine to Gaza, Food to Syria" aid campaign which 30 NGOs and AKP Malatya Youth Branch participated. The campaign succeeded to bring about 8 aid-truck-flour and 120.000 Turkish lira financial aid.
A send-off ceremony for the aid trucks that will head to Syria was held in front of the Malatya Municipality building. IHH Malatya representative Ömer Derin, AKP Malatya Yeşilyurt President Bayram Taşkın, head of the municipality Hacı Uğur Polat, head of the youth branch Ebubekir Keskin and so many locals participated in the ceremony.
IHH Malatya representative Ömer Derin delivered a speech and said: "Today we are here to send off the trucks loaded with aid we have collected through the "Medicine to Gaza, Food to Syria" aid campaign we have initiated as a part of Solidarity Platform for which the goal is not to remain silent against the oppression in Gaza and Syria." He also added that "We learnt from our history, from our ancestors, and religion to be by the side of the oppressed no matter who he is, and to stand against the oppressor no matter who he is."
AKP Malatya Yeşilyurt President Bayram Taşkın asserted that "Syrians are facing adversity and life threat. We cannot remain silent against the suffering of our brothers. I would like to thank all who gave support to this campaign."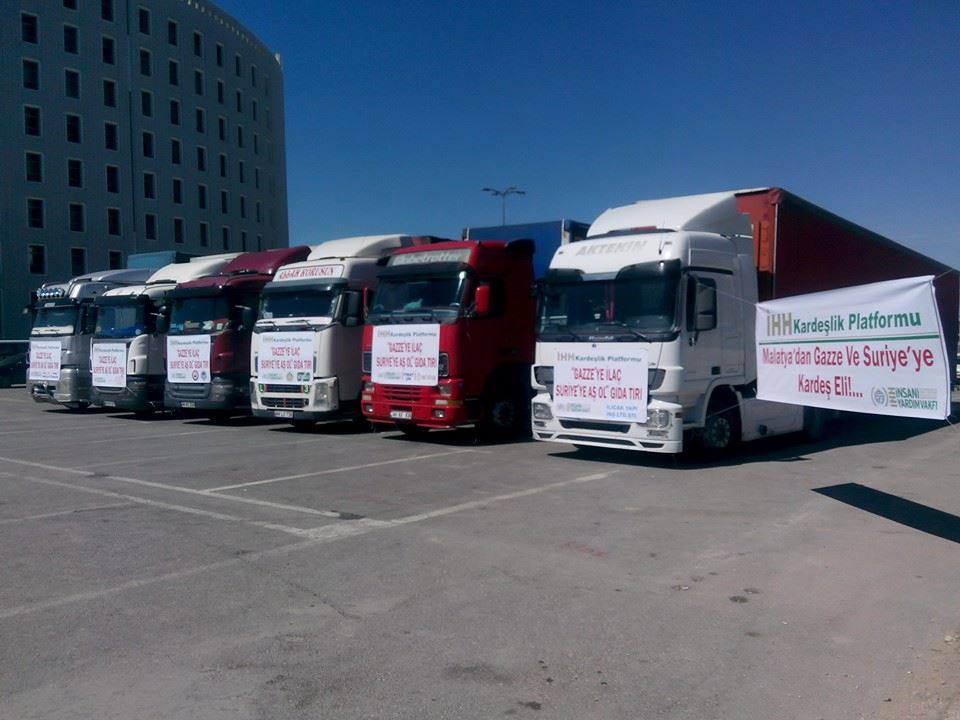 Head of Malatya Battalgazi Municipality Selahattin Gürkan also added "It is important to help our Muslim brothers in Syria and Gaza. Our approach to the refugees in our country and abroad in line with muhajereen and al-ansar relationship reflects our nation's solidarity in history."
"These aids show that Turkey is a great nation" said the head of the Malatya Yeşilyurt municipality Hacı Uğur Polat.
"We cannot live in comfort and peace when there is fire in our neighbour's home. This benevolent and good hearted people of Malatya have demonstrated it well" he added.
After the speeches the mufti of Malatya Ümit Çimen prayed as follows: "May God grace all our brothers and sisters who put in their efforts to collect this aid for Syria, Gaza and Palestine. May these aids and prayers of our nations help ease the pains and problems suffered there."
The head of the Malatya Yeşilyurt municipality Hacı Uğur Polat and the head of Battal Gazi Municipality Selahattin Gürkan handed over a 120.000-lira-cheque to Mr. Deirn. Eight aid-trucks of flour headed to Syria after the Friday prayers.
Drought affects 36.1 million people in East Africa
There are currently 36.1 million people in Somalia, Ethiopia, and Kenya who are suffering from the effects of the protracted drought. Drought has created severe obstacles to the availability of food and water in three different nations.
Aid for flood-affected families in Sudan
Sudan's last week's flood is still impacting the country. The floods, which claimed 99 lives and wounded 94 others also destroyed houses, workplaces, and acres of farmland. After the floods, IHH Humanitarian Relief Foundation launches its relief efforts for the victims there.
IHH Takes Action for Pakistan
The flood occurred the day before due to heavy rains in Pakistan. The flood resulted in the deaths of 1061 people and injured 1575 others. Right after the flood, the IHH Humanitarian Relief Foundation launched an emergency relief effort for the country.