March for Masjid Al-Aqsa
In an effort to protest Israel's attacks on Masjid Al-Aqsa IHH Humanitarian Relief Foundation led a march from the Tunnel toward Lycee Galatasaray on Istiklal Street last night.
In an effort to protest Israel's attacks on Masjid Al-Aqsa IHH Humanitarian Relief Foundation led a march from the Tunnel toward Lycee Galatasaray on Istiklal Street last night.
Thousands of people who gathered in front of the Tunnel at Taksim chanted "Palestinians are not alone!", "From Istanbul to Al Aqsa Thousand Blessings, Keep on Resisting", "Murderous Israel will be hold accountable" and walked toward Lycee Galatasaray.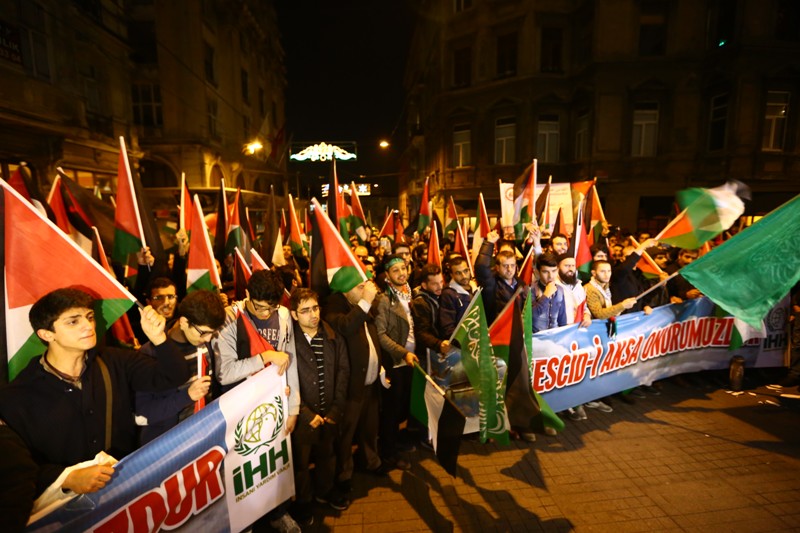 In his speech, IHH President Bülent Yıldırım reported that Israel Defence Forces (IDF) threw the Quran on the floor, stepped into Masjid Al Aqsa and detonated bombs inside. Mr. Yıldırım pointed out that Masjid Al Aqsa, which is one of the three holy masjids in the world according to the tradition of the Prophet Muhammed (pbuh), is under attack.
"The guilty is Israel, the guilty is the presidents of the Muslim organizations, the guilty is those sitting on their thrones, in their palaces, playing with money and still not expelling Israeli ambassador. The guilty is the Islamic groups, NGOs, the Muslim world leaders who refrain from uniting. If you can come together in the mosques come together to rescue Masjid Al Aqsa too. Everybody is swearing to Israel but nobody is looking at the mirror. O Muslim leaders rise from your beds, rise you're your chairs, fill the squares and see how things change how Masjid Al-Aqsa becomes free. Shake up yourselves and come back to your senses, form the Muslim unity."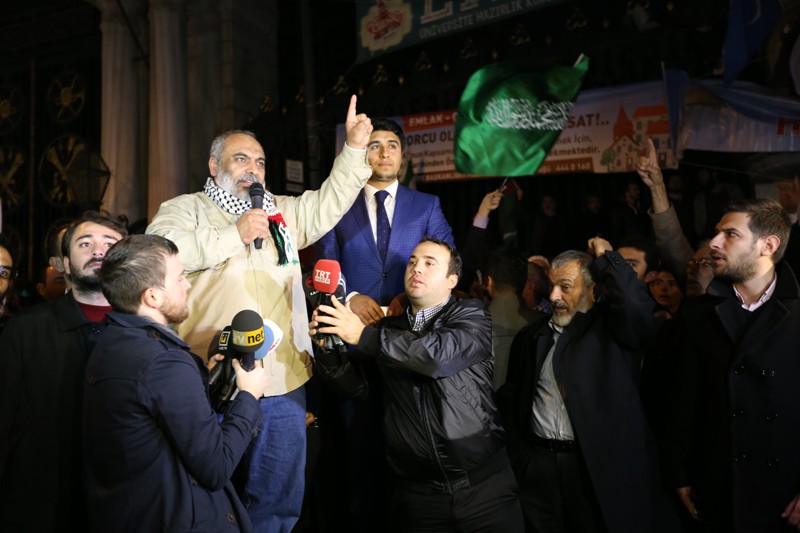 "Against the Zionists"
Mr. Yıldırım underlined that they are not against the Jews but the Zionists as many Jews living in Israel stood up against the attack at Masjid Al-Aqsa.
"Let it be known that if Israel continues invading Masjid Al Aqsa this entire nation will get up in arms to go fight there. Once when Israel won Arab-Israeli war some of this nation stood by Israel applauding its victory. Today the polls show that 86% of people in Turkey hate Israel."
"Stepped into Masjid Al Aqsa and Ripped Apart the Qurans"
Israel which is up to dirty games on Masjid Al-Aqsa over the last week created another scandal in this holy place of Muslims. A hundred IDF soldiers entered the Masjid Al-Aqsa after tearing down everything in the courtyard. 27 people were wounded as IDF soldiers have attacked the Palestinians in Masjid Al-Aqsa and around with plastic bullets, sound and gas bombs.
IDF soldiers chased out the Palestinians who took refuge inside Kıblah Mosque which is in the compound of Masjid Al-Aqsa. The soldiers were reported to enter the mosque with their boots and harassed the Palestinian protesters while Qurans were scattered around.
Following the incident, Israeli government closed entrance and exit from the Masjid Al Aqsa between 08.00 am. to 10.00 pm.
IDF soldiers' aggressive entrance to Masjid Al-Aqsa, for the first time since 1967, and daytime closure of the Masjid is regarded as an effort to create public support to divide Masjid Al-Aqsa between Jews and Muslims like it is done in Ibrahim Mosque.
In the meantime Israeli government is working on a bill in the parliament to divide Masjid Al-Aqsa and these incidents are aimed at calculating the potential reaction of the Muslims had it been carried out.
Mobile soup kitchen from Turkey to Ukraine
The mobile soup kitchen dispatched by the IHH Humanitarian Relief Foundation to Ukraine, which is under Russian bombardment, departed from Istanbul. The soup kitchen was intended to provide food to 30,000 people each day. In addition, three truckloads of humanitarian supplies provided to Ukraine by the IHH in recent weeks have been delivered to war victims.
IHH helped 700,000 Syrians in 2022.
In 2022, IHH Humanitarian Relief Foundation delivered 2,043 truckloads of humanitarian relief supply to war-affected Syrian residents living in the country's IDP camps and settlements in various locations.
The last terminal of "An Armful of Goodness"
IHH Humanitarian Relief Foundation continues to commemorate the 11th annual Orphan Solidarity Days (OSD) project with the theme "An Armful of Goodness". Many studies have been carried out for orphans and their families in Kenya, one of the countries where the initiative is executed.