Marching in İstanbul to support Morsi
Thousands of people who gathered in İstanbul-Fatih Mosque following Friday prayers marched from the mosque to İstanbul's Saraçhane neighborhood to voice their support to Ihvan (Muslim Brotherhood) and Egyptian President Mohammad Morsi who was overthrown from his post by a military coup on Wednesday. IHH Humanitarian Relief Foundation President BülentYıldırım and representatives from many civil society organizations took part in the march.
[videoGaleri-360]
Speaking at the event, Yıldırım said: "Now, all the squares of Egypt have been closed by anti-coup demonstrators. The entire world should keep this in mind that there is a mass that will fill the streets now against killers, tyrants and thieves. The Egyptian military thought it staged the coup only against Morsi but the entire world is at the side of Morsi. I am appealing to the Egyptian army from here: You have always fought against the people so far. You have lost all the wars you had with Israel. Beat Israel if you can."
Yıldırım who also appealed to th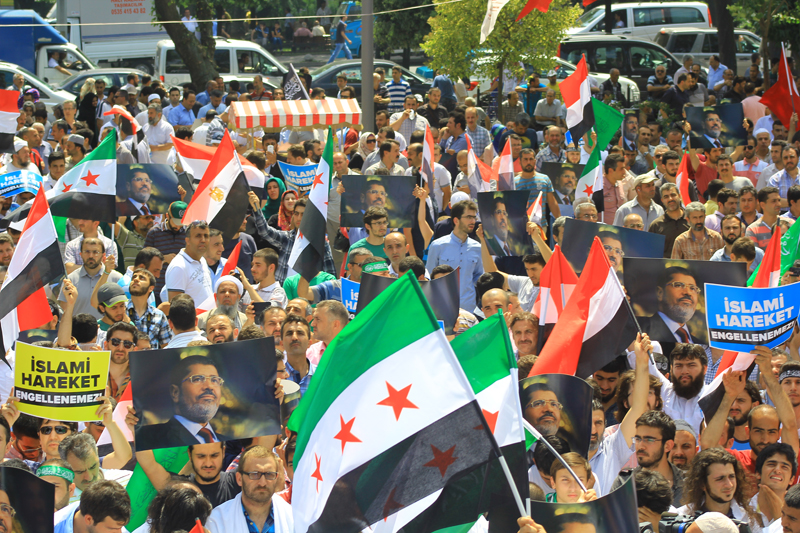 e international media said: "The international media always showed the images of anti-Morsi protestors to the world. They did not cover the images of Morsi's supporters. The US laws suggest that the country cannot make financial aid to an army which staged a coup. Will the US now cut its aid to Egypt? Or will you continue your hypocrite actions?
Freedom Association (Özgür-Der) President Rıdvan Kaya also spoke at the event and said they are proud of the courageous and Islamic stance shown by Morsi and his friends.
"May God help them," he said.
Abdurrahman Dilipak, a journalist and writer, also delivered a speech and said: "A coup attempt took place in Egypt today but it failed. Now, divisions have begun in the Egyptian army. Mosques have turned into barracks of resistance. Now, the puppet president protects the agents of MOSSAD. Morsi does not make any concessions despite all the pressure exerted on him."
The crowd which said they are at the side of Morsi and anti-coup people of Egypt dispersed peacefully following other statements.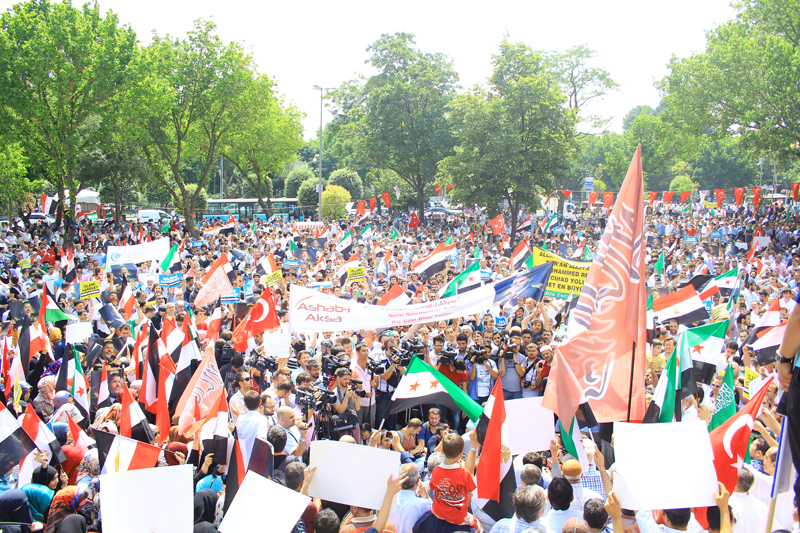 Ibrahim's first steps
The dream of 6-year old Ibrahim Tüser, who is supported under IHH's Orphan Sponsorship System, to be able to walk, came true with the support of donors.
Pedaling for orphans
IHH Malatya volunteer Ihsan Kılıç will be visiting 13 cities, cycling from Malatya and travelling a total of 500 km to raise "Orphan Awareness."
Malatya, Orphan
23.09.2020