Mavi Marmara sets sail for İstanbul
The Mavi Marmara ship, which was attacked by Israeli soldiers in international waters in May while taking humanitarian aid to Gaza, is returning to İstanbul.
Palestine, Turkey
10.12.2010
Mavi Marmara was part of a six-ship international flotilla that tried to break Israel's naval blockade of the Gaza Strip to deliver humanitarian aid.
On May 31, Israeli commandos stormed all six ships. The action descended into violence and resulted in the death of nine peaceful activists aboard the Mavi Marmara.
Having underwent repair and maintenance at the port of İskenderun in Turkey's Mediterranean cost, Mavi Marmara is currently towed at the Kepez port in Çanakkale. It is expected to arrive in İstanbul on Dec. 26. A special welcoming ceremony will be held on the occasion of the ship's arrival by the IHH Humanitarian Relief Foundation.
On May 22, 2010, Mavi Marmara set sail for Gaza from the port of Sarayburnu in İstanbul, yet the Israeli attack on the ship prevented it from arriving at its final destination. Although Israeli officials claimed those on board the ship who resisted surrendering to the Israeli soldiers were shot, autopsy reports revealed this argument not to be true. For instance, autopsy report of Furkan Doğan, the youngest victim of the attack at the age o f 19, revealed he had suffered five gunshot wounds, to the nose, back, back of the head, left leg, and left ankle, at a distance of 45 centimeters. He was shot when he was filming the events in the ship. Another victim Cevdet Kılıçlar was found to have been killed when he was taking photos. Uğur Süleyman Söylemez, another activist, survived the attack but fights a life-threatening condition at the Atatürk Education and Research Hospital in Ankara.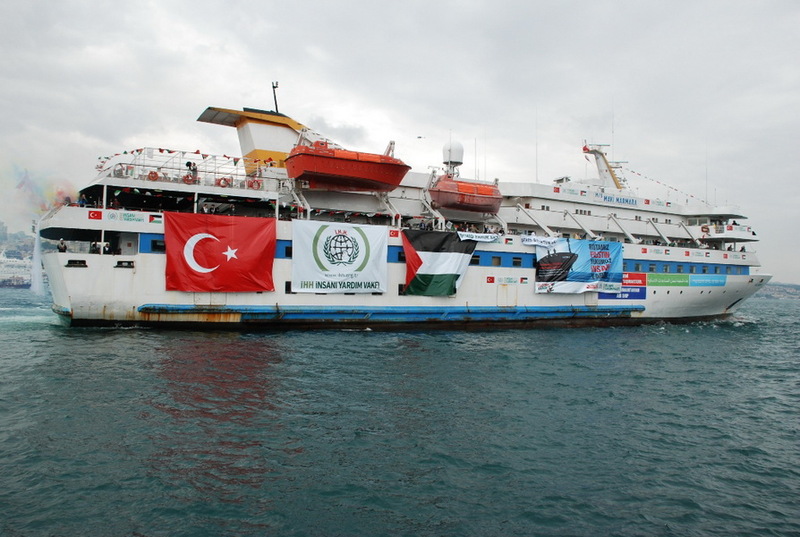 While Turkey and Israel continue negotiate over Turkey's demands for an official apology and compensation for the victims, activists who survived the attack on the Mavi Marmara, are preparing to welcome the ship in İstanbul.
Buses will travel from all across Turkey to İstanbul to attend the welcoming ceremony of Mavi Marmara at the Sarayburnu port. Peace activists from 50 countries are expected to attend the ceremony. The IHH has also invited ministers, deputies, representatives of non-governmental organizations, writers, journalists and artists to attend the event.
IHH Chairman Bülent Yıldırım said they will organize a welcoming ceremony which befits the Mavi Marmara. "The ship will be welcomed in the way it was sent out," he said.
Festival for orphaned children in Azaz
Alanya IHH Humanitarian Aid Association organized a festival for orphaned children living in the camps in the rural area of Azaz, Syria. Attended by 1.300 orphans, the festival was filled with games, rides, snacks and beverages.