Tens of thousands of people expected to welcome Mavi Marmara in İstanbul
Representatives from various non-governmental organizations (NGO) and peace activists convened for a news conference at the IHH Humanitarian Relief Foundation headquarters in İstanbul on Friday and ca
Palestine,
Turkey
24.12.2010
The news conference was attended by representatives from the IHH, the Association of Human Rights and Solidarity for Oppressed Peoples (MAZLUM-DER), Freedom Association (Özgür-Der), Turkish Foundation for Volunteer Organizations (TGTV), the Union of NGOs of the Islamic World, Unity Foundation and activists representing several NGOs in the UK, Lebanon, Spain and Canada.
Mavi Marmara, which was attacked by Israeli military in international waters during its voyage to Gaza in May, is returning to İstanbul on Sunday..
IHH President Bülent Yıldırım briefed the participants of the new conference about preparations that have been made for the welcoming ceremony. He said families of the Mavi Marmara martyrs and peace activists will board the ship in Çanakkale and set sail for İstanbul on Sunday.
"During the nine-hour long journey, those on board the ship will perhaps go through our feelings on the ship and live the moment of the attack," he said.
Noting that Mavi Marmara ship has become a symbol of freedom, Yıldırım said: "This ship set sail to take aid to Gaza and it has now become a symbol of freedom. We experienced victory and grief together with Mavi Marmara. We have grief because we lost our nine brothers in the attack. We feel victorious because a fear empire is collapsing. Humanity has won. So, the welcoming ceremony we will have for Mavi Marmara on Sunday will also be seen as a protest of Israel on the second anniversary of its military attacks on Gaza. We expect everyone to participate in Sunday's ceremony. We expect them not to leave us alone."
Head of MAZLUM-DER's İstanbul branch Cihat Gökdemir also said everyone is expected to be in Sarayburnu on Sunday to hold the kind of a welcoming ceremony for Mavi Marmara it deserves.
For his part, Özgür-Der President Rıdvan Kaya said: "Zionist Israel should see that Palestinians are not alone in defending their cause. We should all stand up for their cause. We should gather such a crowd in Sarayburnu that Israel should no longer dare to carry out such brutal attacks."
Lawyer Ali Kurt who is the Turkey representative of the Union of NGOs of the Islamic World said the Mavi Marmara incident showed how a handful of civilian activists can beat the forces that represent the international hegemony.
Yusuf Öcalan who represented the Movement for Humanity and Civilization at the meeting, said the Mavi Marmara incident showed that the conscience of the humanity is more effective than weapons.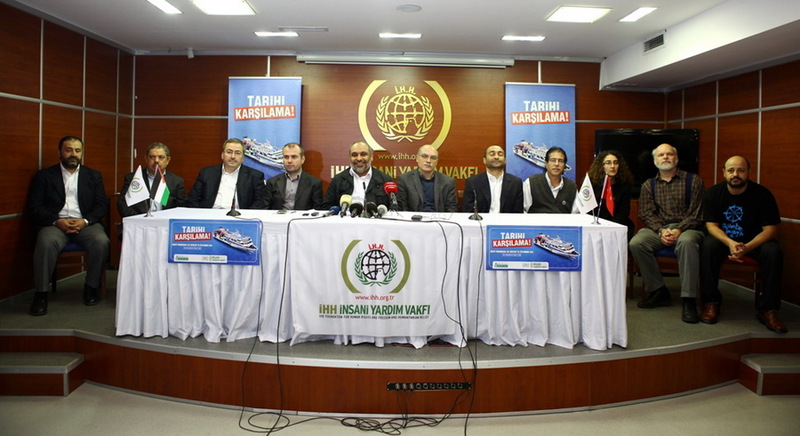 Peace activists, Kevin Ovenden from the UK, Manuel Tapial from Spain, Kevin Neish from Canada, Nabil Hallak from Lebanon and Fatima al-Moutabiti from Belgium, said in their speeches that there are many people outside Turkey who want to attend the welcoming ceremony but lack the means to do so. "But the Turkish people have the opportunity to attend this ceremony. We expect to see them in Sarayburnu," they said.
Hundreds of boats will welcome Mavi Marmara in its arrival to İstanbul on Sunday. Nine of the boats will carry photos of the nine Mavi Marmara martyrs, Cevdet Kılıçlar, Necdet Yıldırım, Furkan Doğan, Cengiz Songür, Fahri Yaldız, Ali Haydar Bengi, Çetin Topçuoğlu, Cengiz Akyüz and İbrahim Bilgen.
Details of the welcoming ceremony
A joint press statement was released by the participants at the end of the news conference yesterday, which read: "As a report by the UN Human Rights Council, Goldstone report, statements of UN-related institutions and human rights organizations acknowledge and declare in clear terms that there is an ongoing humanitarian crisis in Gaza and Israel perpetuates the blockade in an illegitimate and illegal way.
The Israeli military attacked the aid flotilla that aimed to take humanitarian aid to Gaza in international waters on 31 May 2010. Following the attack, which claimed the lives of nine peace activists and injured more than 50 others, Israel seized the ships. As confirmed by the UN report, Israel has violated international law and human rights by committing heavy crimes such as willful killing, torture and maltreatment of persons, violating persons' physical integrity rights, detaining and arresting persons arbitrarily, confiscating persons' belongings, restricting freedom of expression and similar other crimes.
When the Mavi Marmara ship was brought to Turkey along with other ships by the Turkish Foreign Ministry, legal examinations were made and then the ship was handed down to the IHH. The Mavi Marmara underwent maintenance but the traces of the attack were left untouched.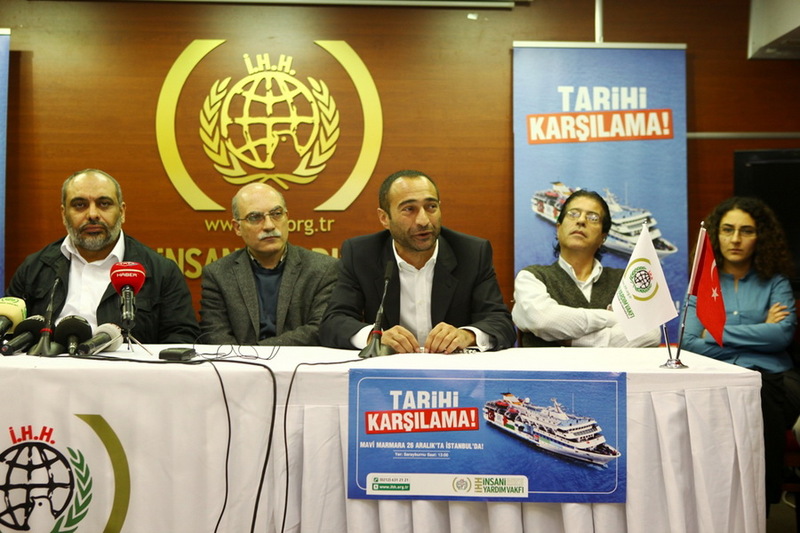 On the second anniversary of Israel's bloody "Cast Lead Operation," which claimed the lives of 1,500 innocent civilians and injured thousands of others, the IHH is holding a welcoming ceremony for Mavi Marmara's arrival to İstanbul during which the Mavi Marmara martyrs will also be commemorated.
The welcoming ceremony will be held at 1 pm at Sarayburnu port in İstanbul and will be attended by Turkish and foreign intellectuals, NGO representatives, artists, deputies and press members.
Families of Mavi Marmara martyrs, those who were injured in the Mavi Marmara attack, Turkish and foreign participants of the aid flotilla and press members will board the ship from the Kepez port in Çanakkale. The ship will be welcomed by dozens of boats in Sarayburnu.
Representatives from the organizers of the aid flotilla, some foreign guests and Ahmet Doğan, father of Mavi Marmara martyr Furkan Doğan, will deliver speeches at the event. Ömer Karaoğlu, Mikail, Grup Özlem, Grup Yürüyüş, Grup Genç will sing songs composed for Mavi Marmara.
Thousands of people across Turkey are expected to attend the ceremony. The program will be live broadcast by many Turkish and foreign TV and radio stations.
At the ceremony, attention will be drawn to Israel's brutal attacks on the aid flotilla and Gaza and the world will be called on to ask Israel to lift its siege of Gaza and stop its attacks. We will be very happy to see our public at the welcoming ceremony of Mavi Marmara which has become a symbol of all the oppressed and victimized people in the world. Your participation in this ceremony will make the hopes of these people stronger. May we live in a world where justice and peace prevail."
Flour distribution to 38 thousand 601 families in Somalia
IHH Humanitarian Relief Foundation has been carrying its aid efforts in Somalia, and our effort intensified following the severe drought that has hit the country since 2020, causing millions facing difficulties in accessing clean water and food.
Mobile soup kitchen from Turkey to Ukraine
The mobile soup kitchen dispatched by the IHH Humanitarian Relief Foundation to Ukraine, which is under Russian bombardment, departed from Istanbul. The soup kitchen was intended to provide food to 30,000 people each day. In addition, three truckloads of humanitarian supplies provided to Ukraine by the IHH in recent weeks have been delivered to war victims.
IHH helped 700,000 Syrians in 2022.
In 2022, IHH Humanitarian Relief Foundation delivered 2,043 truckloads of humanitarian relief supply to war-affected Syrian residents living in the country's IDP camps and settlements in various locations.