Medical Check-up for 261 Orphans
IHH Humanitarian Relief Foundation in collaboration with Hatay Reyhanli Community Healthcare Centre teams did medical check-up of 261 Syrian orphans
The war entered its 6th year in Syria which took a death toll of over 400.000. According to IHH's research there are over 600.000 orphans in the region. IHH carries out relief efforts to provide food, shelter and cash for orphans as well as activities to provide healthcare.
126 Orphans Are Sick
To this end, recently a team of 6 doctors from Hatay Reyhanlı Community Healthcare Centre together with IHH teams did medical check-up to 261 orphans. According to check-up it was found out that 126 children were sick. Their treatment is planned to start in the following days according to their diagnosis.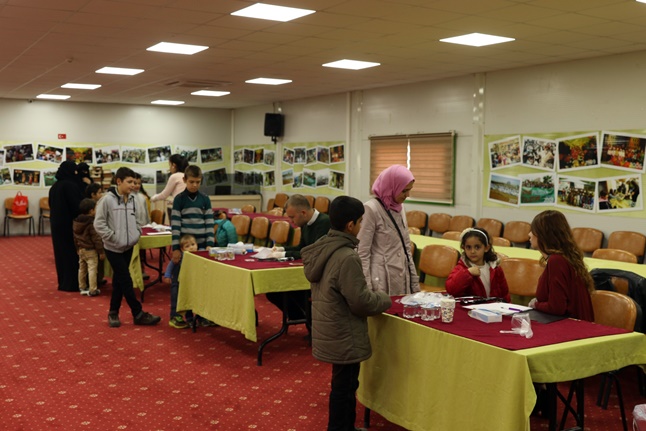 The primary sicknesses that the orphans are diagnosed with are as follows: flatworm, acute respiratory tract infection, lack of B12, chronic bronchitis, throat infection, slow physical development, asthma, allergy to legume family, allergy to medications, anaemia.
Flour distribution to 38 thousand 601 families in Somalia
IHH Humanitarian Relief Foundation has been carrying its aid efforts in Somalia, and our effort intensified following the severe drought that has hit the country since 2020, causing millions facing difficulties in accessing clean water and food.
Mobile soup kitchen from Turkey to Ukraine
The mobile soup kitchen dispatched by the IHH Humanitarian Relief Foundation to Ukraine, which is under Russian bombardment, departed from Istanbul. The soup kitchen was intended to provide food to 30,000 people each day. In addition, three truckloads of humanitarian supplies provided to Ukraine by the IHH in recent weeks have been delivered to war victims.
IHH helped 700,000 Syrians in 2022.
In 2022, IHH Humanitarian Relief Foundation delivered 2,043 truckloads of humanitarian relief supply to war-affected Syrian residents living in the country's IDP camps and settlements in various locations.