New eye hospital in Niger
With the cooperation of IHH Humanitarian Relief Foundation, Islamic Development Bank, TIKA, AID and Niger Ministry of Health the opening ceremony of the eye hospital that was constructed in Niamey the capital of Niger was conducted. At the eye care centre every year 6 thousand people will have the ability to see again.
With the cooperation of IHH Humanitarian Relief Foundation, Islamic Development Bank, TIKA, AID and Niger Ministry of Health the opening ceremony of the eye hospital that was constructed in Niamey the capital of Niger was conducted. At the eye care centre every year 6 thousand people will have the ability to see again.
Niger has a much higher rate of cataract patients than the world average due to the dust, ultraviolet rays and vitamin deficiency in the African continent and now Turkey is reaching to the aid of 130,000 people in Niger.
The opening ceremony of the eye care centre was conducted with the attendance of doctors, journalists, activist and protocol that had come from Turkey. With the cooperation of IHH Humanitarian Relief Foundation, Islamic Development Bank, TIKA, AID and Niger Ministry of Health the construction of the eye care centre costed a total of 800,000 TL.
"The official opening of the hospital that will serve as Lamorna Hospital's eye unit in the Abdou Moumouni university located in Niger, was held with the participation of IHH Board member Osman Atalay, Niger Education Minister Ali Mariama Elhaj Ibrahim, Turkey's Niamey Ambassador Hasan Ulusoy, TIKA Human Resources Department President Zülküf Oruç, AK Party Kütahya Member of Parliament Vural Kavuncu, AK Party Uşak Member of Parliament İsmail Güneş, Turkey Ministry of Health and the Islamic Development Bank representatives.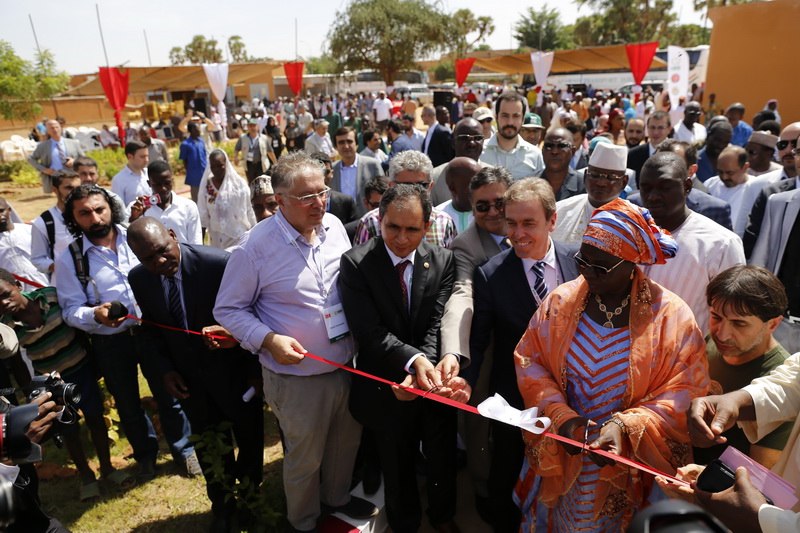 CATARACT IS A SOCIAL WOUND
Dr. Mevlit Yurtseven who is a Board Member of IHH and the President of the Association of International Physicians in his speech at the opening ceremony said that, the cataract disease is not only a health issue in Africa, it is a social wound that also effects the relatives of the ones who are dealing with this disease, and that one per cent of the thirteen million population of Niger which equals to 130,000 people cannot see due to the disease cataract. The majority of patients with this disease have a severe loss in vision. Our elderly patients that are referred to our centre unfortunately cannot do anything without the aid of someone. Our volunteer doctors who come from Turkey for one month provide great service to help provide our patients the ability to see again. Also, the Ministry of Health is providing an opportunity for the eye doctors that would like to work in Niger. We have many enthusiastic doctors who work at private hospitals and spend their annual leave in Niger and to perform hundreds of surgeries. TIKA is to undertake the material costs and expenses of four thousand patients every year at the eye care centre in Niger. The outpatient clinic within the Abdu Muhammed University has been established with the contribution of charitable donors from Turkey and we are providing cataract surgery without any charge. We have held the official opening of our centre that has been active since June. IHH has an aim to provide cataract surgery to 100,000 people and we have passed the 80,000 mark already. We are aiming to operate on six thousand patients each year at the new centre to help our Muslim brothers in Africa to gain the ability to see again. We are preparing an opportunity for them to do their own work without the aid of their families" he said.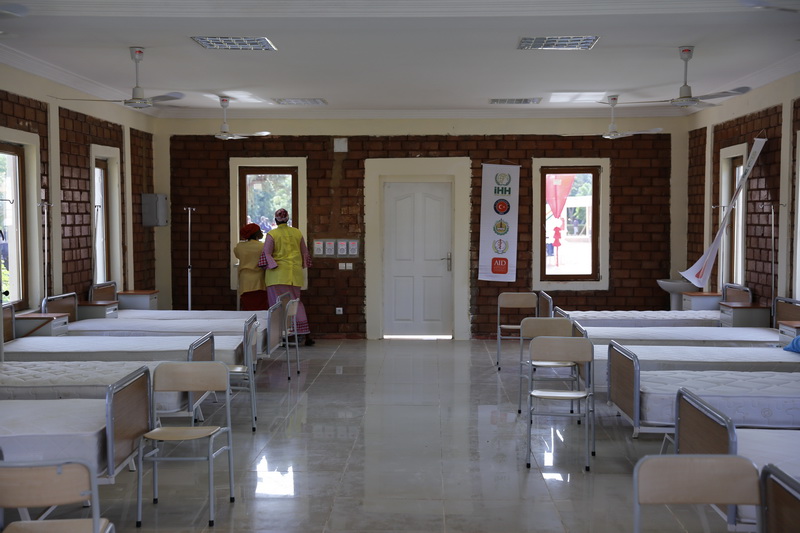 GOOD NEWS FROM KAVUNCU THE AK PARTY PARLIAMENT MEMBER
AK Party Kütahya Member of Parliament Prof. Dr. Vural Kavuncu stated that Turkey will continue to lend a helping hand to their Muslim brothers no matter what part of the world they are in and also said, "We are conducting major health projects in Niger. We have helped this country to set up speed of emergency service and rescue organizations. We have signed a protocol to have 50 patients that cannot be treated in Niger to be treated in Turkey for a year. Now our eye centre that is going aid six thousand patients every year to gain the ability to see again is ready to serve. Soon we will start to work on a fistula hospital that Turkey will establish, it will be the first foreign hospital in Niger.
All these services are provided by charitable donors and government grants from Turkey. Also we are working on an event which will be a Health Week in Niger, where we will have Turkish volunteer doctors that will examine patients for a week."
HE SPENT HIS HOLIDAY BY PERFORMING SURGERIES IN NIGER
Working at a private hospital as an eye doctor in Kocaeli Levent Tahsin Özeker was the first serving doctor in Niamey. Özeker spent his summer holidays performing surgery on approximately 100 patients in Niamey in the August heat wave with humidity and heat reaching up to 50 degrees. Özeker helped patients that had severe vision loss gain their ability to see again. Özeker invited his colleagues to come see Niger and also stated that to see older patients come in to surgery by holding the hands of relatives and them walking out of the centre without any aid from anyone is an absolute joy and that it is an indescribable feeling. Özeker invited his colleagues to Niamey even if it is for 15 days to come and see the living conditions in Africa and expressed that he is very happy to receive many prayers from his patients.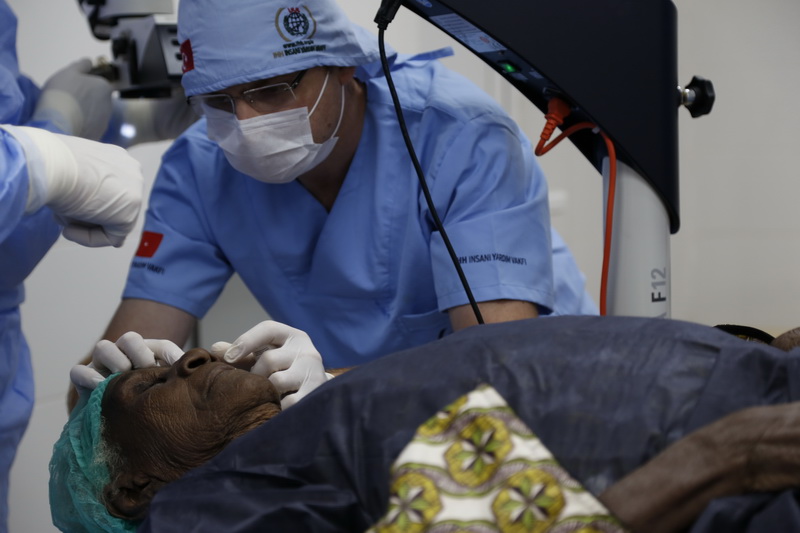 IT COSTED 350,000 DOLLARS
The required equipment's that were sent from Turkey and the interior equipment installation in the hospital costed a total of 350,000 dollars.
Cataract disease is common in Niger and only one eye doctor falls for every 600 thousand people. The hospital that has been established in the capital of Niger, Niamey, will serve as Lamorna hospital's eye unit which is located within Abdou Moumouni University.
In June last year, the project started with the construction of a hospital building, for the accommodation of patients from outside of the city there is a dorm with 14 beds; there is also toilets and a masjid. The hospital building consists of two parts; one part will be allocated to IHH's free cataract surgeries, while the other part will be used as an eye clinic by the Lamorna Hospital.
TARGET IS TO PERFORM 30,000 CATARACT SURGERIES WITHIN THE NEXT 5 YEARS
There will be training opportunities available for doctors at the hospital that IHH will provide free cataract surgeries for the next 5 years. The hospital has targeted to conduct 6 thousand cataract surgeries in one year, 5 years later the hospital will be transferred to the needy Nigel officials, where the hospital will still continue to provide services to the public.
Within the scope of the project, for the cataract surgeries that will be carried out in Niger doctors and medical personnel will be appointed from Turkey. The organization that will be formed of volunteer health professionals will be done by IAPAC (International Association of Physicians).
To contribute to the construction that has costed 350 thousand dollars you can make donations to IHH's accounts, or to work as a volunteer health worker you can apply by sending an email to "katarkt@aidoctors.org."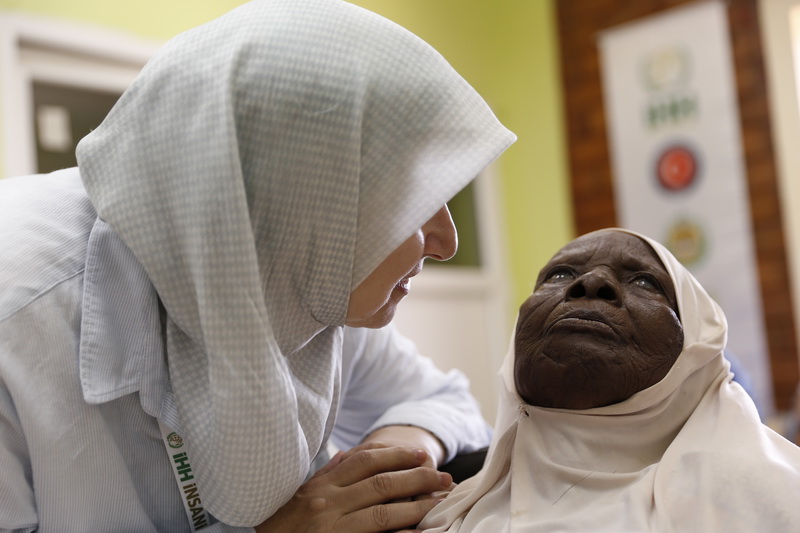 "AFRICA CATARACT CAMPAIGN"
IHH established Eye Care Centres in Sudan and Niger under the "Africa Cataract Campaign" that started in 2007. Close to 700,000 people from 11 African countries have had health checks conducted by volunteer doctors from Turkey and doctors from the region in the past 7 years, 300,000 people have been examined and 80,000 people underwent surgery.
In Africa at least half of the ten million people that are blind are suffering from the cataract. The ratio of those that can be cured is 500 people in one million. In the countries such as Niger, Chad, Mali, Burkina Faso, Ethiopia situated in the Sahara zone there is only one doctor for every 40,000 people and there is still millions of people living who have never seen a doctor in their lives.
Flour distribution to 38 thousand 601 families in Somalia
IHH Humanitarian Relief Foundation has been carrying its aid efforts in Somalia, and our effort intensified following the severe drought that has hit the country since 2020, causing millions facing difficulties in accessing clean water and food.
Mobile soup kitchen from Turkey to Ukraine
The mobile soup kitchen dispatched by the IHH Humanitarian Relief Foundation to Ukraine, which is under Russian bombardment, departed from Istanbul. The soup kitchen was intended to provide food to 30,000 people each day. In addition, three truckloads of humanitarian supplies provided to Ukraine by the IHH in recent weeks have been delivered to war victims.
IHH helped 700,000 Syrians in 2022.
In 2022, IHH Humanitarian Relief Foundation delivered 2,043 truckloads of humanitarian relief supply to war-affected Syrian residents living in the country's IDP camps and settlements in various locations.