IHH rescues Czech women kidnapped in Pakistan
IHH Humanitarian Relief Foundation rescued two Czech citizen tourist women kidnapped during their trip in Pakistan 2 years ago. Following the rescue mission, the women were flown in to Turkey.
CentralAsia,
Pakistan
28.03.2015
IHH Humanitarian Relief Foundation rescued two Czech citizen tourist women kidnapped during their trip in Pakistan 2 years ago. Following the rescue mission, the women were flown in to Turkey.
27-year-old Antonie Chrastecka and Hana Humpalova from Czech Republic went on a world trip in 2013 to know about different peoples and cultures. When Chrastecka and Humpalova were crossing the border from Iran to Pakistan by bus they were seized by an armed group, which held them hostage since then.
The worried families of Chrastecka and Humpalova who did not hear from them since their abduction started searching for them and found out that their daughters were alive and held hostage in Pakistan.
As a last resort the families contacted IHH 2 months ago and asked for help to find their daughters. IHH considered the plea of distraught mothers and IHH Humanitarian Diplomacy Office started working on the case. The Humanitarian Diplomacy office managed to get in touch with the militia, which was holding the Czech girls hostages. IHH asked after their health and needs. After month-long negotiations the Diplomacy Committee headed by Mr. IzzetShahin managed to bring about the release of Mss. Chrastecka and Humpalova who then flew in to Turkey.
IHH puts its best efforts
IHH International Relations and Humanitarian Diplomacy Coordinator Mr. Shahin made a statement in IHH's Van office said that they were so glad that Miss Antonie andMiss Hana both Czech citizens, who were abducted in 13 March 2013 are able to walk free again.
Shahin mentioned that Antonie's and Hana's families contacted them 2 months ago asking for help to get their daughters back:
"We have put our best efforts. We did not leave a stone unturned over the past two months. And through negotiations we have managed their safe release. Miss Antonie andMiss Hana were kept locked for 2 years. It was a very hard time for them. There have previously been several failed attempts for their release. Yet, IHH Humanitarian Diplomacy Office managed to make it happen. During the case we have witnessed their families unwavering care and effort. They did not stop trying ever to get back their girls. This is how they got in touch with us. We hope we never witness a similar case and a similar pain again. However, if it happens again we will never stop putting our best efforts to give back people their freedom."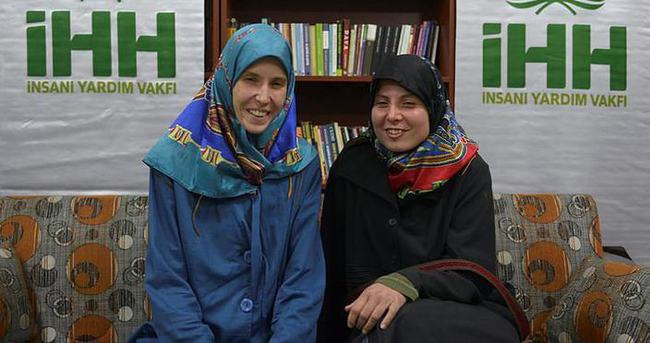 "We endured with the hope that we will one day be free"
Hana Humpalova who was extremely happy to have got his freedom after 2-year-captivity told how 2 years ago she was abducted by a militia which stopped them for passport while she and her friend were traveling on a bus to Pakistan's Taftan close to the Iranian border.
She said that the militia removed them from the bus and arrested them:
"This is how our life as hostages started. We did not know by whom we were held hostages. Because they did not introduce themselves. We still do not know why we were arrested and held captive for 2 years. It was so hard at the beginning. We have never seen arms and armed people in our lives before. We were terrified by the shelling and shooting that was happening around us. But we have gradually become accustomed to it. Of course they have taken away all our belongings from us.
We tried to think back about our childhood, imagine those happy days. This was how we tried to remain positive. We have survived with the hope that we will one day be free. Even during our journey to Turkey I was not sure if we could reunite with our families and walk free again. In the meantime we felt that it was a new beginning, start to a new life. It was a great joy to see the sun and smiling faces of people around us again when we stepped outside after 2 years. We were deprived from even these small things."
"We imagined how we could become better people"
Miss Humpalova noted that during those 2 years away from their families many things have changed in their lives:
"We had so much time to think about many things. We have thought about our families and thought how to become better daughters for them. We thought about our environment, our friends and other people. We also thought about how to become better people for them as well. We questioned ourselves: why are we here, what did we aim for and what happened in return. We had good dreams for the future. Now I am so impatient. We have not heard from our families during those 2 years. We do not know how they are. Of course seeing their smiling faces will bring great happiness. When we first lay our eyes on them, there will probably be tears as much as laughter."
Miss Humpalova expressed her thanks to IHH, her family and all those who helped for her release.
"I am afraid that this is but a dream"
Miss Antonie Chrastecka said that they survived these 2 years by helping each other out with Hana Humpalova. She said that we could not even dream of reuniting with her family again.
"I still cannot believe that I am standing here today" she said.
"I am both worried and exhausted. But this is the happiest day of my life. My emotions are so intense now I am having a hard time expressing them in English. It was so difficult being away from my family. From the first moment I was abducted I just wanted to get back to my family and be with them. Now I am ecstatic and so excited. I am so exhausted but I do not want to sleep. Because I am afraid this might be a dream. So I just want to keep going until I reunite with my family."
After staying in IHH's Van office for a while Miss Humpalova and Miss Chrastecka reunited with their families and Czech officials who flew in to Van with a private plane and headed home.
Visit from RACA to IHH
Mr. Ibrahim Abdullah Al-Dehaimi, Secretary-General of the Regulatory Authority for Charitable Activities (RACA), and his accompanying delegation, who are in Turkey for various programs, made a visit to IHH Headquarters.
TMPT's 7th report on the peace process in Moro
In regards to the three-year delay of Moro elections, IHH Board Member/Third Party Monitoring Team (TPMT) of the Moro peace process member Hüseyin Oruç said "When we reach 2025, hopefully, the transition period will be complete and we will see a government that has overcome all its problems."