Poland Qurban program
The IHH included Tatars in Poland in this year's Qurban program. The foundation's aid teams sacrificed 10 head of large cattle and distributed the meat to Tatar Muslims in Tukocin and a camp in Biavis
Osman Atalay, member of the executive board of the IHH Humanitarian Relief Foundation, said they were visiting Poland to spend Eid with Tatar Muslims, who have been living in Poland for six centuries, and to discuss their problems face to face. AK Party MP Cemal Yılmaz Demir also took part in the program.
"Allah willing we will offer iftar dinners in Poland in Ramadan. Muslims of Poland need our support. Muslims here are free and have equal rights with non-Muslims. But they need material and nonmaterial cultural support to practice their religion and traditions.
Tatars need organized and academic support to help them pass on their traditions, practices, languages and religion to younger generations," Demir said.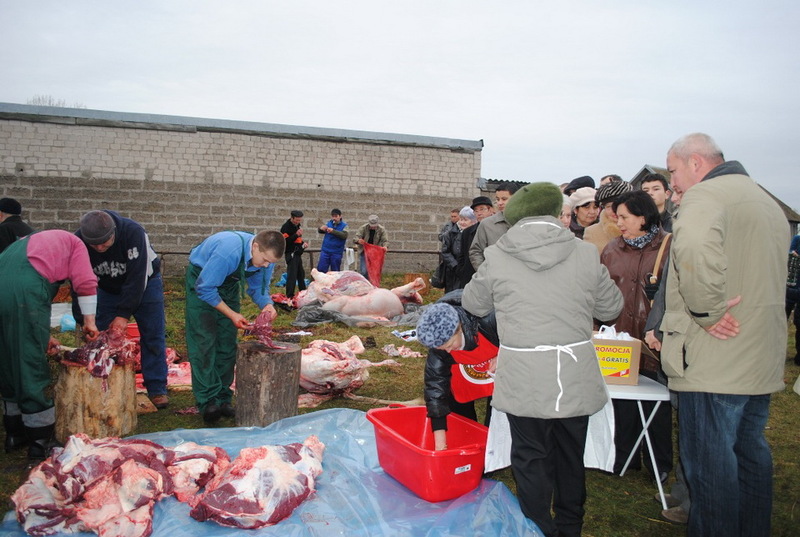 There are about 5,000 Tatars in Poland, which has a population of 38 million people. They came to Poland via Latvia in the 14th century and have been struggling to preserve their religion and culture. Weak ties with Muslim communities in other countries and alienation to religion, traditions and culture among young population are worrying Tatar elders.
Tatars are full citizens of Poland. They reside in Biavistok city and Bohoniki and Kursunyan villages close to Latvian border.
Tomasz Miskiewicz, leader of the Tatar Muslims and Biavistok imam, thanked the IHH and people of Turkey over Qurban program.
Mobile soup kitchen from Turkey to Ukraine
The mobile soup kitchen dispatched by the IHH Humanitarian Relief Foundation to Ukraine, which is under Russian bombardment, departed from Istanbul. The soup kitchen was intended to provide food to 30,000 people each day. In addition, three truckloads of humanitarian supplies provided to Ukraine by the IHH in recent weeks have been delivered to war victims.
IHH helped 700,000 Syrians in 2022.
In 2022, IHH Humanitarian Relief Foundation delivered 2,043 truckloads of humanitarian relief supply to war-affected Syrian residents living in the country's IDP camps and settlements in various locations.
The last terminal of "An Armful of Goodness"
IHH Humanitarian Relief Foundation continues to commemorate the 11th annual Orphan Solidarity Days (OSD) project with the theme "An Armful of Goodness". Many studies have been carried out for orphans and their families in Kenya, one of the countries where the initiative is executed.