Ramadan aid reaches Arakanese refugees
IHH Humanitarian Relief Foundation has delivered relief aid to camps housing thousands of Arakanese refugees who fled the violence in Myanmar.
Arakan, Bangladesh, Myanmar
12.07.2013
An IHH aid team in Bangladesh visited refugee camps in Cox's Bazaar, the Bangladeshi province bordering Myanmar.
The IHH aid workers distributed Ramadan food packages to the camps, where thousands of Arakanese refugees are living deprived of educational and healthcare services as well as basic food supplies.
The first camp IHH team visited was Kutupalong camp, where 50,000 families are striving to survive. The team distributed food packages here.
Aid deliveries were carried out in cooperation with IHH partner organization in the country and reached thousands of refugees.
The refugee camp in Teknaf was also delivered aid. Food packages containing basic food supplies such as rice, cooking oil, flour and sugar were distributed to thousands of Arakanese refugees.
IHH also provided food packages to around 300 refugee families in Chakaria, another area in Bangladesh where Arakanese refugees live.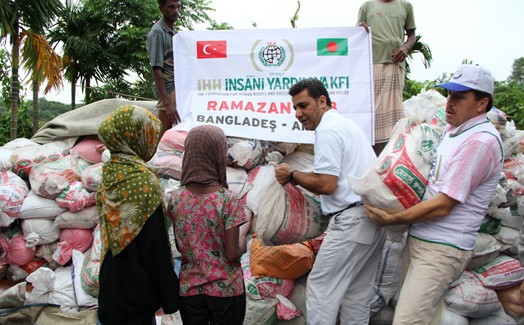 IHH plans to reach out to 2.5 million people in Ramadan
After 30 years of Ramadan projects in different geographies of the world, IHH Humanitarian Relief Foundation is planning aid activities in 57 countries including Turkey this year, with the slogan "Continue the Spirit of Ramadan." IHH plans to deliver the donors' zakat, sadaqah, fitra and donations to almost 2.5 million people in regions suffering from war, occupation and natural disasters.