Ramadan aid reaches Arakanese refugees
IHH Humanitarian Relief Foundation has delivered relief aid to camps housing thousands of Arakanese refugees who fled the violence in Myanmar.
Arakan,
Bangladesh,
Myanmar
12.07.2013
An IHH aid team in Bangladesh visited refugee camps in Cox's Bazaar, the Bangladeshi province bordering Myanmar.
The IHH aid workers distributed Ramadan food packages to the camps, where thousands of Arakanese refugees are living deprived of educational and healthcare services as well as basic food supplies.
The first camp IHH team visited was Kutupalong camp, where 50,000 families are striving to survive. The team distributed food packages here.
Aid deliveries were carried out in cooperation with IHH partner organization in the country and reached thousands of refugees.
The refugee camp in Teknaf was also delivered aid. Food packages containing basic food supplies such as rice, cooking oil, flour and sugar were distributed to thousands of Arakanese refugees.
IHH also provided food packages to around 300 refugee families in Chakaria, another area in Bangladesh where Arakanese refugees live.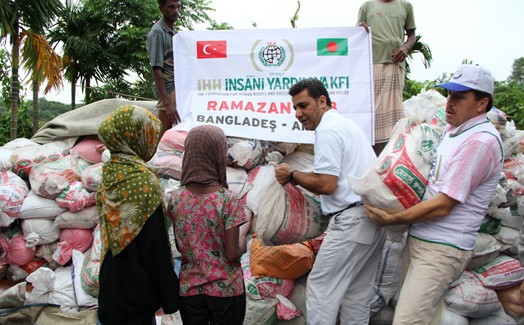 Support from IHH to people of Yemen
In Yemen, where a civil conflict has been raging since 2014, relief efforts are still being made by the IHH Humanitarian Relief Foundation. Recently, IHH dispatched a team to the area to provide relief to the nation's needy.
Emergency aid to Afghanistan's earthquake victims
A least 1.000 people lost their lives and 1.500 people were injured in the 5.9 magnitude earthquake that struck the Khost province of Afghanistan. IHH Humanitarian Relief Foundation immediately launched an emergency aid campaign for the region.