Support for Syrian People from Van
People of Van, Turkey who experienced an earthquake two years before are making aid organizations to help their Syrian brothers and sisters who are in a difficulty even though heir own sufferings are so new.
Thought and Civilization Student Community of Van Yüzüncü Yıl University and IHH volunteers from Van organized a food charity sale in the University Campus with the slogan of ¨Syrian children shouldn't starve to death¨. In the charity sale field, there was also a photo exhibition revealing the humanitarian conditions in Syria. Even though it was planned to continue for three days, charity sale lasted four days by popular demand.
16.000 TL was earned from the sale of very delicious foods that voluntary women from Van had cooked and brought to the organization.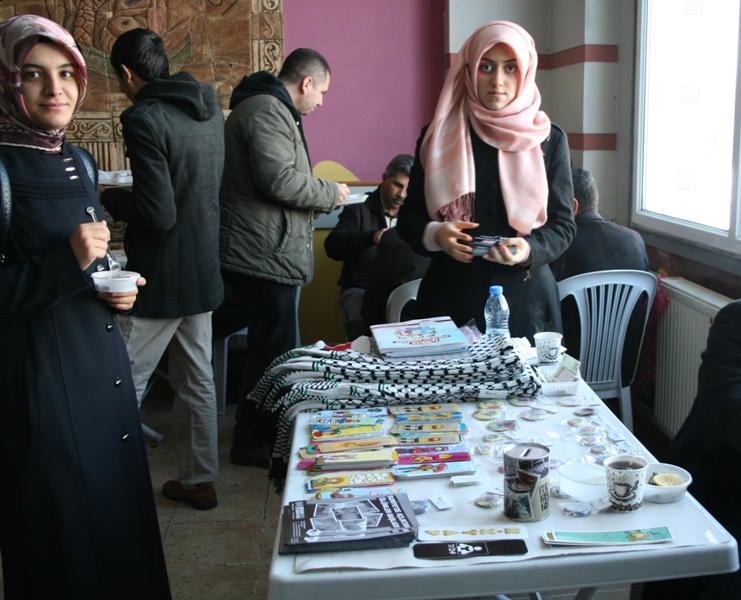 İbrahim Cinkılıç from Van Humanitarian Relief Association which makes aid organization in Van said that they organized the charity sale to buy an articulated lorry of flour for the Syrian children and if the earnings got from the charity sale wouldn't be enough, they would continue their activities to realize their aim.
Right along with volunteers from Van, students of Van Yüzüncü Yıl University organized a conference with the name of ¨General Overview of Syria¨ in order to help Syrian people who are victim of war. In the conference that is taking place in the hall of Faculty of Theology, Zeliha Sağlam from Research and Publications Department of IHH Humanitarian Aid Foundation made a presentation. In her presentation, Sağlam gave information about humanitarian aid activities of IHH for Syrian people. She expressed the difficulties Syrian people are meeting both in the face of Esad's forces and harsh winter conditions.
Expressing that, over 20 years IHH has been acting with the principle to supply help to all needy people and to be with them no matter where they are and why they are so, Zeliha Sağlam also gave information in her statement about new and ongoing IHH projects initiated for Van after the earthquake. The presentation was followed with great interest in a hall of 210 people and after the presentation questions of the students were answered.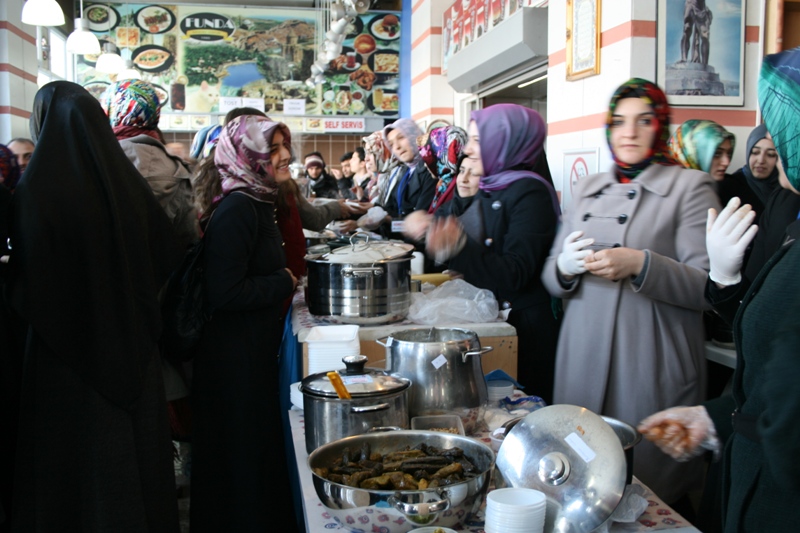 IHH launched an aid campaign after the flood in Bosnia
Due to the heavy rains that have been continuing for a week in Bosnia-Herzegovina, a flood disaster occurred in the Bihac region. Many houses, workplaces and agricultural lands were submerged in the flood. IHH Humanitarian Relief Foundation delivered food and hygiene packages to 165 families affected by the flood with the emergency aid relief it started.
Humanitarian aid from IHH to the people of Sudan who migrated to Chad
The clashes between the army and the Rapid Support Forces (SSF) in Sudan have been going on since April 15. During the civil war process, in which 550 people lost their lives and nearly 5,000 were injured, more than 700,000 Sudanese migrated to different places. IHH, which provides emergency aid to civilians in the country, distributed hot meals and food parcels to people of Sudan who migrated to the border country of Chad.
IHH continues relief efforts with 5,943 people
The IHH Humanitarian Relief Foundation is carrying out activities in earthquake zones with 5,943 search and rescue workers and aid volunteers. While the IHH Search and Rescue Teams pulled 3,028 deceased and injured people from the rubble, emergency aid volunteers delivered support to hundreds of thousands of people in many different areas.