Tens of thousands march for liberation of Al-Aqsa Mosque and Al-Quds
Thousands of people protested against Israel on the fourth anniversary of the Mavi Marmara attack. IHH President Bülent Yıldırım said "Through Allah's assistance the tyranny of Israel was put to an end."
Palestine, Palestine - Gaza
01.06.2014
Mavi Marmara ship was on its way to deliver humanitarian aid to Palestine and was viciously attacked by Israeli soldiers, murdering 10 innocent aid workers. In order to remember the 4th year of the attack, IHH Humanitarian Relief Foundation gathered thousands of people in Sultanahmet square.
[videoGaleri-456]
After Asr prayer, IHH President Bülent Yıldırım joined the march at 18.00 o'clock. Starting from Sultanahmet square, thousands followed the tramline till they reached Gülhane. From here the crowd made their way down to Cağaloğlu chanting slogans and displaying banners such as "Mavi Marmara means the liberation of Jerusalem", "The path to Jerusalem passes through Syria", "The ships that conquered Istanbul will conquer Jerusalem" and "Al-Aqsa Mosque is our pride." They also held banners with Naci Ali's caricature and "Hanzala's" picture who both represent the Palestinian struggle as they walked down the coastal track till they reached Sarayburnu.

"31st of May, Anti-Zionist day"
Bülent Yıldırım who declared the 31st of May as the Anti-Zionist Day said "O Israel, you will no longer be able to fight or kill innocent children playing on the beach. Nor shall you be able to fight with those such as Muhammed, whom you callously killed in front of his fathers very eyes. You shall see in Paris, Istanbul, Diyarbakir those who will fight against Zionisim."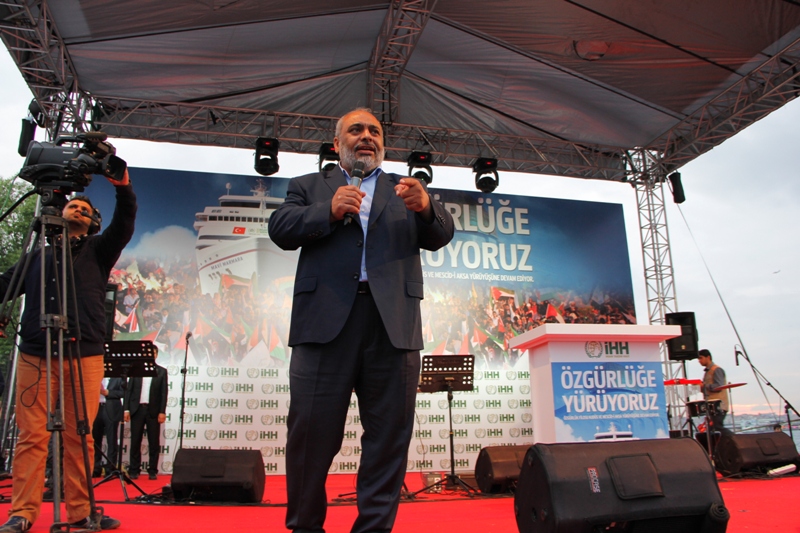 In front of thousands Bülent Yıldırım concluded his speech with this oath:
"What can my enemy do to me for I carry paradise within my breast.
My exile is my journey,
My imprisonment is my spiritual solitude,
My murder is my martyrdom"
Qur'an was recited at the event at the shore where the Mavi Marmara ship is now anchored.
A large number of domestic and foreign people attended the program which included a cinevision about the blockade imposed by Israel and the Gaza Freedom Flotilla.
There were some very emotional moments that evening when they referred to those killed in the attack on Mavi Marmara. The event finally came to a peaceful conclusion and the attendees quietly made their way home.
Festival for orphaned children in Azaz
Alanya IHH Humanitarian Aid Association organized a festival for orphaned children living in the camps in the rural area of Azaz, Syria. Attended by 1.300 orphans, the festival was filled with games, rides, snacks and beverages.