Training program for orphanage directors
The directors of 16 orphanages across 9 countries received training from professionals from different areas in conjunction with 4th Orphan Solidarity Days of IHH started on 12th February.
Since 1992, IHH has been working to deliver aid to the hundreds of thousands of orphans in 5 continents through various projects providing them, healthcare, food, education and accommodation in safe places. This year in February, March and April, the 4th Orphan Solidarity Days organized by IHH is going to feature over 350 projects to support orphans in 41 different countries. Our goal is to reach out to 65.000 orphan children through these projects.
Currently IHH is supporting 40.000 orphans on a regular basis and is supporting 200.000 orphans on periodic basis. A multi-layered aid campaign entitled "Orphan Solidarity Days" is being organized by IHH since 2011. The event organized once a year takes place in Turkey simultaneously with 41 countries and territories IHH is operating. Over the past three years it featured hundreds of activities and projects including cultural, educational, healthcare, social support, emergency aid, cultural, occupational training and self-sustainability that supported hundreds of thousands of orphans. 149 projects out of 350 projects designed for orphans are going to be realized in the following cities in Turkey; Adana, Ankara, Antalya, Batman, Bitlis, Bursa, Diyarbakır, Elazığ, Erzincan, Iskenderun, Istanbul, Izmir, Kahramanmaraş, Kastamonu, Kayseri, Kocaeli, Konya, Mardin, Mersin, Sakarya, Sivas, Şanlıurfa, Trabzon, Uşak, Van, Yalova, Zonguldak.
The remaining 201 projects are going to be realized in the following countries; Afghanistan, Arakan, Albania, Bangladesh, Bosnia & Herzegovina, Burkina Faso, Djibouti, Chad, Chechnya, Indonesia, Ethiopia, Philippines, Palestine, Ghana, Georgia, Haiti, Iraq, Kazakhstan, Kashmir, Kyrgyzstan, Kosovo, Lebanon, Macedonia, Egypt, Mauritania, Nepal, Pakistan, Preshovo, Rwanda, Sandzak, Sierra Leone, Somali, Sri Lanka, Sudan, Syria, Tajikistan, Tanzania, Thailand, Yemen and Ecuador.
According to the specific needs of the regions the aid projects include: opening orphanages, building schools, building and renovating houses belonging to the families of orphans, cosy winter projects, food, clothes, stationary aid, medical check-up, funding weddings of orphans, distribution of blanket-mattress, maintenance costs of the orphanages, distribution of milk cows, sewing machines, sesame grinding machines, setting up dairy farm, chicken, rabbit, quail farms, opening fishmonger shop, vegetable hothouse, grocery shop, stationary shop, fabric painting courses, granting micro-credits and funding agriculture projects in conjunction with self-sustainability projects for the families of orphans. Moreover, various games and competitions will foster the love and mercy connecting the children.
Orphan Solidarity Days is a significant event not just in terms of bringing the orphans and those volunteering to support them together, but also to raise awareness about the reality of orphans around the world. So we are delivering them "we with you" message from the charitable people of Anatolia with their warm regards and prayers which pushes us to do more projects for more orphans in conjunction with Orphan Solidarity Days.
350 projects to be realized in conjunction with Orphans Solidarity Days 2014 organized by IHH, will benefit over 44.000 orphaned children internationally and more than 20.000 orphans nationwide. These days as OSD has already taken start; IHH is hosting the administrators of the IHH established orphanages in 9 different countries, in its headquarters in Fatih, Istanbul.
"Orphanage Administrators Conference" held in Jerusalem Hall is attended by 16 orphanage administrators coming from Indonesia, Somalia, Arakan, Bangladesh, Pakistan, Philippines, Afghanistan, Patani and Nepal. In the conference, experts in pedagogy and psychology will be delivering lectures about how to solve difficulties in orphanage administration.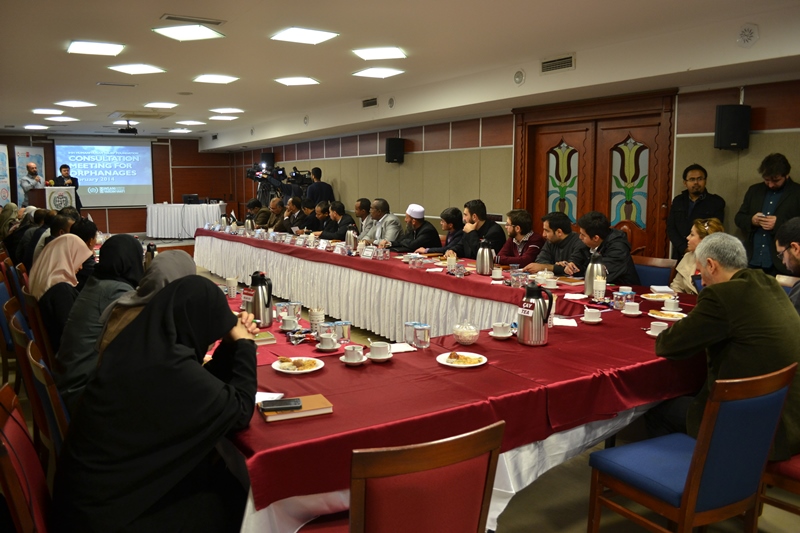 Murat Yılmaz who made the opening speech said that in their orphan care activities they are concentrating more on the areas struck by war, poverty or natural catastrophes. Yılmaz also noted that IHH is sponsoring over 40.000 orphans in 46 countries on regular basis and over 200.000 orphans on periodic basis. "We are giving a special importance to our orphan care activities. We have brought them under the umbrella of "Orphan Solidarity Days" over the past 4 years. This year we will reach out to 65.000 orphaned children through 350 projects in 41 countries worldwide. The projects run under the titles of education, healthcare, social and cultural."
He said that the training will go on for 4 days with professional instructors training the participants about the orphanage and the children staying there.
"Orphans are at the top of our priorities. IHH's goal is to reach out to all orphans in the world. Within the next 2 years we are planning to sponsor over 100.000 orphan children. IHH is doing significant work in order to bring up the orphan children at the world's agenda. Our proposal at the OIC Conference at Guinea was approved. 15th of every Ramadan will be the World Orphan Day worldwide from then onwards. This is an important development in the Muslim World with a population of 2 billion. We made the same proposal to the UN. We believe that recognizing a special day worldwide for the orphan children would be an important step toward developing various social policies concerning those children. I hope this conference would help save the orphans from falling to the hands of prostitution mafia, missionary organizations and beggar mafia."
The second speaker Yaşar Kutluay, IHH General Secretary, who drew attention to the significance of orphan care work, said: "We are currently running 16 orphanages. In 2014 we are going to open 13 more. Working to care for the orphans are good deeds are gateways to paradise. But we should also remember if we do wrong it may also bring us to hell."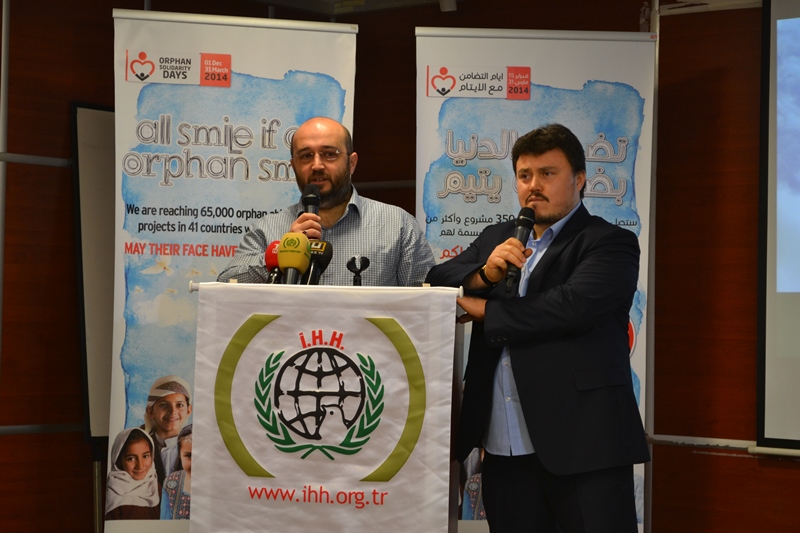 Kutluay who reminded the audience that IHH started working after Bosnian war broke out, added "We have witnessed the abduction of Bosnian children who lost both parents to the Western Europe. Today there are orphans in any place in the West who do not event now they are Bosnian. We now that the situation is no different in other parts of the world. More than a few years ago we have witnessed France's attempt to abduct children from Africa. Orphan children are vulnerable to exploitations. There are missionary organizations in Africa and elsewhere taking care of near to 2 million orphan children. 85% of these orphans are Muslims. In many countries, children are forced into labour for various jobs. We made a promise to take care of the children orphaned in Kosovo and now some of those orphans are studying at the university and some are serving their country."
The last terminal of "An Armful of Goodness"
IHH Humanitarian Relief Foundation continues to commemorate the 11th annual Orphan Solidarity Days (OSD) project with the theme "An Armful of Goodness". Many studies have been carried out for orphans and their families in Kenya, one of the countries where the initiative is executed.
54,000 loaves of bread for camps in Syria per day
Through a partnership between the IHH and the İnsan Charity Foundation, and with financial support from The United Nations Office for the Coordination of Humanitarian Affairs (OCHA), 54,000 loaves of bread are supplied daily to civilians living in camps in the countryside of Idlib province in northern Syria
4 permanent works in Sierra Leone
In West Africa's Sierra Leone, IHH inaugurated four distinct buildings including orphanages, universities and mosques. The newly inaugurated permanent works are vital to the country's future.
Mosque-Masjid, Orphan
17.11.2022