120 humanitarian aid trucks Off to Syria
IHH has launched an aid campaign with the slogan "Winter is Coming, Don't Leave Them Alone" for Syrians that are forced to live under extremely difficult winter conditions. As part of this campaign, 120 humanitarian aid trucks were sent off from Istanbul and various Anatolian cities to Syria.
The 12-year Syrian War has caused hundreds of thousands of people to be dependent on aid. With the coming of winter, living conditions in the refugee camps will become even more difficult. This year, IHH Humanitarian Relief Foundation has taken action once again to warm up their tents and prevent children, women and the elderly in particular from being affected by the cold.
In this "Winter is Coming, Don't Leave Them Alone" campaign, 120 aid trucks departed simultaneously from Turkey's 81 cities on 10 December World Human Rights Day to help Syrians in need.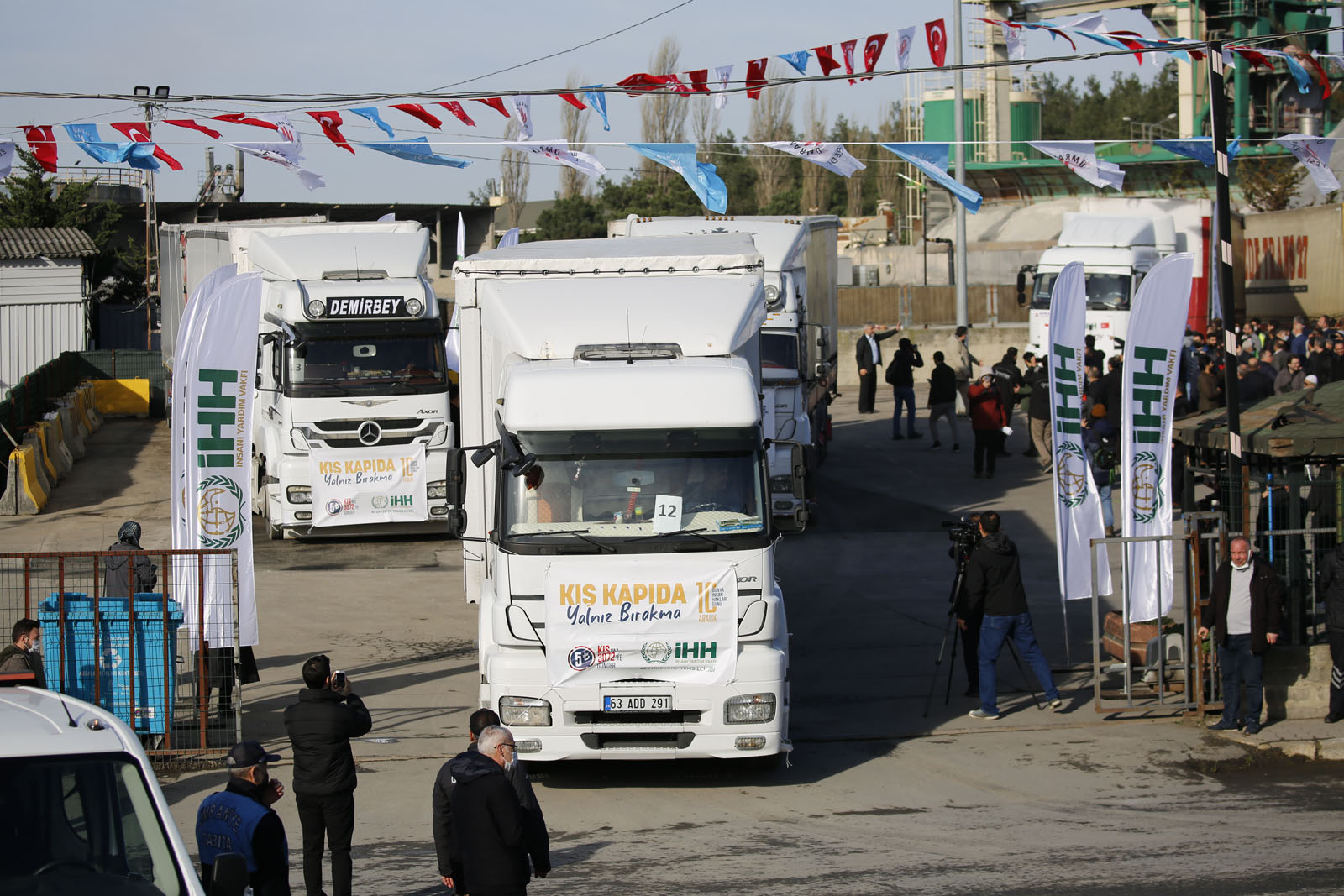 The sending off ceremony in Istanbul was held at the Ümraniye Hekimbaşı Sport Facilities. Mayor of the Ümraniye Municipality Ismet Yıldırım, IHH Secretary General Durmuş Aydın, AK Party Ümraniye Provincial Chairman Mahmut Emin Mollaoğlu, the Ümraniye Mufti Muharrem Gül, NGO representatives and guests attended the ceremony.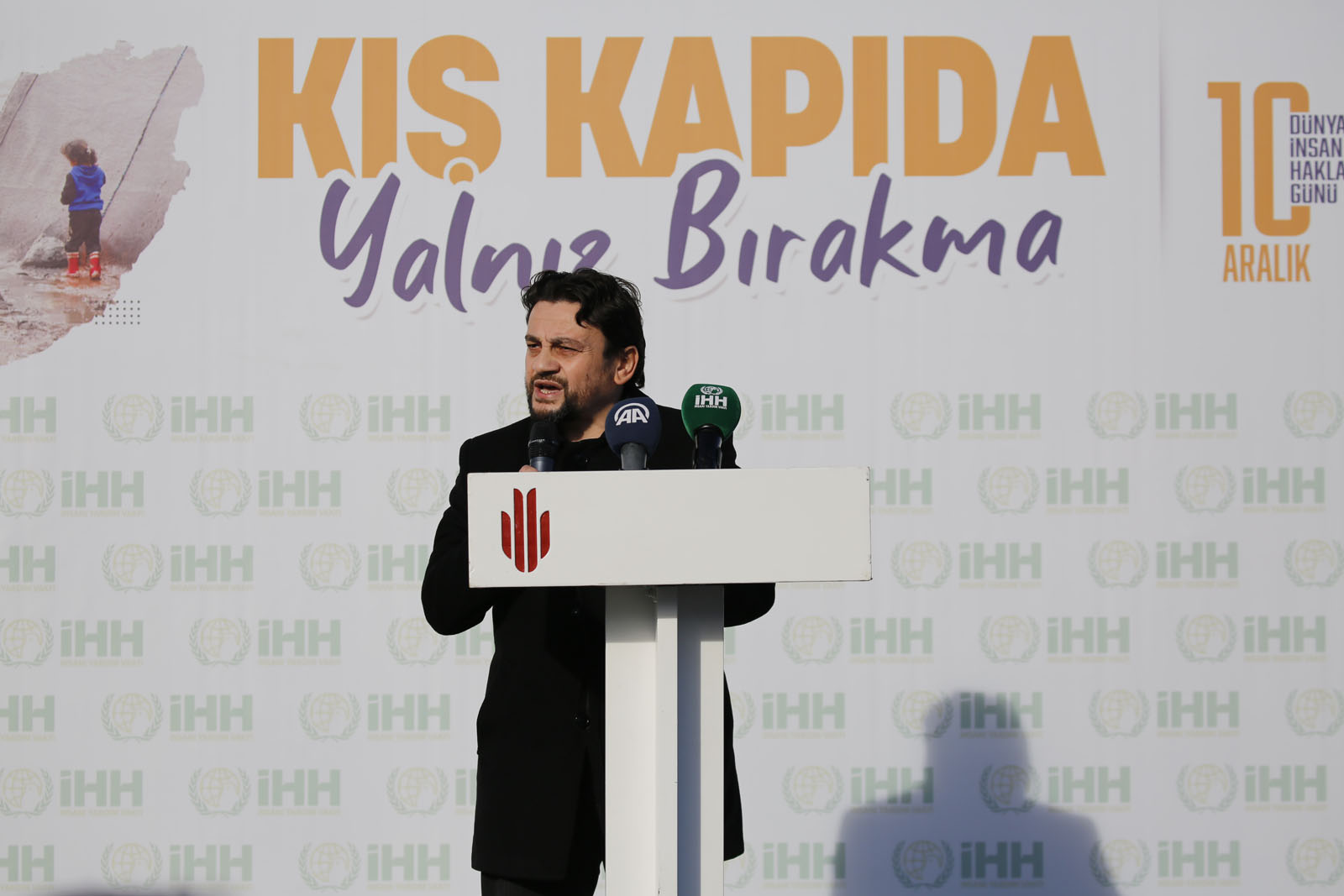 "So that homes will no longer be without food"
During the opening speech, IHH Istanbul Provincial Chairman Mehmet Kesmen said, "Today is Human Rights Day, but the bloodshed and tears in our geographies are continuing. The suffering in Syria, Palestine, Yemen, Libya, Afghanistan, Iraq, Somalia, Egypt, East Turkistan, Kashmir, Arakan, Gaza and Al-Quds is still causing us great pain." Mehmet Kesmen continued:
"In IHH, with the support of our donors, we have delivered and will continue to deliver aid to millions of people. Last year we set out with the slogan "Our Route is Kindness, Our Load Humanity", this year we launched a campaign for aggrieved Syrians that are forced to live in tents under harsh winter conditions with the slogan "Winter is Coming, Don't Leave Then Alone." On this special day, humanitarian aid trucks are departing from 81 cities for these deprived people. Our expectation is for all our people, organizations and donors to support this campaign. We wait for their support to prevent children from being unable to hold a pen due to the cold because they have no source of heat. So that tents are warm. So that the people are not forced to suffer from the cold at night in tents that leak when it rains. So that there are no children in the cold, in the muddy roads without shoes, boots and coats. So that homes will no longer be without food. Here today, once again we are affirming to everyone that we will continue to support all those in need in our country and all around the world, we will never leave them alone and will continue to be a ray of hope for these people!"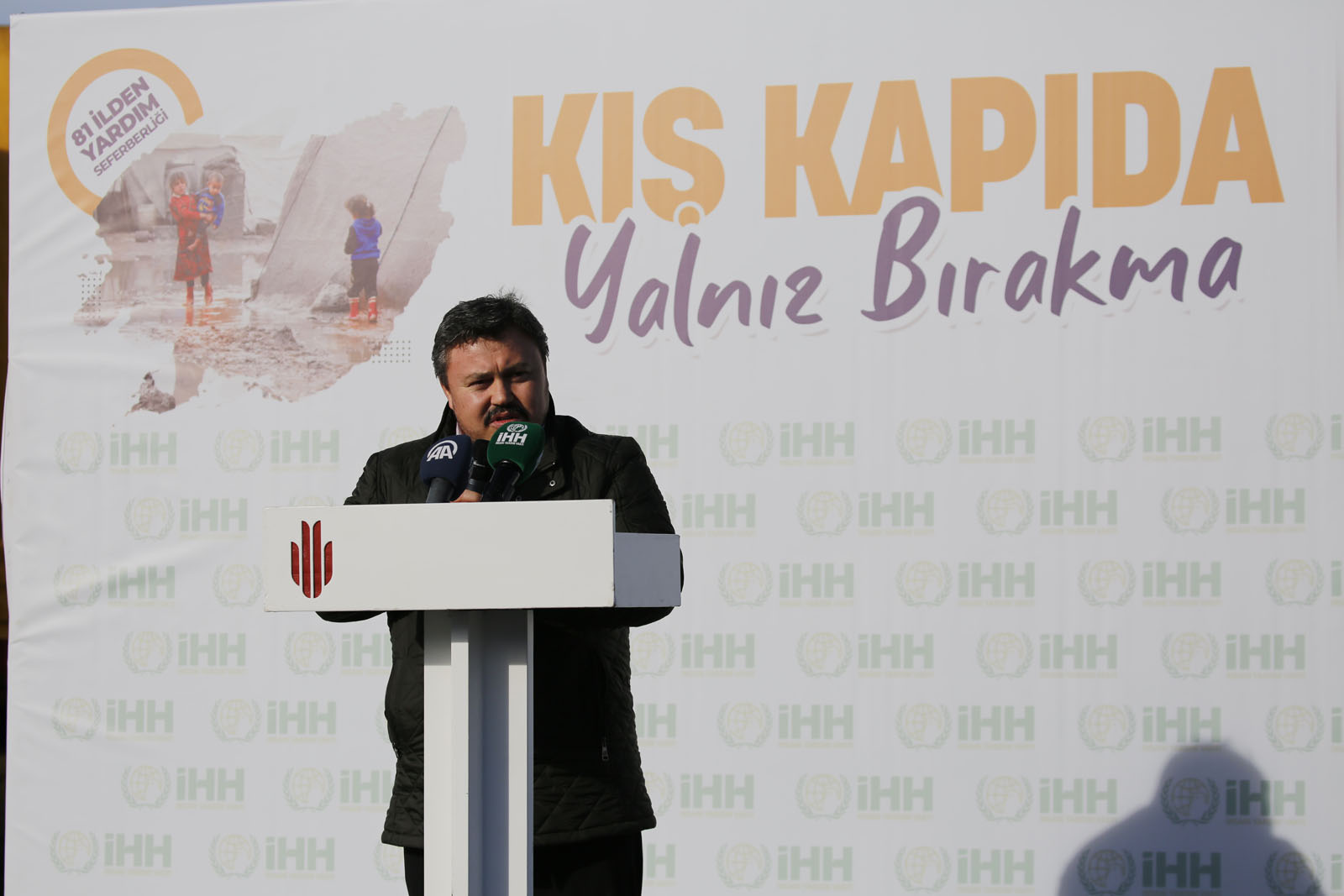 "Not everyone is privileged to be an Ansar"
IHH Secretary-General Durmuş Aydın stated in his speech, "Today, I would like to thank everyone that has come here to support us. Not everyone is fortunate enough to be able to help the oppressed and deprived people. One day, anyone in the world could become a refugee or immigrant. But Allah does not grant the privilege of being an Ansar to everybody. This is what you are doing. Today, people from Pakistan, Bosnia, Malaysia and Indonesia have joined us. Together we can achieve great things."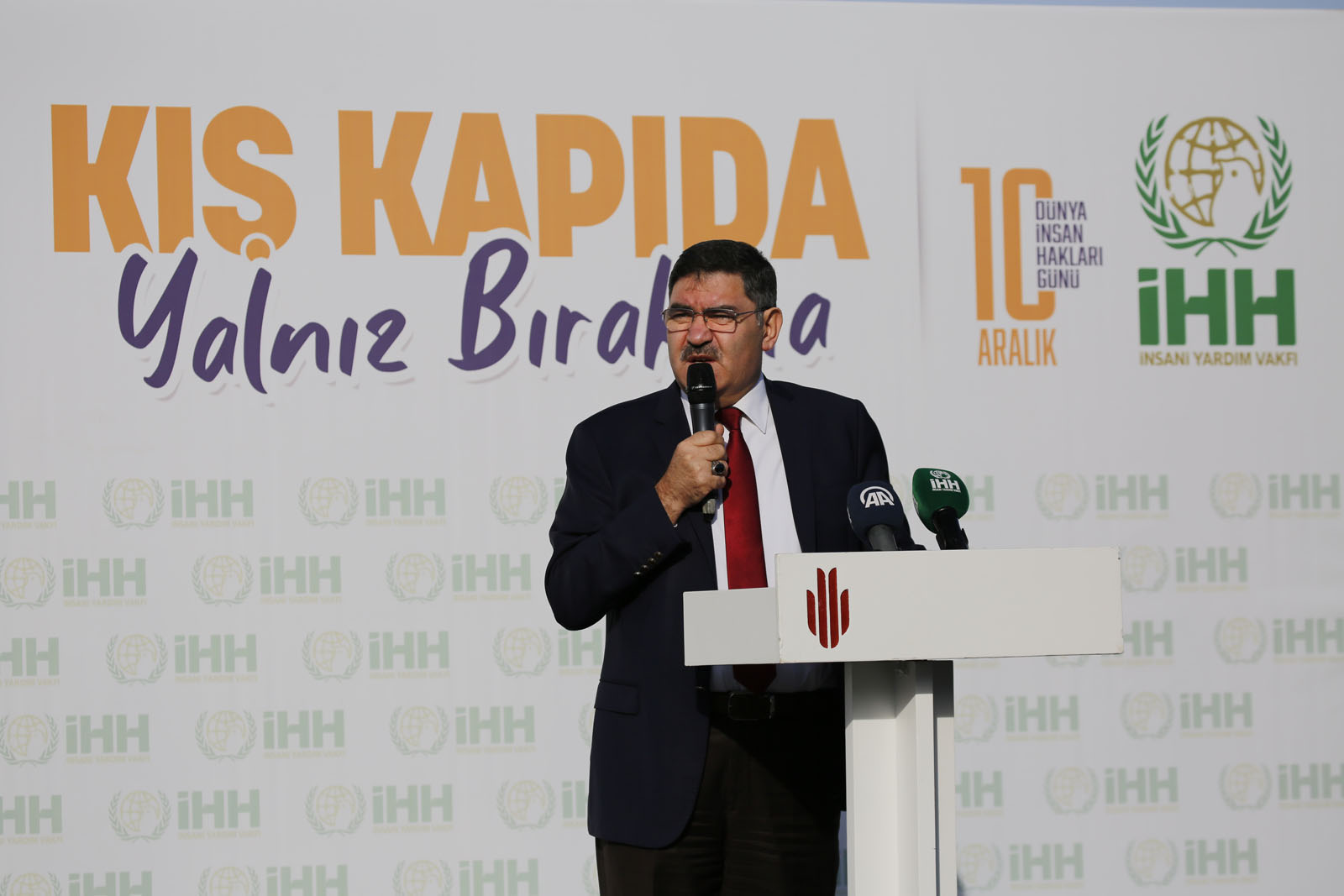 "There is no country that is concerned about the oppressed like Turkey"
 AK Party Ümraniye Provincial Chairman Mahmut Emin Mollaoğlu began his speech with condolences for the four IHH family members that lost their lives recently. Mollaoğlu continued, "Our duty is to deliver this aid to the oppressed and deprived people. There are many Muslim countries in the world. But unfortunately, none of these countries are concerned about the oppressed as much as Turkey. I would like to offer my gratitude to our municipality and IHH."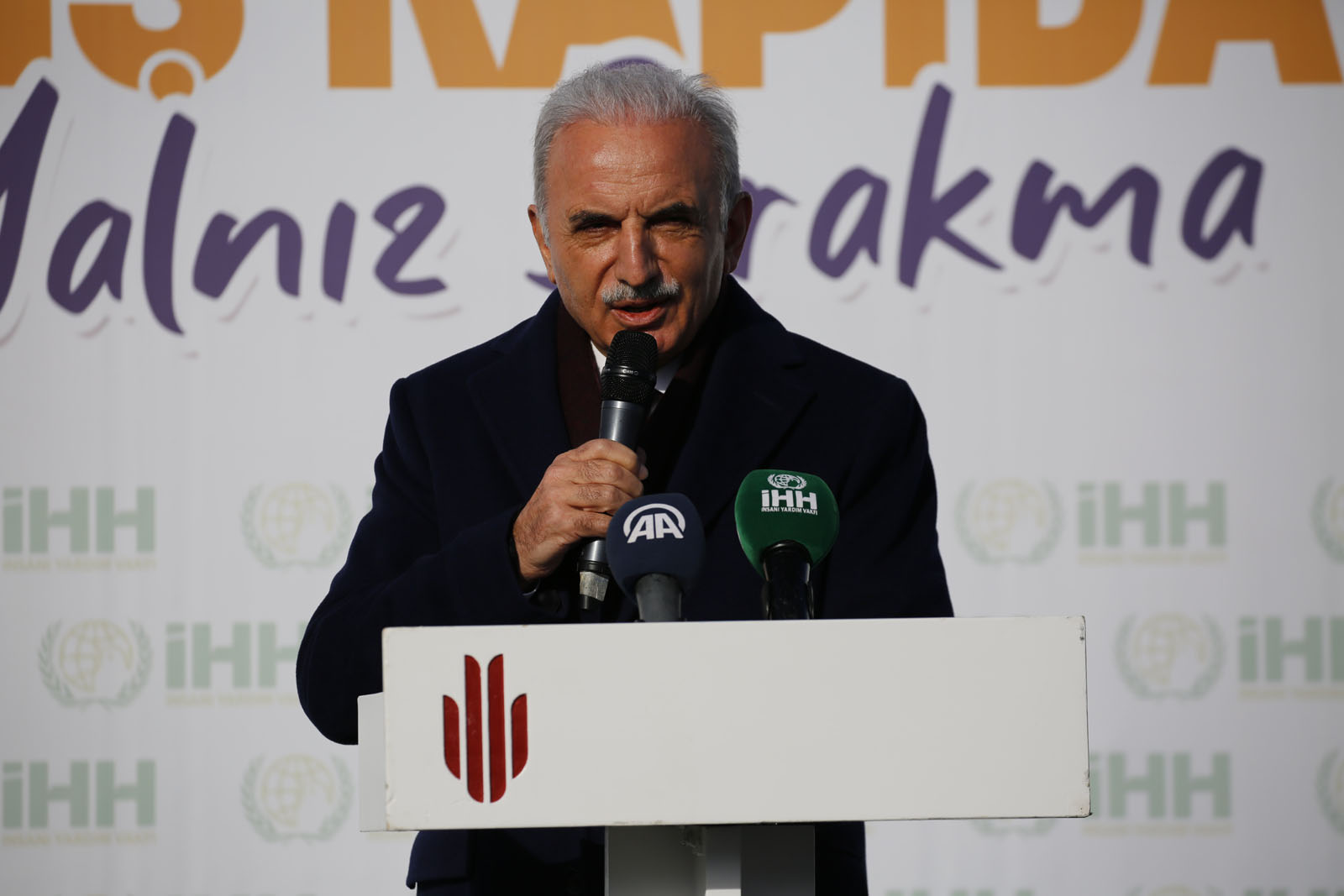 "We are fortunate to have IHH"
Mayor of the Ümraniye Municipality Ismet Yıldırım highlighted that every day is human rights day, and every day that human rights are violated is important. Yıldırım continued:
"Humanity is going through the most difficult times in history. The number of people that are exhausted due to chaos, war and hunger is increasing daily. Unfortunately, some countries are totally ignoring this persecution. Some even applaud these acts of oppression. But as a country, just like in the past, Turkey has always supported the oppressed and the aggrieved. Wherever an orphan's rights are violated, we are beside them. Even during these times of economic difficulties, our nation still continues to give its support. The Ümraniye municipality has been supporting IHH's aid efforts for the past three years. We are fortunate to have an organization like IHH. This year, as the Ümraniye municipality we are supporting these aid efforts with five trucks of humanitarian aid."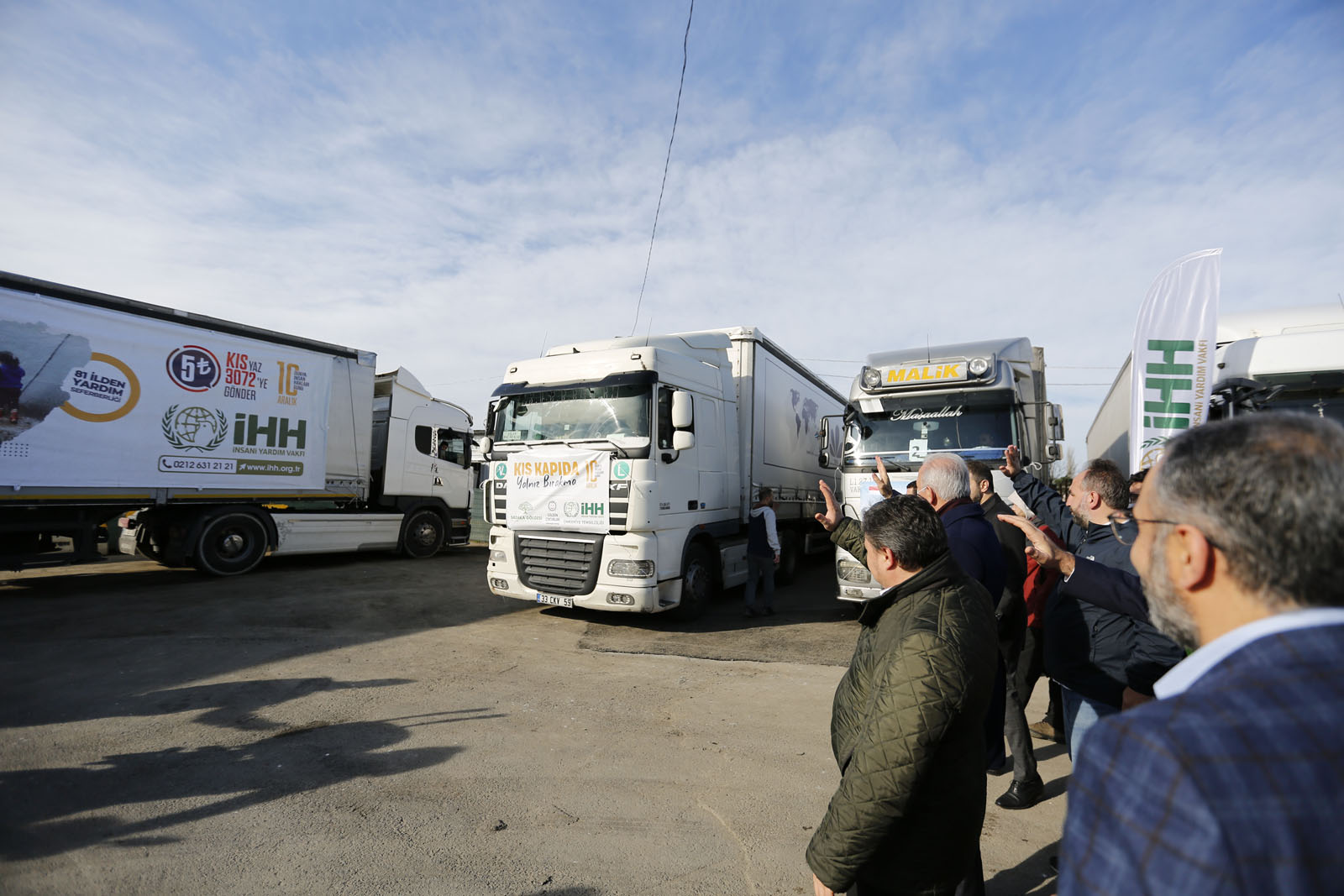 Trucks were sent off with prayers
Following prayers recited by the district Mufti Muharrem Gül, the trucks containing various aid items including food, clothing and fuel set off to Syria. With the 120 trucks sent previously, the total number of trucks sent since 1 November 2021 has now reached 228. This campaign will continue throughout the winter.
Festival for orphaned children in Azaz
Alanya IHH Humanitarian Aid Association organized a festival for orphaned children living in the camps in the rural area of Azaz, Syria. Attended by 1.300 orphans, the festival was filled with games, rides, snacks and beverages.