30000 orphans to change world
IHH which is caring for 27,354 orphans is preparing to initiate 230 projects in support of orphan children.
The projects aim to create a global agenda around the issue of children targeted by prostitution and panhandling mafias, missionaries and warlords.
During the campaign to be organized between February 1 and March 31 in different parts of the world, 230 projects will be carried out.
IHH Humanitarian Relief Foundation, which supports 27,354 orphan children in 39 countries and regions with regular assistance within the scope of sponsor family system, is preparing to start 230 projects in aid of orphans between Feb. 1-March 31 around the world.
IHH is hoping to reach out to 30,000 orphan children with projects it is planning to realize during two-month long campaign in 36 provinces across Turkey and 39 countries and regions around the world.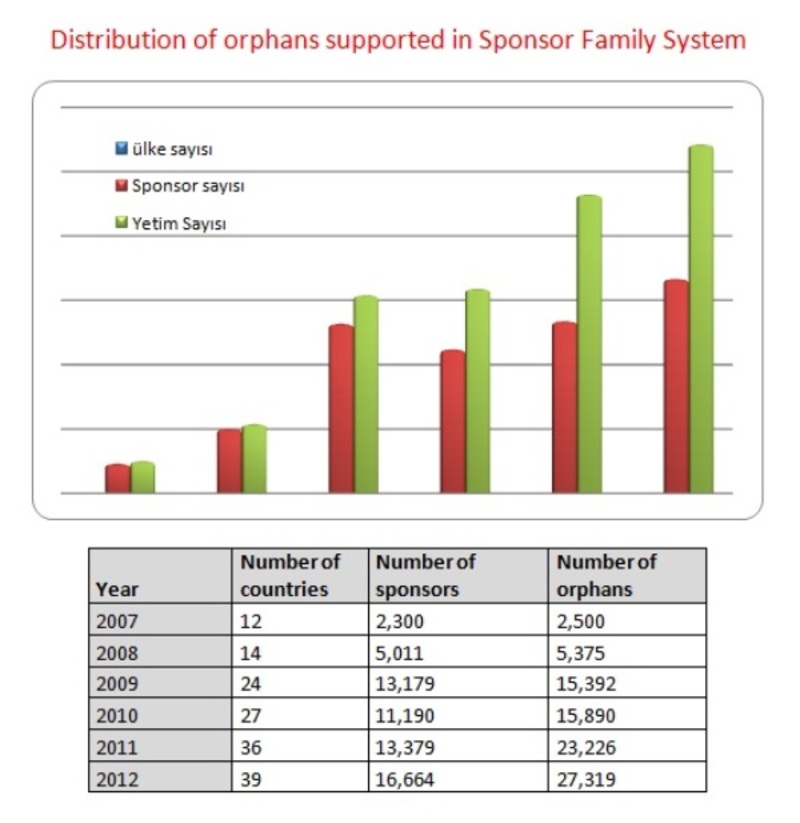 During "Orphan Solidarity Day," which is organized annually between 16-31 March, we will be making visits to 23 countries and regions this year. Visiting IHH teams will include sponsor families, who pay for nourishment, accommodation, health, education and other expenses of an orphan with a monthly donation of $50, as well as press members, photographers, cameramen and volunteers.
The regions to be visited this year are Palestine, Iraq, Lebanon, Syria and Yemen in the Middle East; Ethiopia, Malawi, Somalia and Tanzania in Africa; Afghanistan, Arakan, Bangladesh, Kashmir, Mindanao, Pakistan, Pattani and Sri Lanka in Asia; Albania, Bosnia-Herzegovina and Macedonia in the Balkans; Kazakhstan and Kyrgyzstan in the Central Asia.  
Murat Yılmaz, IHH Orphan Care Department coordinator, said they were hoping to reach out to 30,000 orphans around the world as part of the Orphan Solidarity Days campaign. "This project will be one of the biggest projects materialized by a civil society organization in such a large geographical area in such a short time period. Yılmaz stated their primary aim was to create a global agenda around the issue of orphan children targeted by organ, prostitution and panhandling mafias, missionaries and warlords, and said the 30,000 orphans given a helping hand could change the world. He added they believed IHH projects in five continents had the potential to influence social policies of governments and help make activities directed at orphan and abandoned children more disciplined and expand their scale.   
In the scope of the campaign, 230 projects will be carried out in 23 out 39 countries where IHH realizes orphan care projects by IHH aid teams and by partner institutions as well as IHH workers in the remaining 16 regions.      
The projects planned to be materialized include distributions of clothes, stationery materials, food supplies, fuel and household goods, health screenings, educational and cultural trips, talent and knowledge competitions, cultural and entertainment events, programs to raise morale and motivation, meeting various needs of orphanages, restoration of homes of orphan children, organizing weddings of youngsters, dowry assistance and development projects for families with orphan children.
Orphan Solidarity Days
Orphan Solidarity Days is one of orphan care efforts of IHH Humanitarian Relief Foundation that is organized annually. First held in the previous year (2011), Orphan Solidarity Days are marked annually in March by paying visits to countries and regions where IHH carries out orphan care activities and materializing various projects in these regions. Visits to the countries where the IHH carries out orphan relief work and examining the circumstances of the regions where the orphans live, developing special projects for orphans, developing one-on-one relations with partner organizations in these regions, closely inspecting and reporting orphan relief activities carried out by these organizations, making suggestions to local institutions about orphan relief activities, strengthening relations between the orphans and sponsor families through charity givers accompanying IHH teams on these visits are among the objectives of the campaign.    
Orphan Solidarity Days program, which covers 36 provinces across Turkey as well as 39 countries and regions worldwide, is of great significance in that it not only serves as means of coalescence between orphans and volunteers but also helps attract the world's attention to the issue of orphanhood.
Ibrahim's first steps
The dream of 6-year old Ibrahim Tüser, who is supported under IHH's Orphan Sponsorship System, to be able to walk, came true with the support of donors.
Pedaling for orphans
IHH Malatya volunteer Ihsan Kılıç will be visiting 13 cities, cycling from Malatya and travelling a total of 500 km to raise "Orphan Awareness."
Malatya, Orphan
23.09.2020