A working on social service and education for Syrian orphans and their mothers
A team of 14 volunteers from IHH umanitarian Relief Foundation carried out some programs in the refugee camps of Siccu and Semmarin in Syria and Elbeyli Camp in Kilis. They visited families living in unsound houses turned from tents and bunkers in primitive conditions in Kilis.
Project coordinator Nurgül Karagül emphasized that new projects would be put into practice for Syrian refugees as a result of the observations and studies carried out; and that it was very important especially for women to take part in these projects.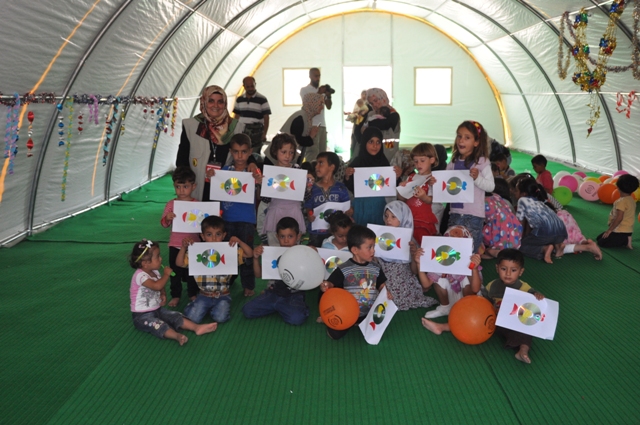 IHH, working nonstop in order to offer humanitarian relief to the Syrian refugees who had to leave their places due to the war continuing for two and a half year, carried out a pilot study between the dates of September 5-13, 2013 with the contributions of volunteers. IHH Orphan Team, coordinator of which is Nurgül Karagül and consisting of three teachers, one of them a preschool teacher, two psychologists, two research assistants, and university students visited at first Kilis Elbeyli Camp, housing 19,191 refugees and administrated by AFAD affiliated to the Prime Ministry.
The pilot study, developed for Syrian mothers and their orphan children who had to leave their houses and live in the refugee camps, was also carried out in Siccu and Semmarin camps of Syria as well as Kilis Elbeyli Camp. The program included some activities attended by orphan children such as handworks, ball and rope jumping games, drawing picture, collective games accompanied by music.

Aid for Kilis Elbeyli Camp, including 1,000 containers and 4 schools consisting of 60 classrooms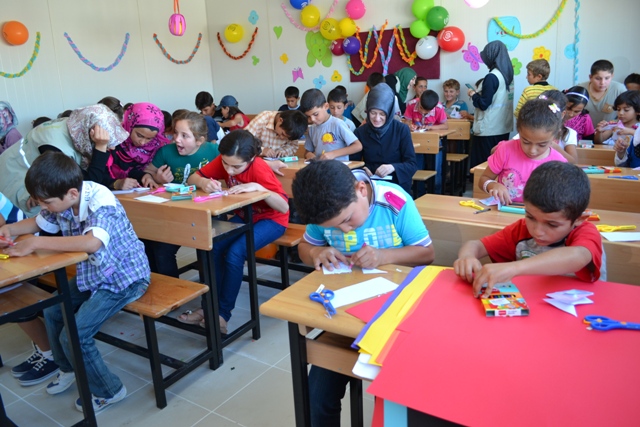 20,000-persons camp, official name of which is Prime Ministry AFAD Accommodation Facilities of Kilis Elbeyli, located on an area of 420,000 m², consists of 3,600 containers housing 19,191 Syrian refugees. In the camp administrated by AFAD, 1,000 of the containers and 4 schools including a preschool, a primary school, a secondary school and a high school, consisting of 60 classrooms in total were built by IHH. Each container is capable of housing 5 or 6 people.
IHH team, visiting the school and rehabilitation center in the camp and obtaining information about the studies, informed the authorities of the works they intend to carry out here. Performing activities with the children in two classrooms on the first day and three classrooms on the second day under the governorship permit, our team conducted a consultation meeting with psychologist Mustafa Çetinkaya on more comprehensive new studies.

The women and children of Semmarin Refugee Camp smile for the first time for a long time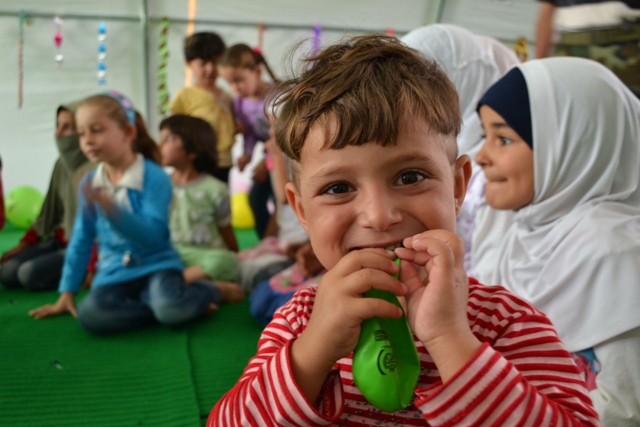 Assad Forces have killed more than 100,000 civilians and wounded tens of thousands throughout the war that is going on for more than two and a half years in Syria. Milions of Syrians, who run away from the conflicts, fell into the refugee status. IHH having supplying aid to refugees at combat areas for twenty three years, didn't stand idle to the tragedy next to the border of Turkey. Since the very early days of the conflicts, IHH provided in kind and in cash supports to the defenceless civilians and carried out many projects for the sake of refugees. At IHH kitchen, situated in Syria part of the Öncüpınar Border Gate, food is served twice to nearly 15,000 people every day. As an addition to the Kitchen a Bakery, which has the capacity 21,000 lavash bread production per day, is running in full capacity and producing bread for the Syrian refugees.

Semmarin Camp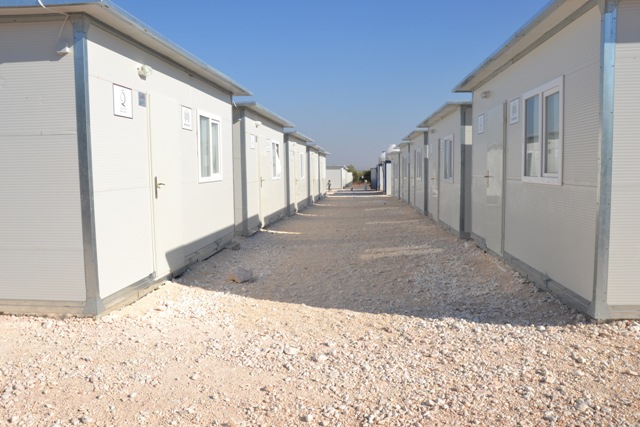 250 people including 60 children is acommodated in the Semmarin Camp at the moment in which 160 container house is present. One fourth of women are widow. The camp which set up by the support of IHH includes two classrooms, a prayer room, a common kitchen and a laundry room for refugees. Constructing 1000 container is targeted in Semmarin where infrastructure works have started for 500 containers. IHH staff visited to Semmarin Camp and organized a program for orphan children here first. In a big decorated tent, IHH staff played various games with children and performed various hand work activities. In this program where mothers of orphan children also attended, wool and swell have been given to the mothers and they knitted and chatted together.
Ms Iman, the 26 old year teacher of the camp school has lost her husband in the war, too. The teacher, satisfied with the works of IHH staff, said "Children have not smiled and had so much fun since the feast. This is the first time that a women group arrived here. Children need people to love and care for them. Don't leave us alone, please come back again." Her words gave moral and comfort to our staff and also showed up the unseen part of the needs in camps.

Azaz keeps on bleeding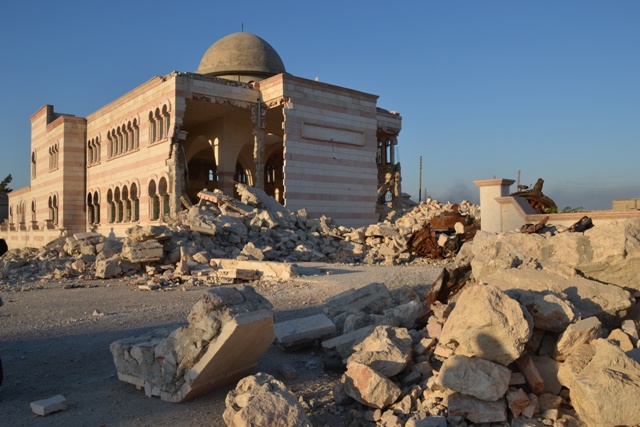 There are people still living in the border region of Azaz where the houses, mosques, hospitals and schools are being bombed continously. These people prefer living on the edge of death instead of being a refugee in another country. There you can see children playing between the ruins of buildings along the streets.
Our team provided cloth relief for those who stay in Siccu Camp, 10 minutes away from Öncüpınar border gate in the region. 250 people, 83 of which are children live in this camp including 12 containers which was built with the support of IHH. We learn that preparations have begun in the camp in order to built three classrooms, a playpen and a prayer room. In the camp, there are no men other than men in charge; and the pregnant women and new borns are high in number. These children spend an unforgettable day with the games, balloons and masks brought to the camp by our team.

Visit to Refugees in Kilis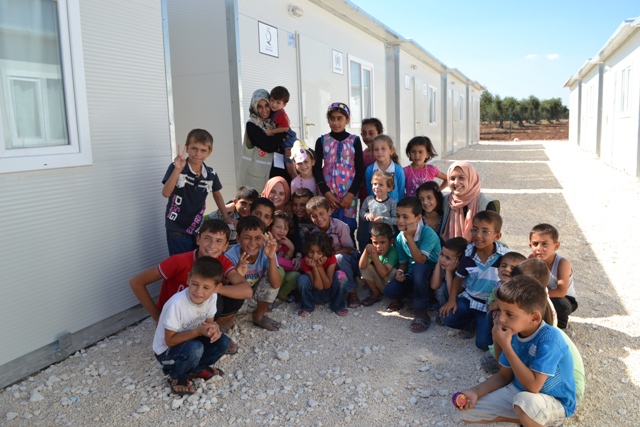 IHH team which also visited Syrian refugees in Kilis listened to their problems, distributed boxes containing relief material and gave presents to the children. Most of the families are planning to go back to their country and they live in tents, one-roomed houses or in places which were once bunkers. The refugees in the camp state that they will either die of hunger in those camps or in war in their countries; they want international support for bringing an end to the war so that they can go back to their country safe and sound.
Flour distribution to 38 thousand 601 families in Somalia
IHH Humanitarian Relief Foundation has been carrying its aid efforts in Somalia, and our effort intensified following the severe drought that has hit the country since 2020, causing millions facing difficulties in accessing clean water and food.
Mobile soup kitchen from Turkey to Ukraine
The mobile soup kitchen dispatched by the IHH Humanitarian Relief Foundation to Ukraine, which is under Russian bombardment, departed from Istanbul. The soup kitchen was intended to provide food to 30,000 people each day. In addition, three truckloads of humanitarian supplies provided to Ukraine by the IHH in recent weeks have been delivered to war victims.
IHH helped 700,000 Syrians in 2022.
In 2022, IHH Humanitarian Relief Foundation delivered 2,043 truckloads of humanitarian relief supply to war-affected Syrian residents living in the country's IDP camps and settlements in various locations.