Qurban in land of Afghans
The Qurban campaign of the IHH melted physical distances among Muslims. Heartfelt Qurban donations of people of Turkey were delivered to Muslims all over the world.
With the support of charitable citizens the IHH Humanitarian Relief Foundation organized sacrificial slaughters and meat deliveries in Afghanistan, which has been devastated by war and poverty. In total, 105 head of large cattle were sacrificed and their meat was distributed to impoverished families and families of orphans in Kabul, Jalalabad, Kunduz, Badakshan, Mazar-i-Sharif, Laghman and Takhar. Thousands of families received from Qurban meat deliveries.
Blessing of sharing in Liberia
The animals sacrificed in the Liberian capital Monrovia, Kakata and 23 other different areas were distributed to 2,000 families.
Muslims make up 30 percent of the 4 million population of Western African country Liberia. Due to the 14-year long civil war that broke out in 1989, 80 percent of Liberians live on $1.25 a day.
Qurban activities in 61 provinces
Aid teams of the IHH distributed meat of sacrifices that were slaughtered by the foundation at a slaughter house in Istanbul to needy families, refugees, orphanages and student dorms in 61 provinces of Turkey.
After each slaughter completed donors are sent text messages informing them of the fate of their Qurban donation.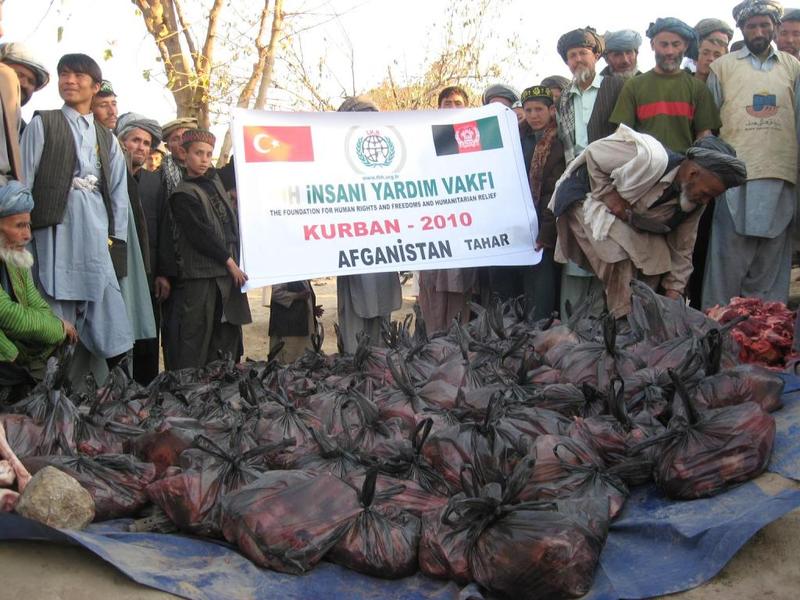 Orphan clothing
At Eid al-Adha, orphans in Turkey and other countries were given clothes. Their families were also given cash donation or aid in kind. The donations aimed to please the children made orphan by wars, natural disasters or poverty.
The Qurban campaign of the IHH melted physical distances among Muslims. Heartfelt Qurban donations of people of Turkey were delivered to Muslims all over the world.
The Qurban campaign gave the foundation to get a first hand assessment of difficulties of Muslims in the countries visited and human rights violations they faced. The volunteer teams that took part in the campaign will report to the IHH on their return about their observations. Projects of new schools, hospitals, clinics, orphanages, mosques, masjids, water wells, health screenings, water canals, permanent dwellings, etc will be shaped by these reports and materialized with donations.
Pictures and video footages from the regions will be published on our website as they are received. You can read about observations of our teams, events they witnessed and accounts of local people on the website.
The last terminal of "An Armful of Goodness"
IHH Humanitarian Relief Foundation continues to commemorate the 11th annual Orphan Solidarity Days (OSD) project with the theme "An Armful of Goodness". Many studies have been carried out for orphans and their families in Kenya, one of the countries where the initiative is executed.
54,000 loaves of bread for camps in Syria per day
Through a partnership between the IHH and the İnsan Charity Foundation, and with financial support from The United Nations Office for the Coordination of Humanitarian Affairs (OCHA), 54,000 loaves of bread are supplied daily to civilians living in camps in the countryside of Idlib province in northern Syria
4 permanent works in Sierra Leone
In West Africa's Sierra Leone, IHH inaugurated four distinct buildings including orphanages, universities and mosques. The newly inaugurated permanent works are vital to the country's future.
Mosque-Masjid, Orphan
17.11.2022