Appeal - Emergency aid to Pakistan
The IHH has appealed for emergency aid to flooded Pakistan. IHH deputy president Yavuz Dede, who is back from a trip to the country, warned that starvation and epidemics would soon break out unless ai
Heavy monsoon rains that started three weeks ago have inflicted on Pakistan the worst floods in the country's history. The floods have killed 1,600 people and have made hundreds of thousands homeless.
A press conference was held at the head office of the IHH Humanitarian Relief Foundation in Fatih, Istanbul. IHH deputy head Yavuz Dede, who has just come back from a visit to Pakistan, and Pakistani consul general in Istanbul Yusuf Cuneyt were present at the press conference.
Dede noted the floods have submerged to various levels 70 percent of Pakistan and have affected around 30 million people. He pointed out that there were still people stranded in flooded areas and added the accurate extent of the damage would be revealed once flood waters have retreated.
IHH to fly cargo plane to Pakistan
Dede said that the IHH aid teams reached the crisis region on the third day of the flooding and primarily distributed hot food and food packs to flood victims.
He noted that the foundation was organizing a cargo plane of relief supplies and it would be sent in a several days. "We are trying to collect necessary supplies to make the plane ready for take-off. To this end, charitable businesspeople are urged to donate," he said.
Clean drinking water, foodstuff, medication and clothes are among the urgently needed relief materials, Ded said "The current death toll is 1,600 but more deaths could occur from starvation and diseases unless relief supplies are delivered to the affected areas urgently. Agricultural lands, which are main source of income for local people, are all submerged by flood waters."
The real problem is to appear after the retreat of flood waters. Foodstuff, clean water, medication, and other basic necessities should be rushed to the region. We delivered $100,000 worth humanitarian assistance to the region right after the flooding began. However, this is not enough. We need to deliver aid to more victims with the support of our people."
Pakistani consul releases damage figures
Speaking after Dede, Pakistani consul Cuneyt thanked the people of Turkey for their support in past disasters and said the two countries were sister countries. He appealed to the Turkish people for aid. Cuneyt called the flooding as the worst of its kind over the last century and noted it was impossible to predict the real extent of damage before waters retreat.
IHH offering hot food to 10,000 daily
The accurate extent of damage will be seen after flood waters have withdrawn, Pakistani consul noted.
He stated that some of the flooded regions are cut off by damaged motorways and railways, and energy sources and food stocks are buried under flood waters. He put the estimate number of damage at $10-12 million, but noted the exact number was feared to be much higher. About 30 million people have been affected by the flooding and 1 million houses have been submerged, he added.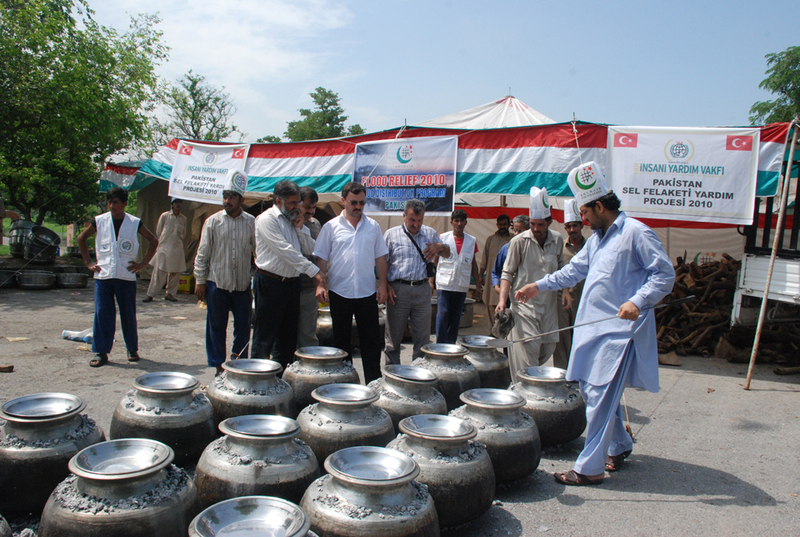 We are in a grave situation
The floods have inflicted an extensive damage on the country, Cuneyt said "We have serious losses both human losses and infrastructural damage. A huge part of motorway and railway network as well as energy sources have been affected. There are serious problems with aid delivery to affected areas. Furthermore, stocks of foodstuff were either washed away or submerged by flood waters. The current death toll is 1,600 and we fear the number could rise in the coming days. I do not think we have sufficiently informed the world about the real extent of the disaster. But Turkey should understand us. People are asking us what they can do. Emergency aid is the number one item. Small packs of food items could be prepared. There are difficulties with accessing clean drinking water. Cholera and other contagious diseases have started to spread swiftly. Water purifying pellets are urgently needed to fight epidemics."
IHH launched an aid campaign after the flood in Bosnia
Due to the heavy rains that have been continuing for a week in Bosnia-Herzegovina, a flood disaster occurred in the Bihac region. Many houses, workplaces and agricultural lands were submerged in the flood. IHH Humanitarian Relief Foundation delivered food and hygiene packages to 165 families affected by the flood with the emergency aid relief it started.
Humanitarian aid from IHH to the people of Sudan who migrated to Chad
The clashes between the army and the Rapid Support Forces (SSF) in Sudan have been going on since April 15. During the civil war process, in which 550 people lost their lives and nearly 5,000 were injured, more than 700,000 Sudanese migrated to different places. IHH, which provides emergency aid to civilians in the country, distributed hot meals and food parcels to people of Sudan who migrated to the border country of Chad.
IHH continues relief efforts with 5,943 people
The IHH Humanitarian Relief Foundation is carrying out activities in earthquake zones with 5,943 search and rescue workers and aid volunteers. While the IHH Search and Rescue Teams pulled 3,028 deceased and injured people from the rubble, emergency aid volunteers delivered support to hundreds of thousands of people in many different areas.