BülentYıldırım's Support to IHH Düzce
Bülent Yıldırım, the president of IHH went to Düzce in order to give support to the aid campaign for Syria.
Aid campaign for Syria which is initiated by IHH Düzce branch continues in the aid truck parked before the city hall. IHH's president Bülent Yıldırım who went to Düzce for support to the campaign was welcome by IHH authorities among whom there was MP of Düzce İbrahim Korkmaz.
A Syrian, Ayman Shaban who accompanied Yıldırım to Düzce commented that "The oppression in Syria is going on over the past 3 years" and added that Turkey has embraced them.
Mr. Yıldırım, who said that the people of Düzce were always mobilized whenever there was oppression since the wartime in Bosnia, asserted that their goal was at least 20 aid trucks in Düzce. Regarding the issue of trucks, Yıldırım said that "Everybody should turn back from this wrong path".
Yıldırım: "Today, IHH is a negotiator in conflicts between Muslims around the world and a very important agent. Naturally Israel and Zionists took action against an agent at this position between Christians and Muslims in the world. We are a threat for Israel and we are proud of it because Israel poses a threat for the humanity. In order to get IHH enlisted with terrorist organizations, international powers orchestrated an operation through that TRUCK and immediately spied on us to the West. To whom you are spying on us? If we were to be afraid of them we would not have gone to confront Israeli blockade on Gaza. This country is so important. Everybody should repent and turn back from this wrong path."
When asked about Mavi Marmara, "Currently Mavi Marmara is kept in the golden horn of Istanbul ready to sail. It was a movement which developed in order to disclose the real Zionists and the oppressor. We did it by shedding our blood in the Mediterranean. It will start up again after completing its journey on land in order to disclose the Zionists in Turkey and in the world" he replied.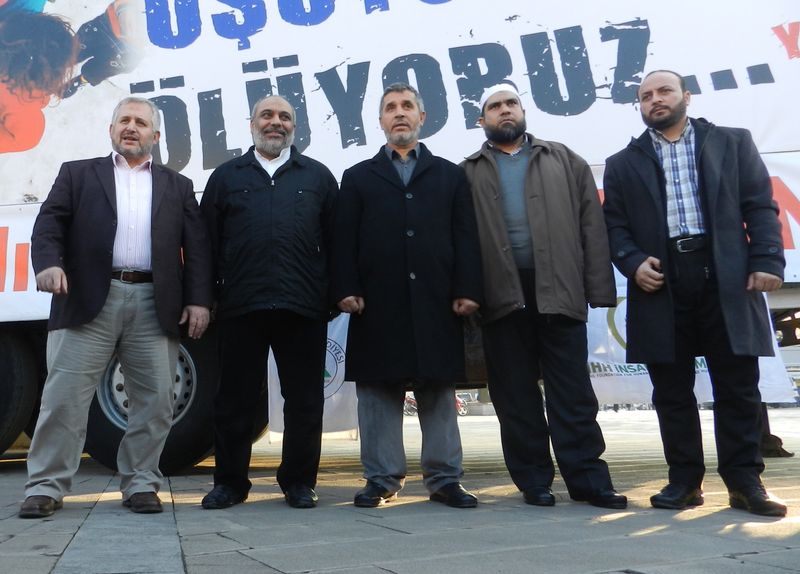 IHH launched an aid campaign after the flood in Bosnia
Due to the heavy rains that have been continuing for a week in Bosnia-Herzegovina, a flood disaster occurred in the Bihac region. Many houses, workplaces and agricultural lands were submerged in the flood. IHH Humanitarian Relief Foundation delivered food and hygiene packages to 165 families affected by the flood with the emergency aid relief it started.
Humanitarian aid from IHH to the people of Sudan who migrated to Chad
The clashes between the army and the Rapid Support Forces (SSF) in Sudan have been going on since April 15. During the civil war process, in which 550 people lost their lives and nearly 5,000 were injured, more than 700,000 Sudanese migrated to different places. IHH, which provides emergency aid to civilians in the country, distributed hot meals and food parcels to people of Sudan who migrated to the border country of Chad.
IHH continues relief efforts with 5,943 people
The IHH Humanitarian Relief Foundation is carrying out activities in earthquake zones with 5,943 search and rescue workers and aid volunteers. While the IHH Search and Rescue Teams pulled 3,028 deceased and injured people from the rubble, emergency aid volunteers delivered support to hundreds of thousands of people in many different areas.