Convoy of Conscience for Women
A 'Convoy of Conscience' will leave from Istanbul, traveling to Hatay on March 6 aimed at demanding the release of women held in Syrian prisons. General information regarding the convoy was released to the public with a press statement.
The International Convoy of Conscience will be leaving from Istanbul on March 6 to bring attention and demand the release of the women who have been imprisoned, subjected to cruelty and torture in the 7 year war that is continuing in Syria. The convoy, that will be joined by thousands of women of different religions, languages, races and cultures led by women from Turkey, and will appeal to the world from Hatay on March 8, International Women's Day.
The convoy is supported by IHH Humanitarian Relief Foundation, the Ministry of Religious Affairs, Memur-Sen, the Human and Civilization Movement, Lawyers Association, Özgür-Der, KADEM (Women and Democracy Association), iHAK (Human Rights and Justice Movement), AİD (Alliance of International Doctors), TÜGVA (Turkey Youth Foundation), AKDAV (Aksa Education and Solidarity Foundation), Ensar Vakfı, TGTV (Turkey Voluntary Agencies Foundation) and İDSB.
A press conference was held in Topkapı, Istanbul regarding the Convoy of Conscience that consists entirely of women. Women representatives of NGOs, academics, TV program presenters, lawyers, journalists, civil servants, housewives, doctors, artists, sportswomen and politicians attended the press conference. Embroidered head-scarfs, each representing the Syrian women, attracted wide attention at the press briefing where general information and details concerning the convoy's schedule were shared with the public.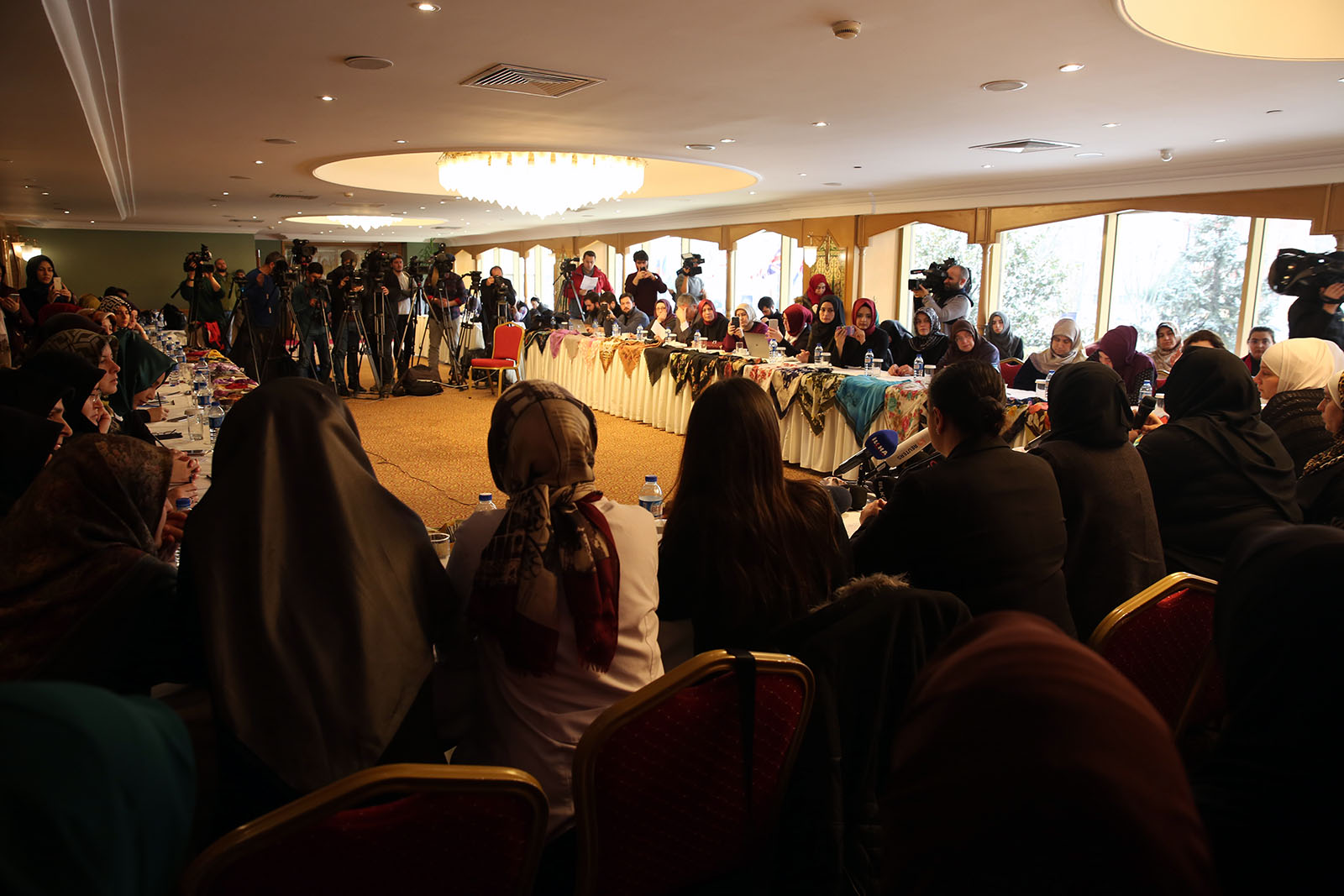 The first statements were given by Syrian women. These women, who related the experiences of women in Syria, said they support the Convoy of Conscience, and that they will be joining the convoy.
Majd Izzat al-Chourbaji, a Syrian woman who was tortured in Syrian prisons for 7 months and whose husband died in prison, explained that they were released on a prisoner exchange deal after she began a hunger strike with 150 other women in the prison. Chourbaji, who explained the barbaric acts in the prison in a trembling voice, related those days of torture in these words: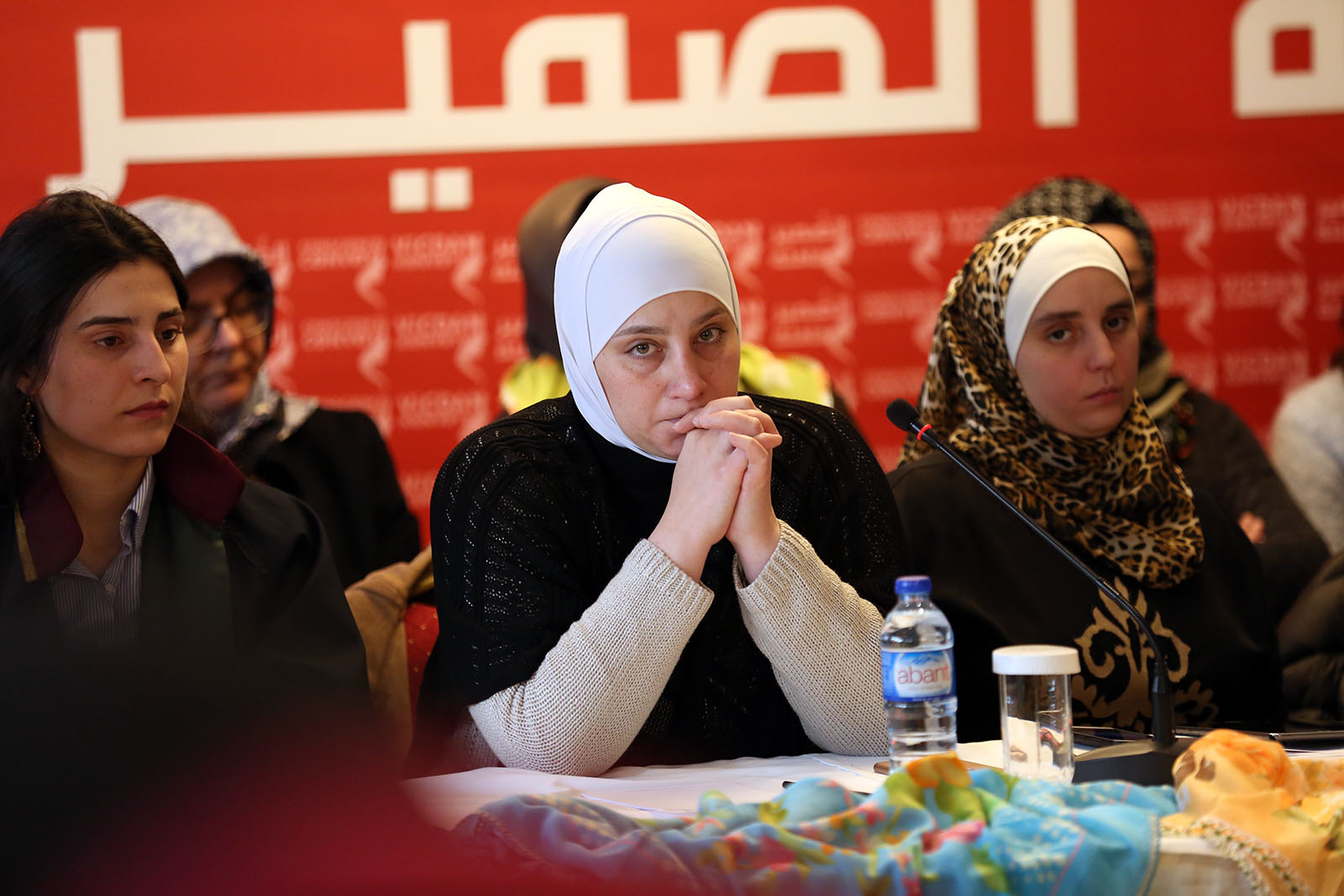 "I was living in the Dera'a, a city in Syria. I was arrested in 2013 and remained in Syrian prisons for 7 months. I was arrested with my husband. My husband lost his life because of torture. They also arrested my mother and children around the time I was imprisoned. No one was able to find out why they were arrested. I was arrested because I attended peace rallies. The only reason why they tortured me when I was arrested in Damascus was because I knew Sahra Hospital, the place where the demonstrations were to be held. They wanted me to tell them the exact location of the hospital. When I was arrested, they brought my husband and constantly tortured him in front of me. They did this so I would tell them exactly where the hospital was. After ten days, they transported us to another prison. This was the last time I saw my husband. There was blood flowing from his face and hands. Later I learned that he could not bear the torture and died."   
"I apologize to the public"
Continuing her speech, Chourbaji, who explained how torture was carried out in the Syrian prisons, said: "Torture in Syrian prisons is carried out like this: they hang you on the wall with chains and beat you with iron bars until you lose consciousness." Apologizing to the public, Chourbaji related 2 separate inhumane acts that she personally witnessed in these words:
"Firstly, for the sake of summarizing the barbarity that occurred there I apologize but I must add this: There were menstruating women in the prison. Some of the women asked for sanitary pads. They were told to "tear their clothing and use it." Menstruation blood was spreading everywhere, and we were trying to protect ourselves from the germs resulting from this.
Secondly, I want to mention this form of torture I remember which is a total disregard for human honor: There was a group of young men in the cell next to ours. One of the men said that he had to use the toilet, but the guards didn't allow him to. They said "If you are so desperate, do it on yourself." The young man could not hold himself any longer and did it on himself. They began to tease and make fun of him. I feel so ashamed to say this, but they told him to eat his own feces. They force him to do this. The young man was both crying, and really ashamed. After this, we came to the conclusion that those who forced him to do such a thing were not human."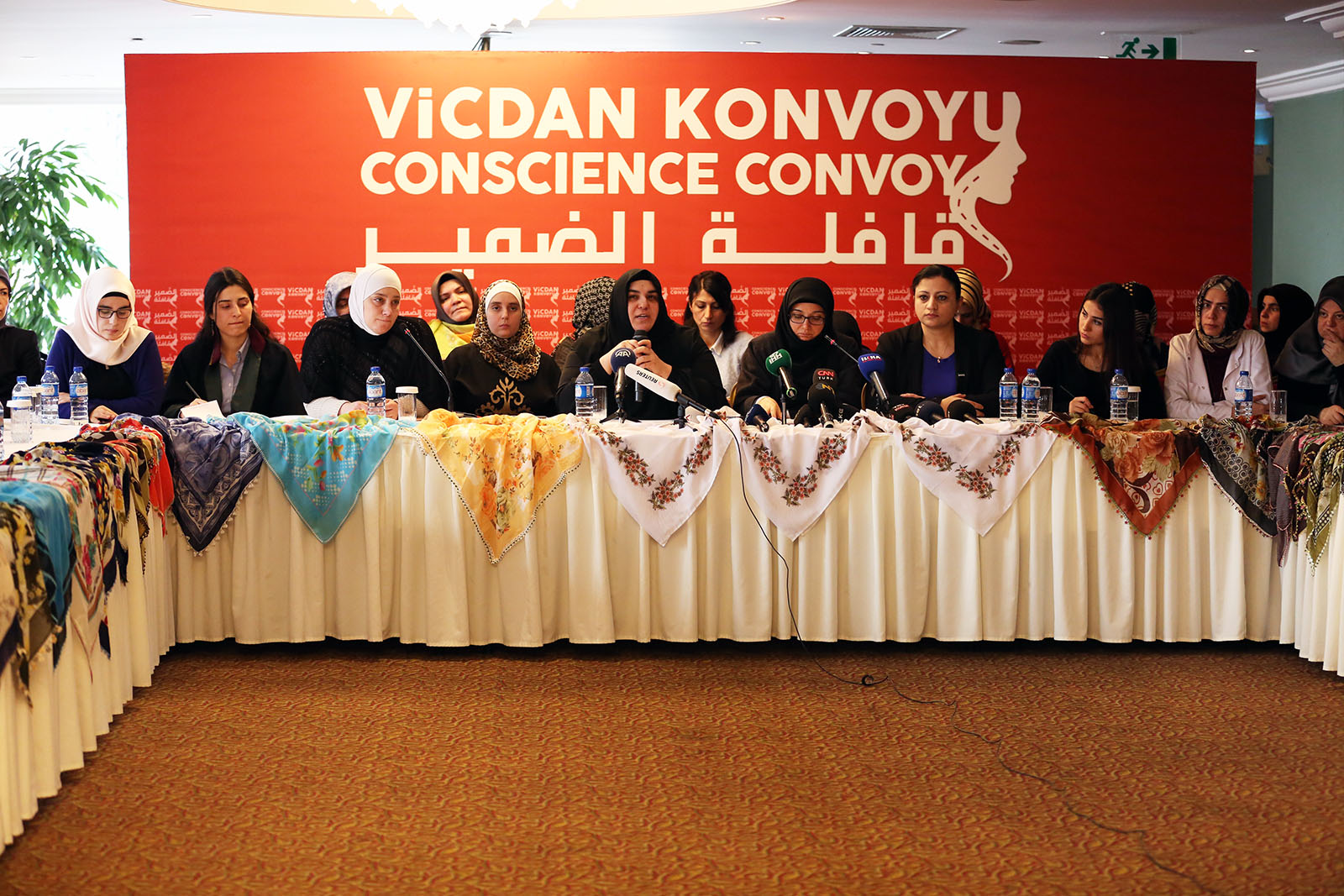 "After I was released from prison I made a promise"
At the end of her speech, Chourbaji, who pointed out that there were women who gave birth in prison, said that after she was released from prison she made a promise and added,
"There were pregnant women in our cell. These women gave birth under the difficult prison conditions. Later, these babies died due to torture and malnutrition. When I was released from prison I made a promise. I promised myself that I would do everything I could for the release of other women there. There are many problems in Syria. The refugee camps, the people who are migrating etc. Among these, the women in prisons should be discussed in particular. I experienced these hardships for 7 months. There are women suffering all these forms of torture for years. Due to this, I am also participating in the Convoy of Conscience."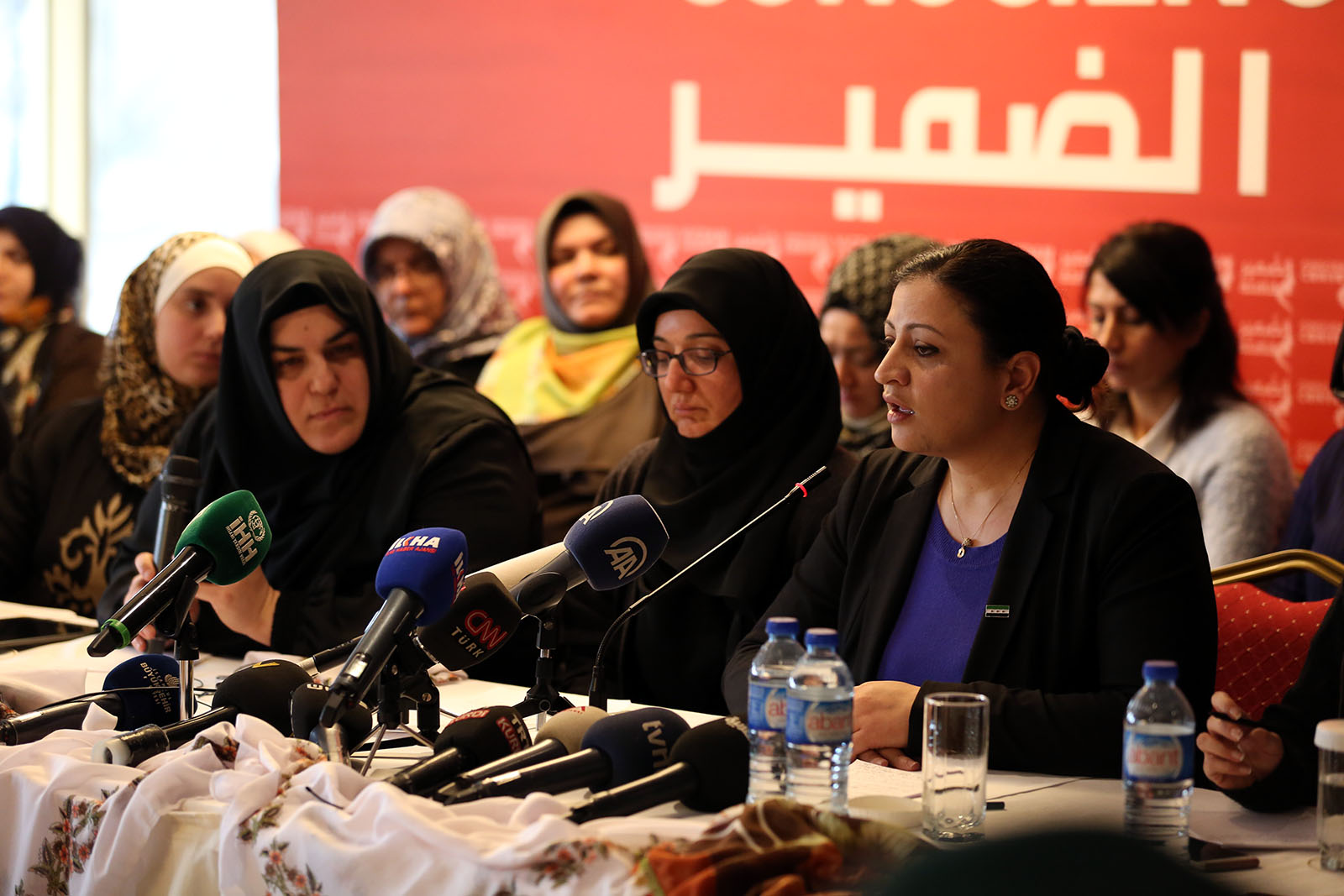 "There is not only torture, but also the threat of rape"
 Another woman who spoke at the press conference was Syrian lawyer, Dima Musa. Musa, who highlighted the importance of the convoy, expressed her gratitude to all the NGOs involved. Musa said, "I hope the convoy that will complete the journey next week, on International Women's Day, will contribute to these imprisoned women regaining their freedom." Musa explained the events in Syria in these words:
"I was abroad when these events began. Later, I returned to my homeland, to Syria to observe the process closer. Apart from the problems the imprisoned women are suffering as my colleague explained earlier, I can say that in addition to torture in the prisons, unfortunately there is also sexual abuse. These women are being threatened 'If you don't do this, if you don't say this we will rape you.' When we study not only international law, but even Syrian law we see that women have many rights. But unfortunately none of these laws are in effect at the present.
Without extending my speech further, I want to say this: The Convoy of Conscience is an opportunity for us to declare once again what we have been exclaiming for years. All of the Syrian women must be released immediately. The locations of women, who we cannot reach, must be brought into the open immediately and human aid support must be provided."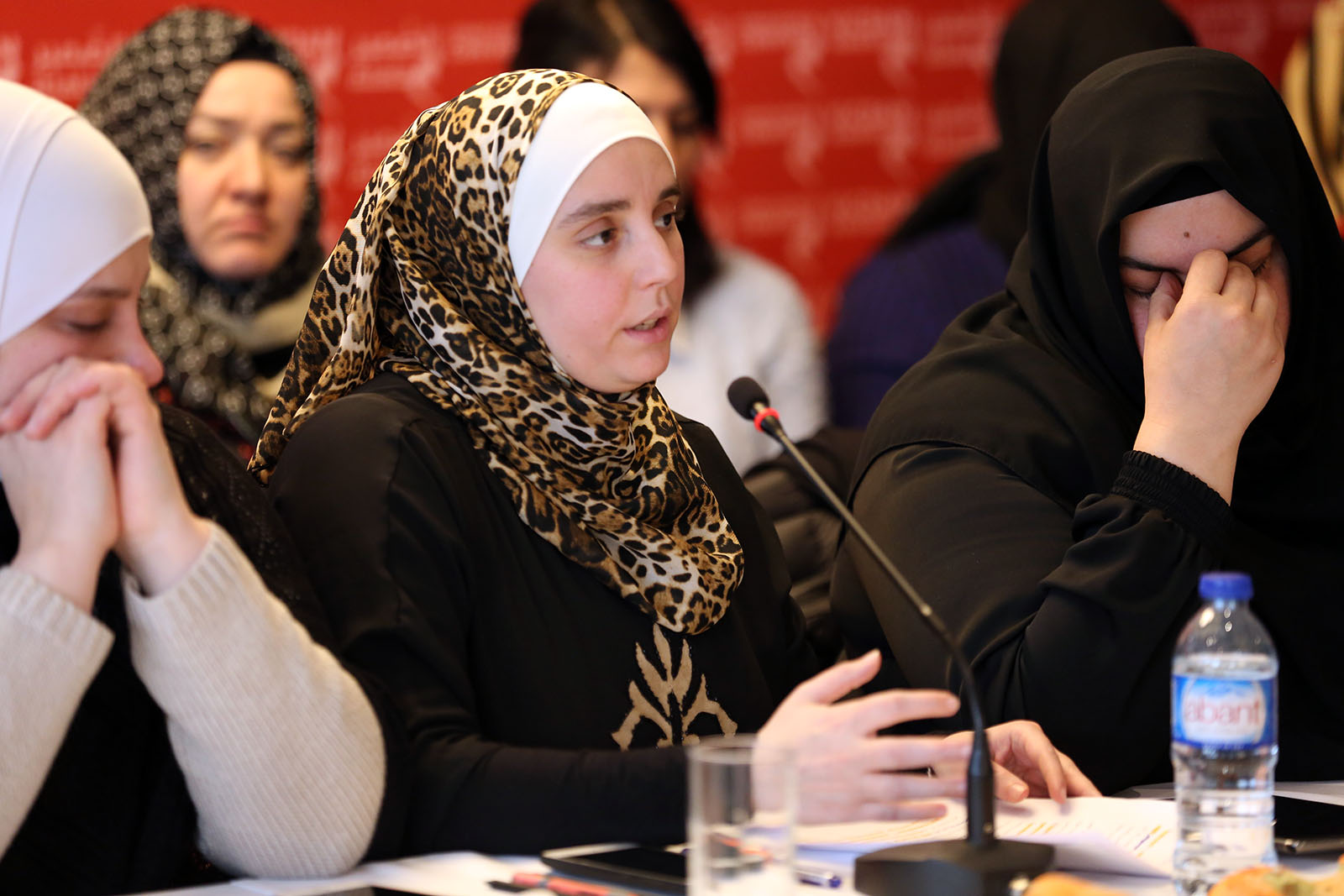 "We are participating"
Sima al-Hasani, official from the Syrian Human Rights Watch Center, said:
"As the watch center, since 2011 we have conducted significant studies. Since the beginning of the revolution we have conducted studies in every region of Syria, and we have obtained substantial data from our volunteers in each of the regions. Until the present, we have been involved in all the missions concerning the violation of human rights. But today we are here for the release of these women. We will also be travelling to the Syrian border with the Convoy of Conscience to demand the release of these women."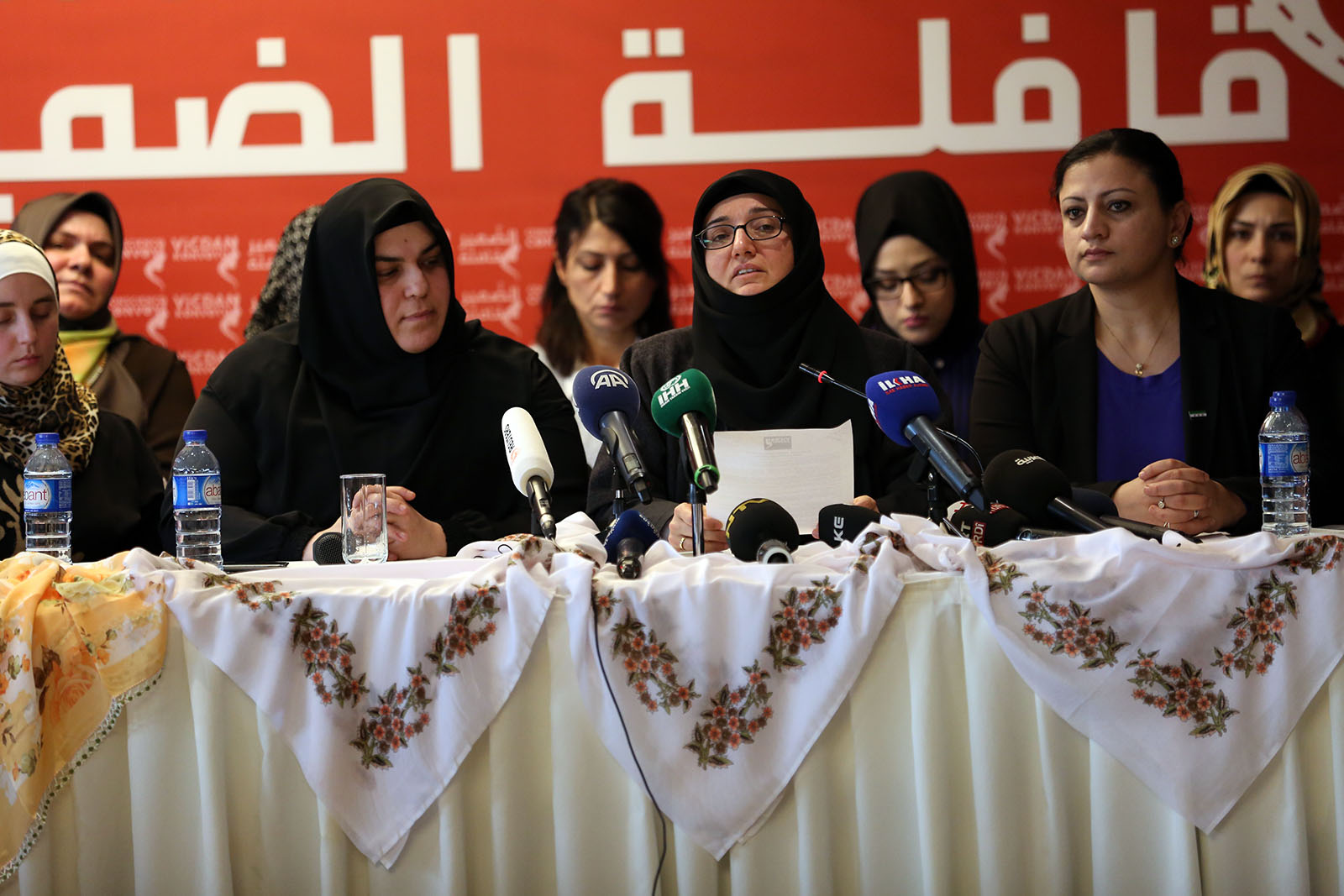 "We are Sending the Convoy of Conscience to Mobilize the Women of the World, the Conscious"
Lastly, Lawyer Gülden Sönmez who spoke on behalf of the Convoy of Conscience shared the press release with the public. Gülden Sönmez's statement was as follows:
"It has been exactly 7 years since the Syrian war began. Hundreds of thousands of people were killed in front of the whole world on live broadcasts. 15.000 children have died. This is not a natural death. Bombs dismembered their bodies, they were trapped under tons of wreckage; they breathed the chlorine/ sarin/chemical gases in great pain. Some experimented with the methods of torture on their tiny bodies. There is confirmation of 13.581 women in the Syrian regime's prison who have been subjected to torture and other barbaric acts, and raped.
At the present, there are 6.736 women, 417 of whom are young girls, who are still suffering this violence; who are awaiting death in the Syrian Regime's prisons. Some of the young girls and women who were victims of torture and rape committed suicide. Some of those who escaped from these prisons are among us, and live with the hope that one day those responsible will be brought to justice for their sufferings.
According to international law, sexual attacks, torture and unlawful imprisonment is a war crime, and classified as a crime against humanity. One thing we know for certain is that the Syrian Regime is using sexual abuse as a weapon against these women.
So we ask: On the table of which international mechanism, state, public institution; which authority are these women on the agenda?
We hear the screams of despair and pain of these women, our sisters in Syrian prisons. We have been waiting for 7 years and nobody is making made any real efforts to save them. Enough is enough!
They are there, in pain, waiting for us. We want you to hear, we want you to see, we want you to do something about this. We decided to do something to rescue them. As the women of Turkey, women from all over the world we are sending the Convoy of Conscience for Women to broadcast the voice of the women held illegally and tortured in Syrian prisons to the whole world, and to demand their release.
Our Aim is to:
-Bring attention to the suffering of these women that has increased since the beginning of the Syrian war with torture, rape, execution, imprisonment and migration
-Appeal, and launch an initiative for the release of the young girls and women held in prisons illegally due to the war in Syria
-Call upon humanity to take effective measures for the protection of women during wars
We will be departing from Istanbul on buses on the morning of 6 March 2018 following a press statement, and we will reach the Syrian border traveling through the cities of Izmit, Sakarya, Ankara and Adana. On the morning of March 8 "International Women's Day", we will be addressing the whole world from Hatay. We will be carrying 6.536 embroidered head-scarfs, our symbol, on behalf of these imprisoned women. We invite everyone to join us on the Convoy of Conscience that we are sending for the women in Syrian prisons; that is internationally recognized and consists only of women.
The 'Convoy of Conscience' is the voice of victimized women in Syria.
Be a part of this voice so the walls of these prisons are demolished!"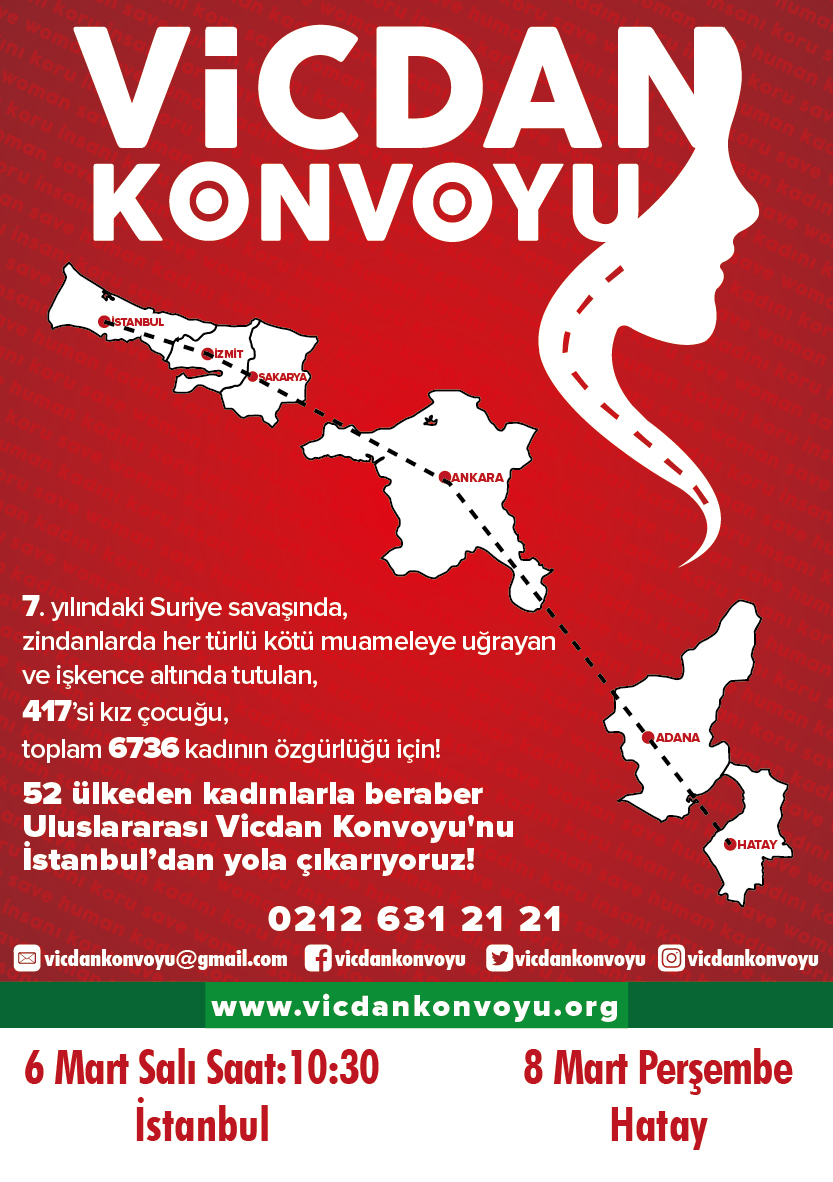 Thousands Marched in Solidarity for Gaza
The Palestinian Initiative Platform organized the "Hand in Hand for the Gaza Strip" in many cities across Türkiye to draw attention to Israel's heinous attack on Gaza. In Istanbul, tens of thousands of people marched from Edirnekapı to the Blue Mosque Square, where participants formed a 3.5-kilometer human chain along the route.
"Freedom Convoy for Palestine" Reached Konya!
IHH-led "Freedom Convoy for Palestine," which set out to support Palestine en-route the Incirlik Air Base in Adana, has reached its final stop in Konya. A massive rally was organized at Konya's Mevlana Square with the participation of convoy members and the public.